Faithlife provides a free mobile app meant for your church. As an admin or moderator of your Faithlife church group, you can customize the app for your church, invite others to join you, and onboard your church.
Note: Learn more about how the Faithlife app helps connect your church.
Skip ahead to:
To get started, login to Faithlife.com and select your church group in the left-hand sidebar. Once in the group, select Mobile App in the Admin navigation panel.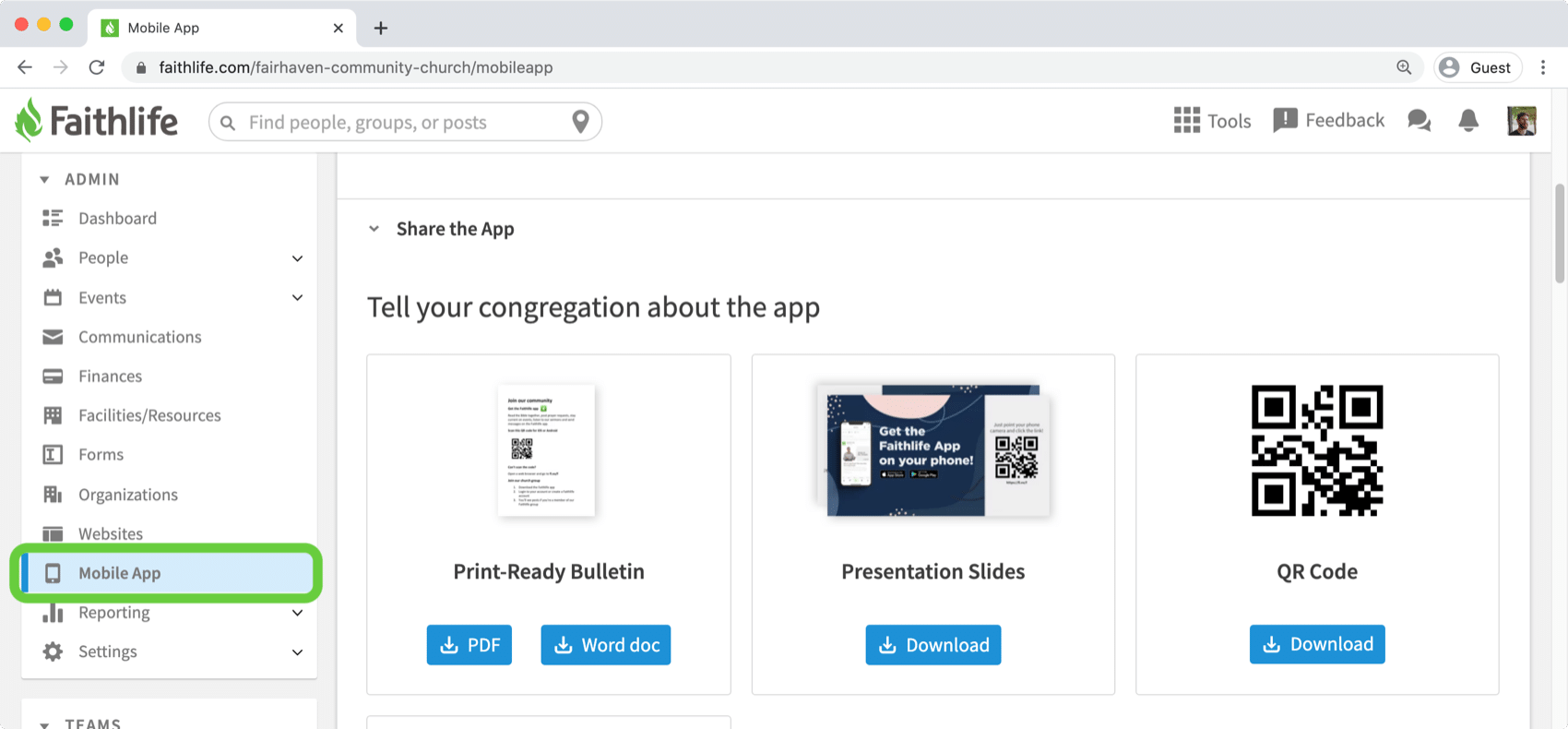 Note: Only admins or moderators of your church group can view the Admin navigation panel.
How to Download the App
The Faithlife mobile app is available for iOS, iPadOS, or Android. Tap one of the links at the top of the page to download the app (or use the provided links below).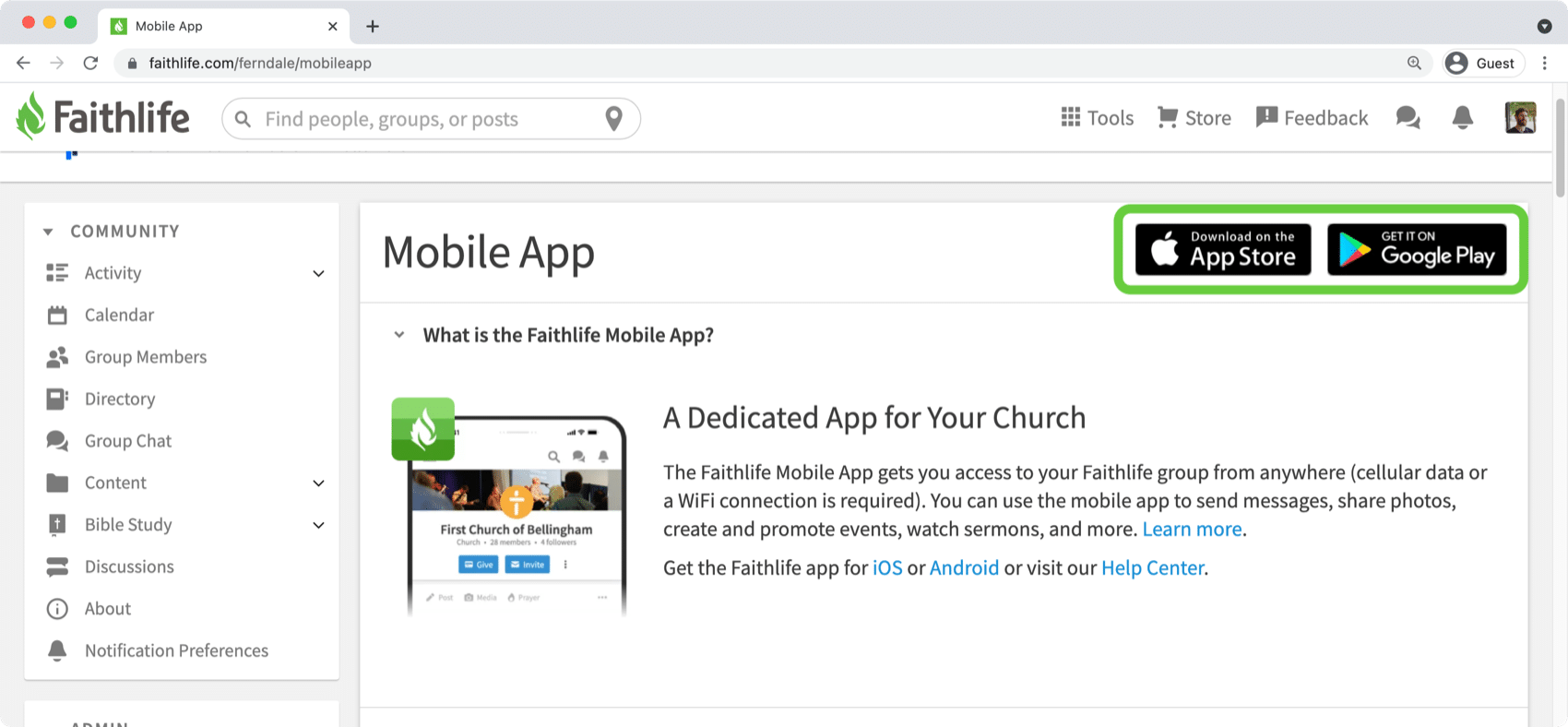 As you set up the app for your church, use the app on your phone to confirm the experience works as you expect.
Invite Your Church
The Mobile App customization section provides a special QR code and sharable link to invite your church.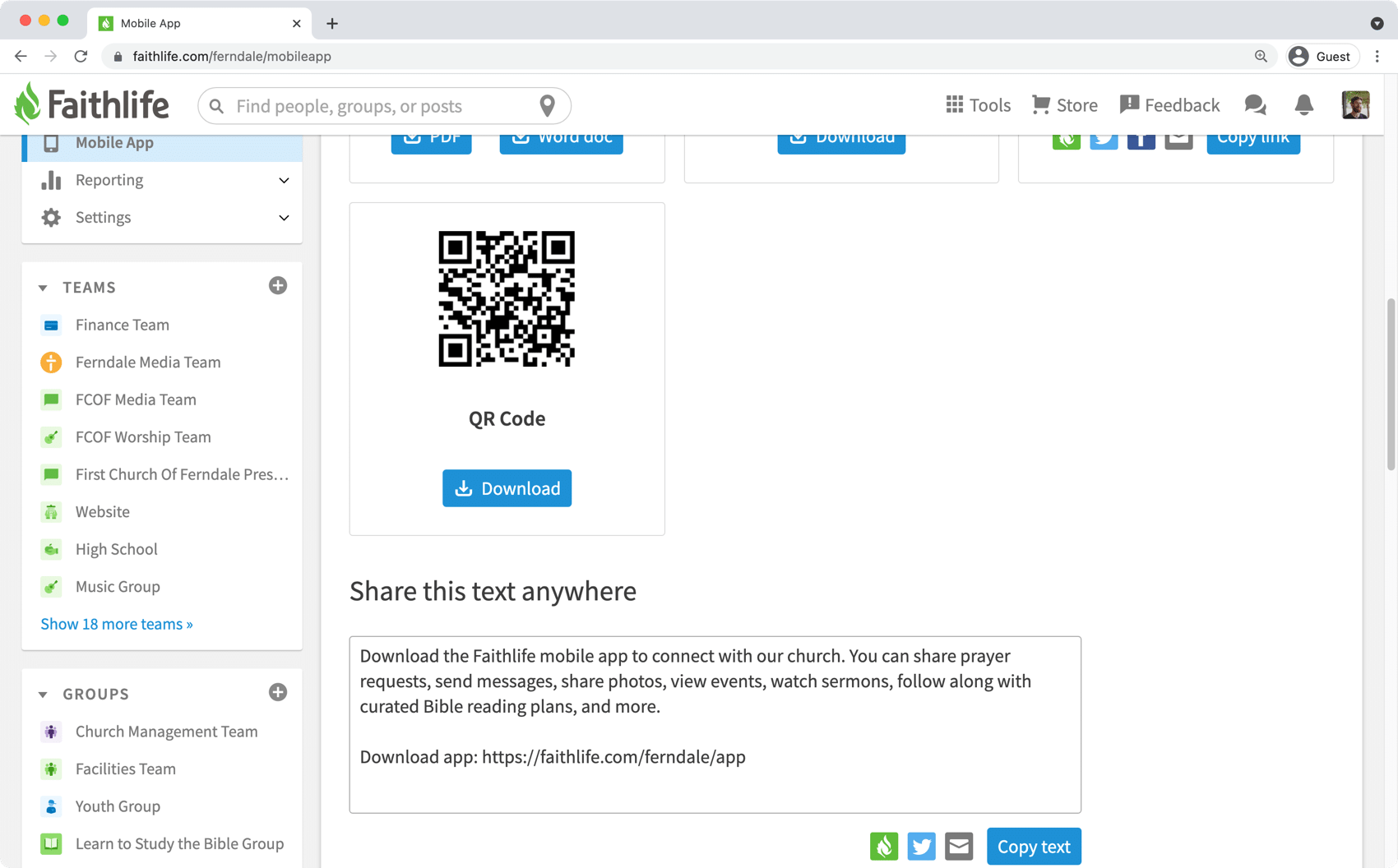 When people use scan the code or tap the link, they will be prompted to download the app and sign in. Once they sign in, the app will automatically request membership in your church group on their behalf.
You can use the printable and digital resources to education people in your church about the app.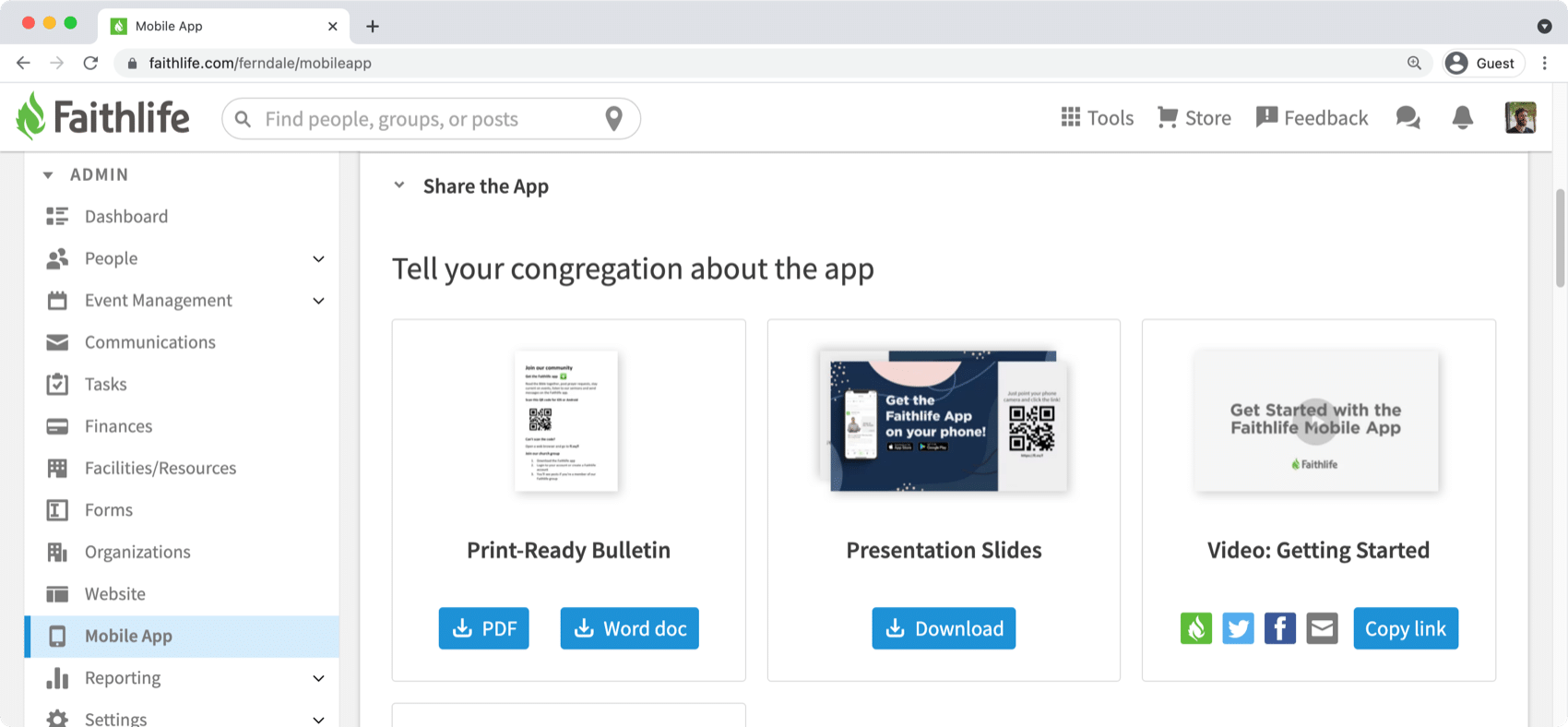 Note: If you use Faithlife Proclaim, you can access free educational media to show to your church before, during, or after your service. Open the Media Browser and search for "Faithlife App."
Customize the app experience
The Faithlife app connects your people to your church community in several ways. You can customize the left-most tab for everyone in your group. Choose between one of two settings: display your church website or display custom content.
Display Your Church Website
By default, the left-most tab displays your church website.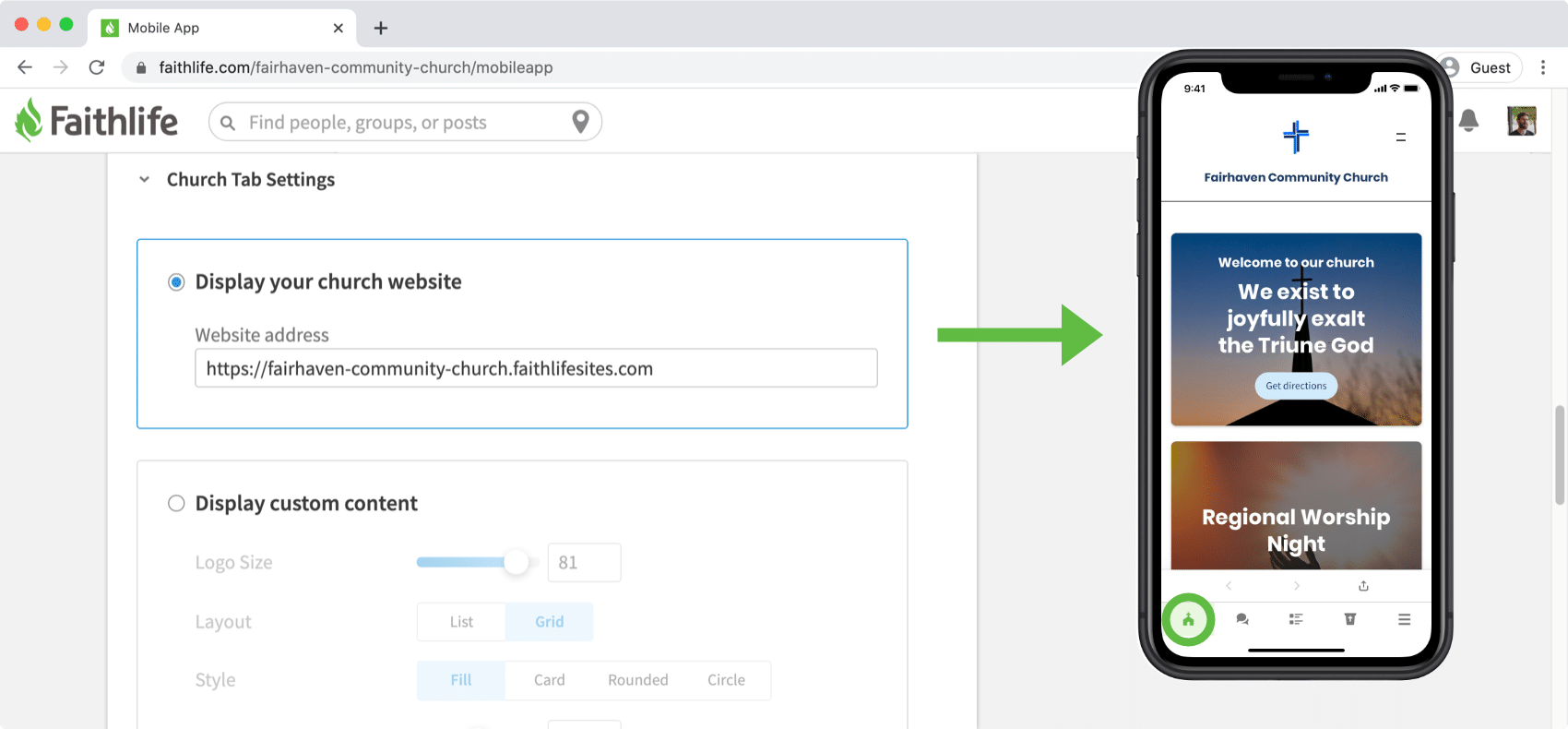 Display Custom Content
Alternatively, select Display custom content to personalize the church tab for your people.
Customize the styling.

Make adjustments to the logo, layout, style, and other aspects to fit your needs.

Add sections.

Click Add section and select a section type via the dropdown menu.

Depending on your styling settings, sections will include default photos. To change the default photo, click the camera icon to provide your own image. You can upload your own photo or choose a church-specific stock from Faithlife.

Click Save to confirm your changes.

View your changes.

Open your Faithlife app and refresh the church tab to view your results. Anyone in your church group will see this same customized church tab.