This feature requires your presentation team to have its songs migrated to a worship team on Faithlife Music. If these steps don't work for you, please send us an email at support@faithlife.com to check the status of your group.


If you're looking to skip the stands and just use a confidence monitor, Proclaim's got you covered. Add chords in-line with your lyrics to show them on the confidence monitor for your musicians.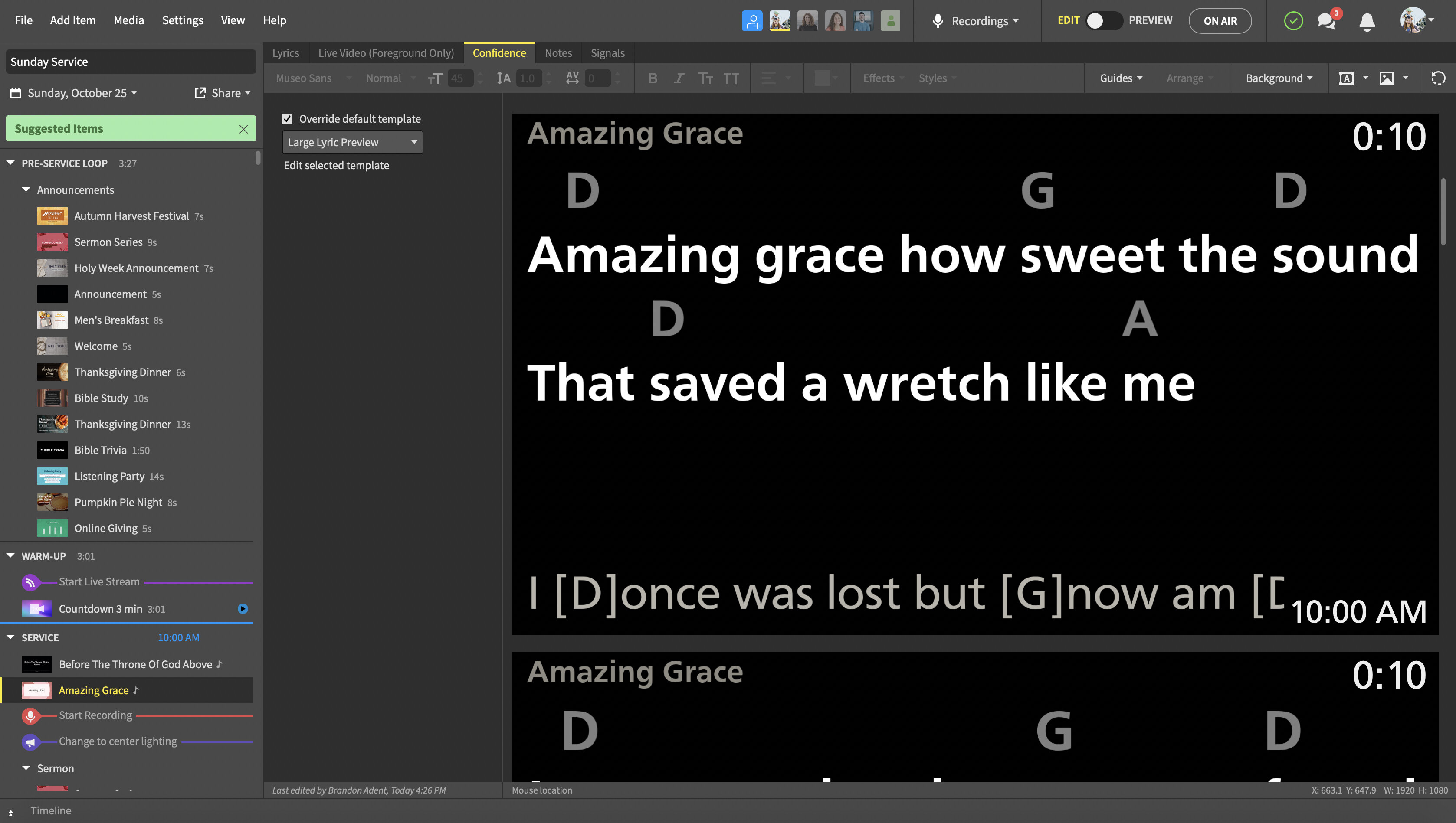 You can add the chords on either Faithlife Music, or right into Proclaim. Then, optimize your confidence monitor for chords.
Edit in Proclaim
Go to the song in Proclaim and select the arrangement you want to edit. Enter the chords inline in brackets:
A[D]mazing grace, how [G]sweet the [D]sound
That [D]saved a [Bm]wretch like [A]me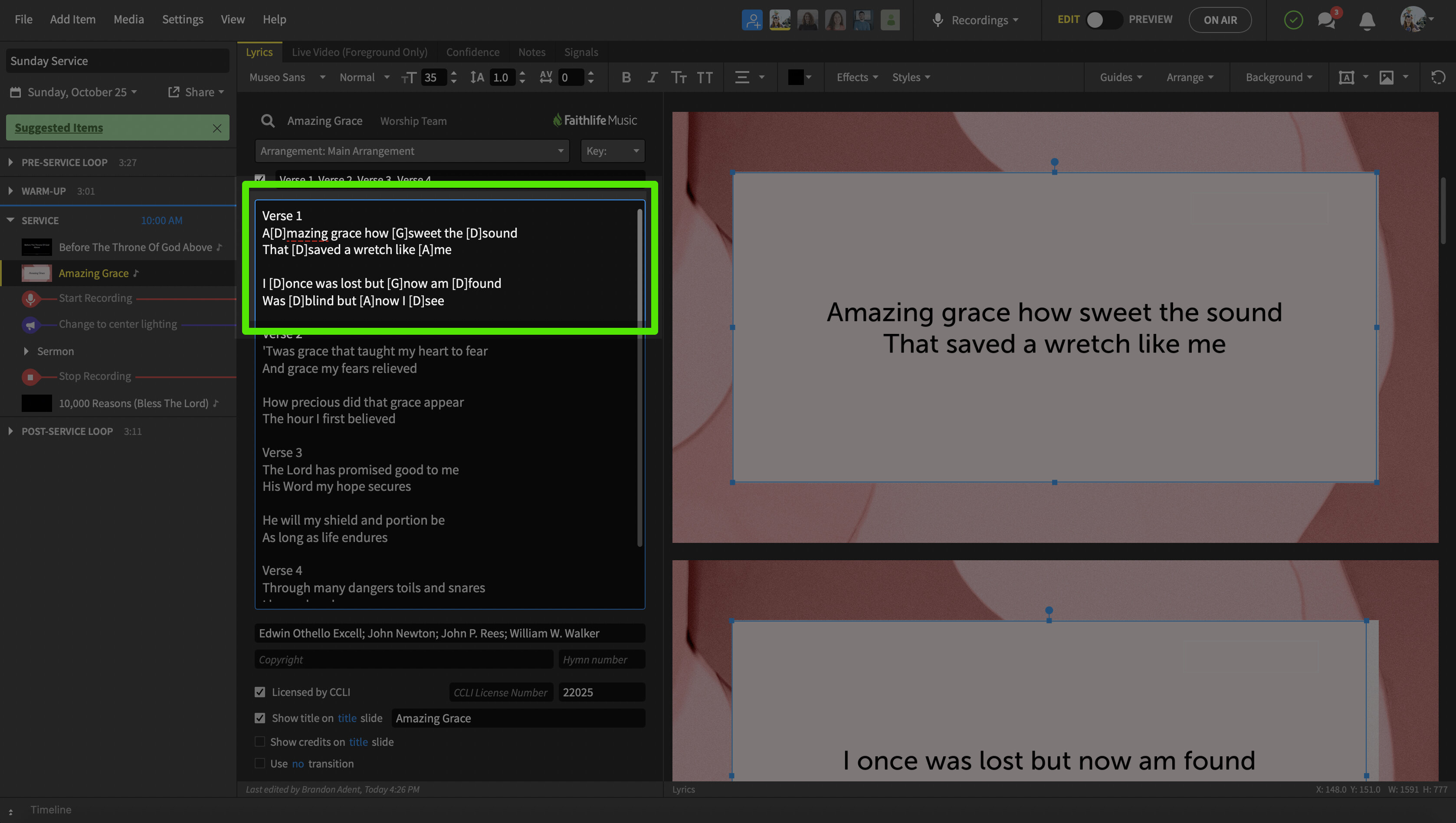 The chords will show up on the confidence monitor and not on your Slides output.
When you've edited your song, the changes will sync with Faithlife Music so the rest of your team can access them on the web.
Edit on Faithlife Music
Note the arrangement title of the song; you'll need to know that before you start adding chords. Click the Faithlife Music icon on the upper right of the Edit pane.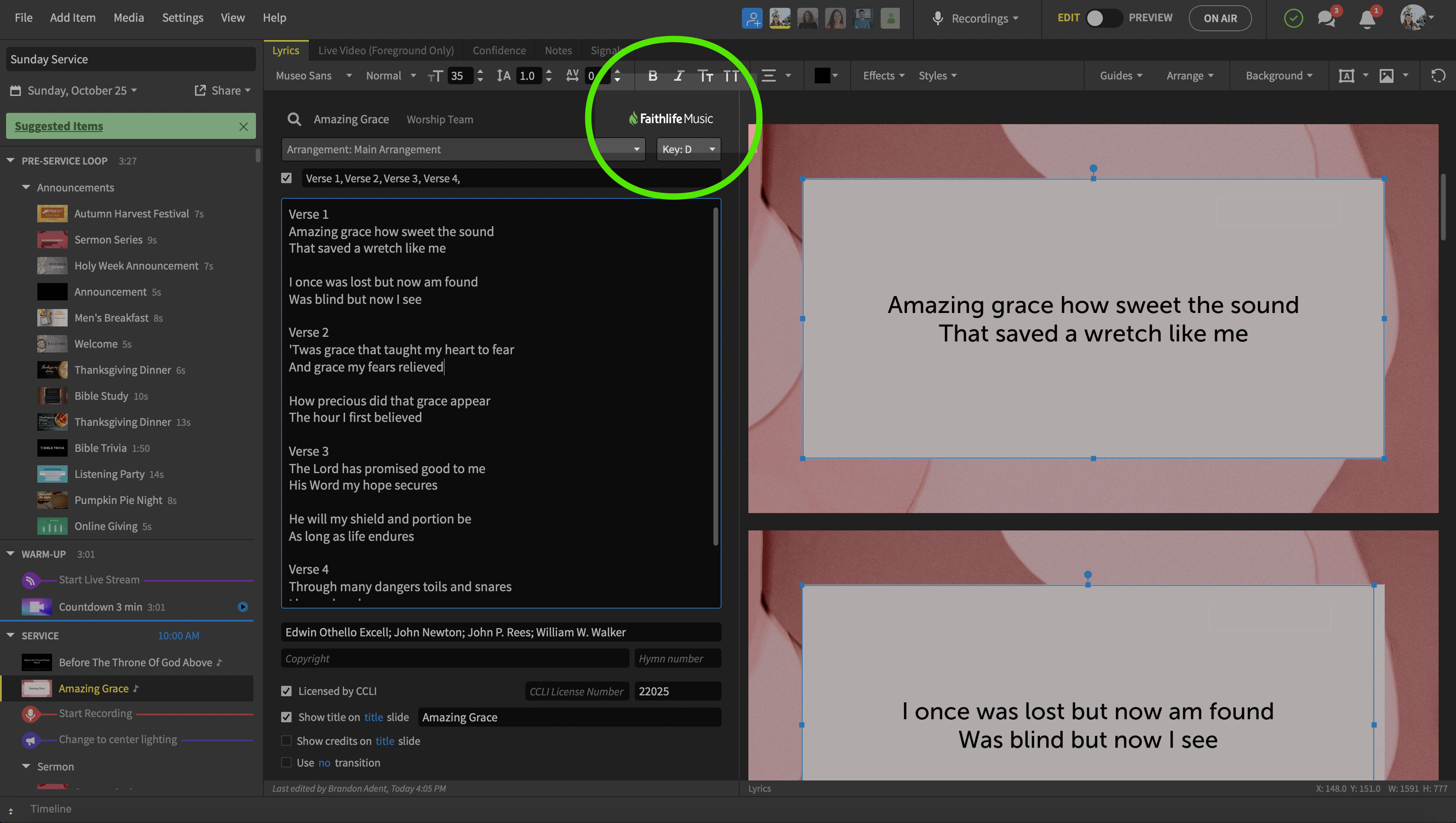 This will take you to the song page on Faithlife Music, where you can view all your arrangements. Click the arrangement you want to add chords to.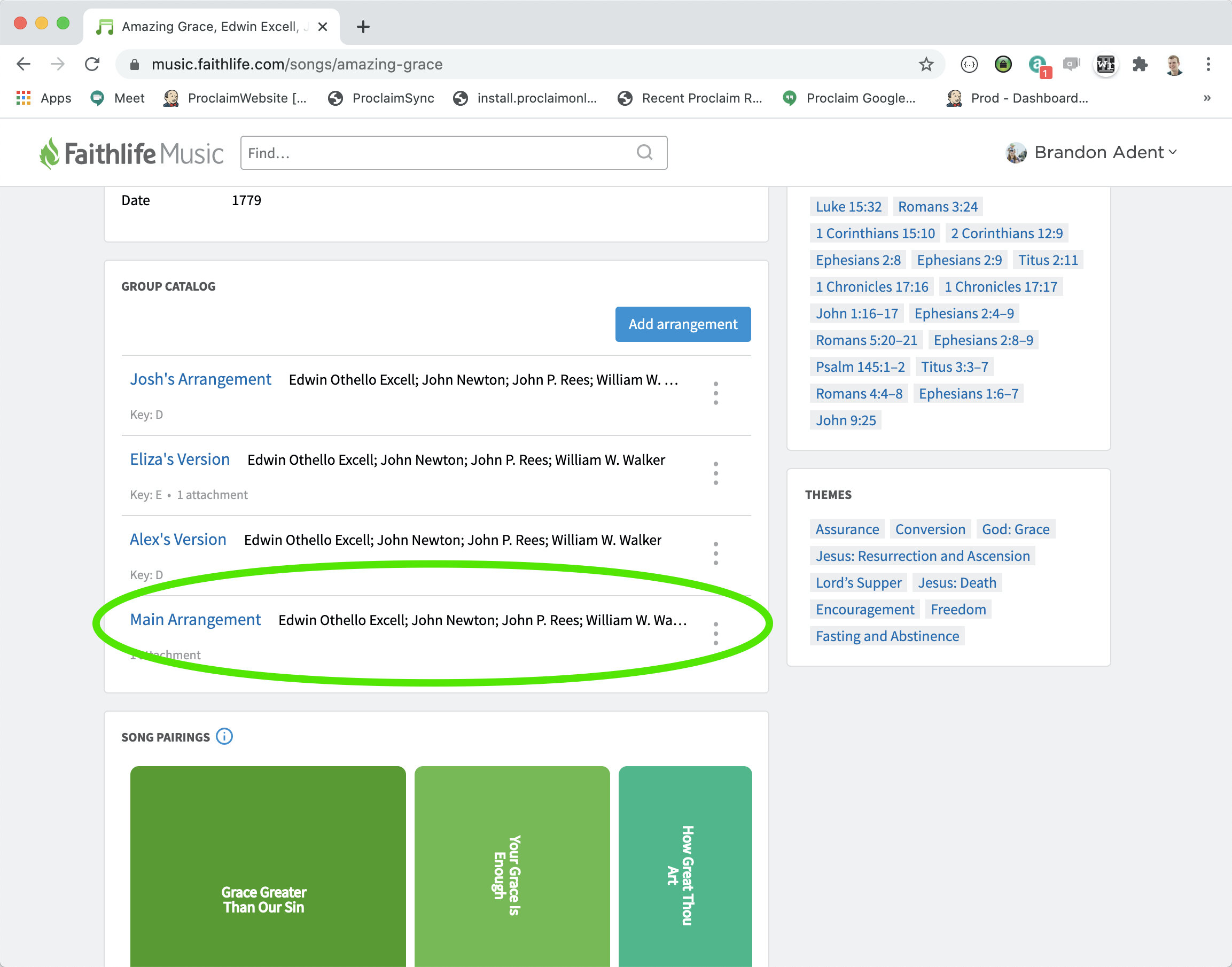 Enter the chords in brackets, like this:

A[D]mazing grace, how [G]sweet the [D]sound
That [D]saved a wretch like [A]me
You can do this yourself, or click Import ChordPro to use an existing set of chords and lyrics that are already in this format. You can download these with a SongSelect® Premium subscription or search the internet for them.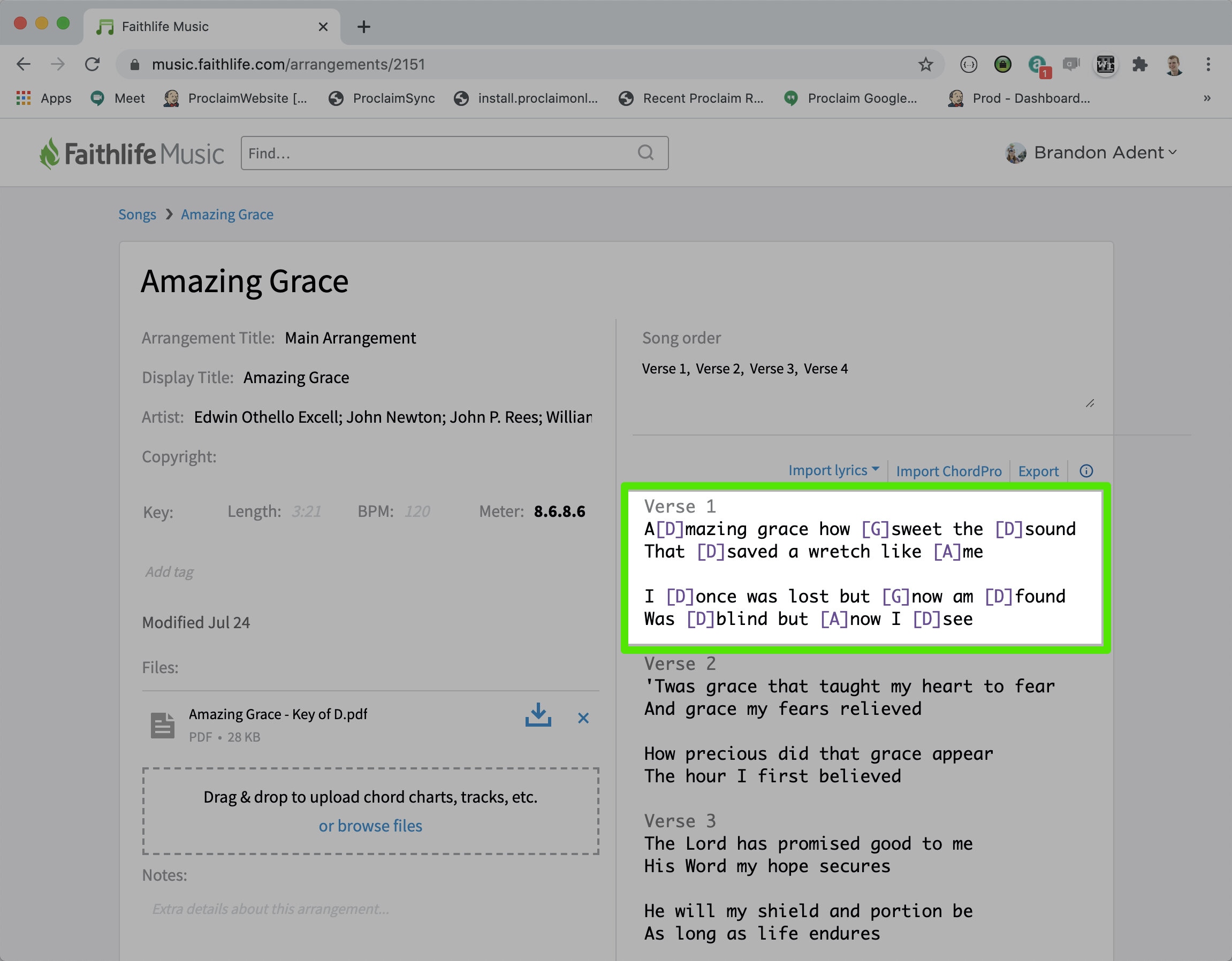 Faithlife Music will save your work automatically. When you're done, go back to Proclaim. From there, click the sync icon, then navigate back to the song to see your lyric changes in Proclaim.
Set up your confidence monitor
First, configure your display settings to show the confidence output on the correct screen.
Go to Settings > Default Confidence. Choose Song from the service item type dropdown menu and set the default template to Large Lyric Preview. You can also make your own custom template if you'd prefer.
You're all done! Go back to the song and click the Confidence tab to see a preview of your chords and lyrics in the Confidence output.