Alternate Content virtual screens give you the ability to show slide content in different ways. This will let you do things like have a dedicated virtual screen for your live stream - set to foreground only - in addition to your standard slides, confidence and notes outputs.
To add Alternate Content to your presentation, go to Settings > Display, then click Add virtual screen. Give it a title and click done to save your changes.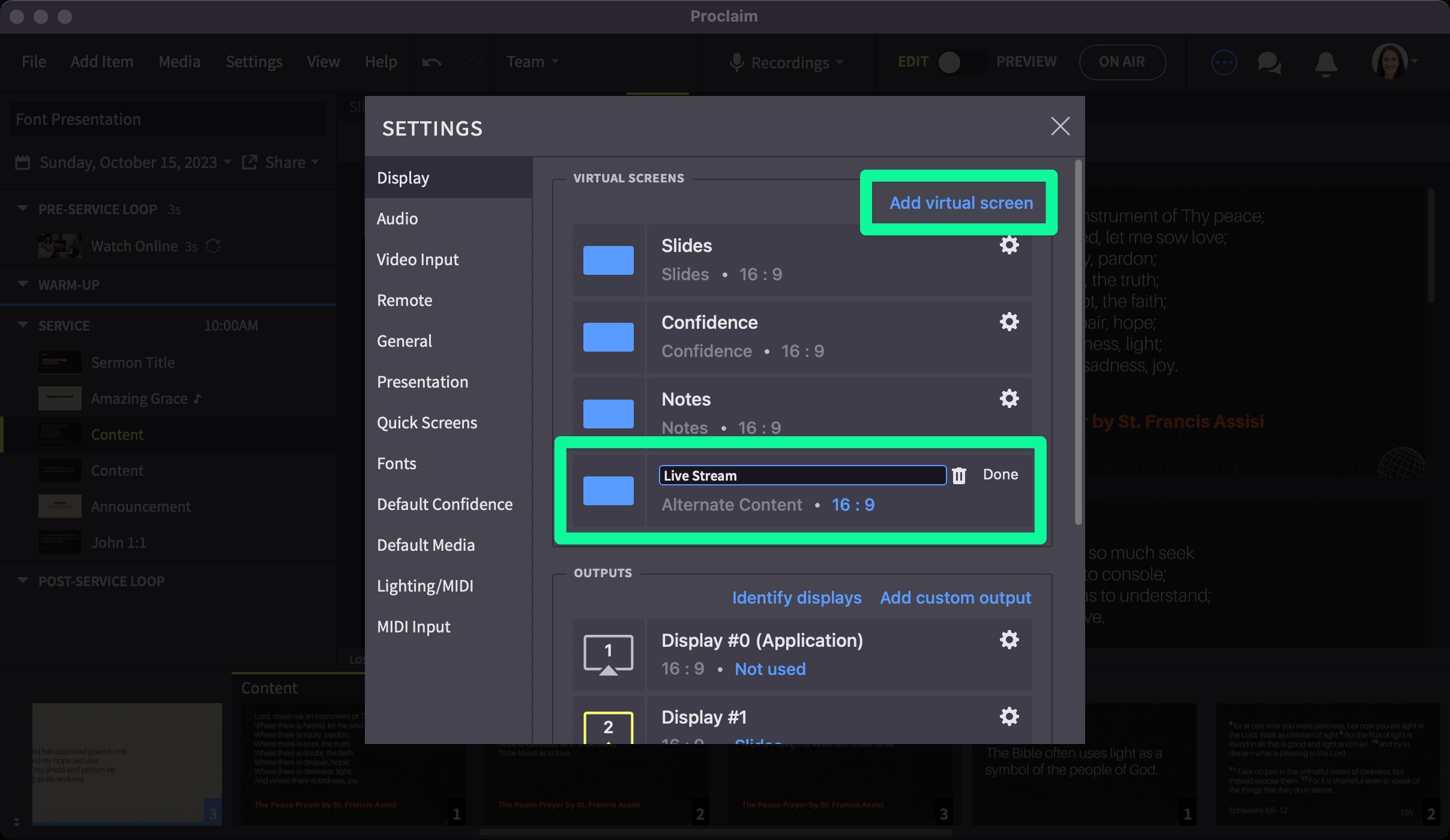 Every Virtual Screen corresponds to a tab in Proclaim. When you exit the Settings menu you'll see a new tab with the name you gave earlier. This is the virtual screen you just made. Click it to configure the content type used for this service item.
Options for Standard Customizable Items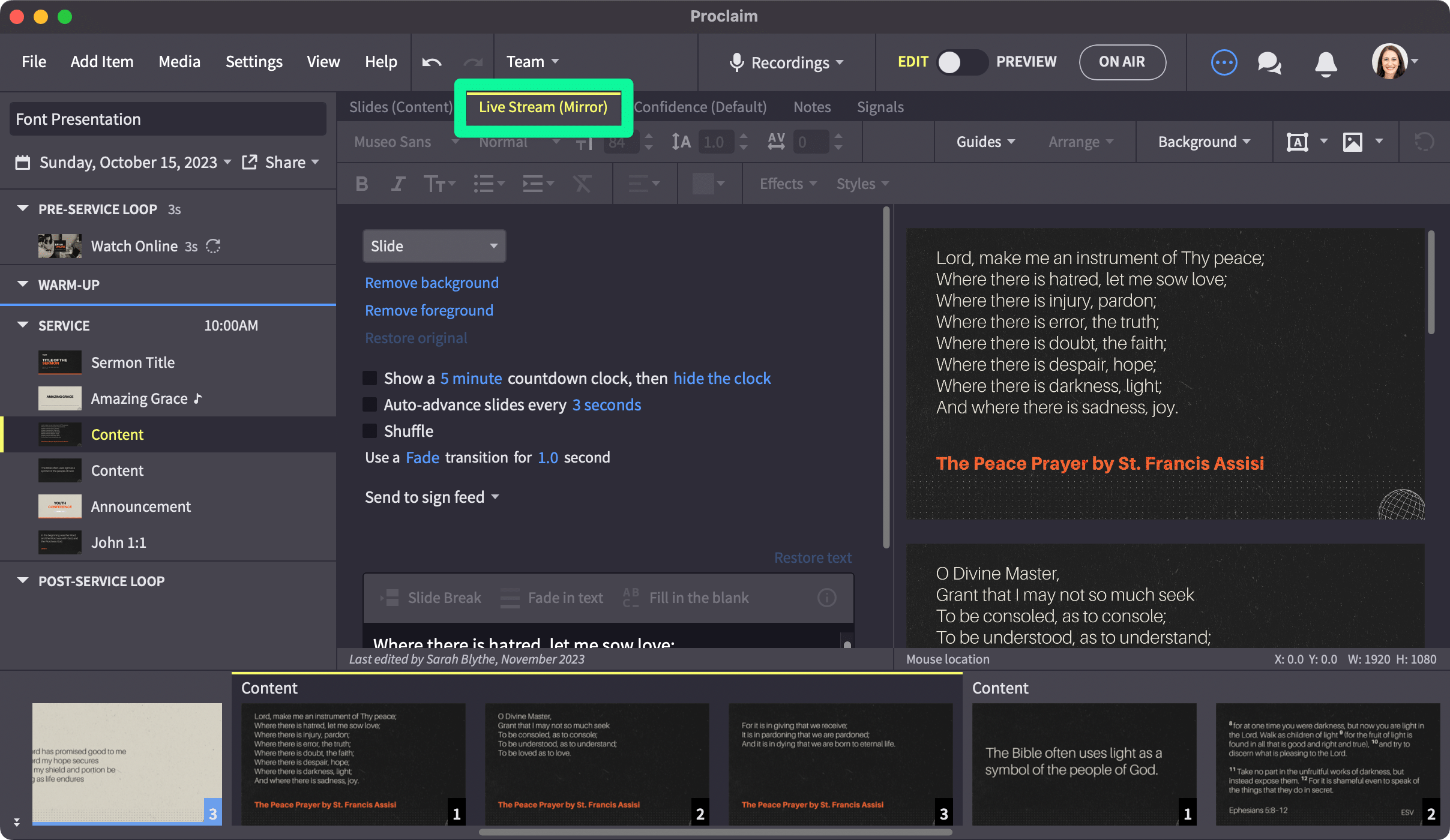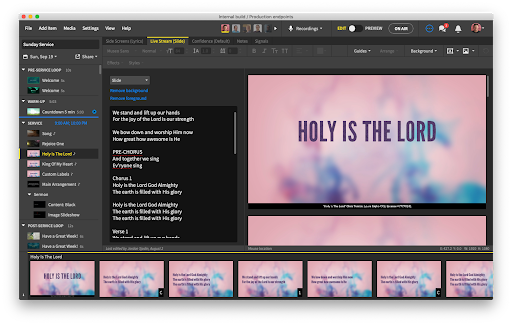 You will see a few options on your new screen. Standard items like Songs, Content, Bible Passage, and Announcements will have a dropdown menu with Slide and Blank options. The default setting is Slide and two action buttons, Remove background and Remove foreground.
Blank sends a totally transparent slide. This works well for live stream scenarios where you just want to show your camera feed or keyed out background. It also fits in a multi-screen scenario where the content is not needed on the additional screen.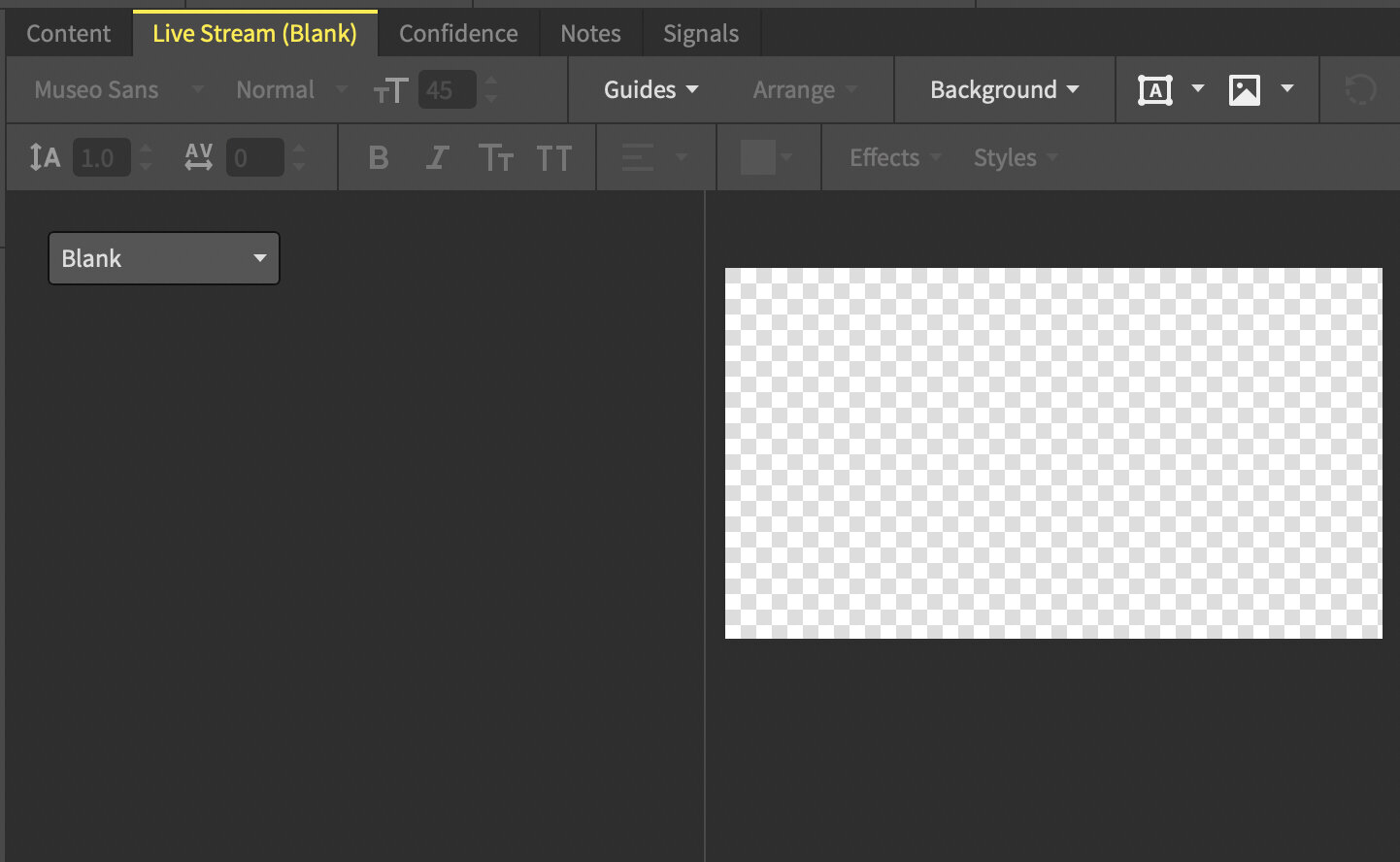 Slides is the default case and gives you a fully editable slide. It starts out as an exact copy of your main slides, but you can edit it as you like, move fields, change the background, and apply Smart Media that fits your scenario.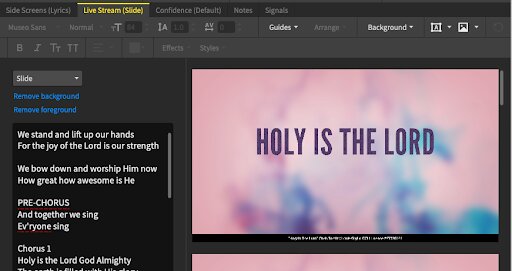 If you make changes and later want to return to the main slide's look, click Restore original.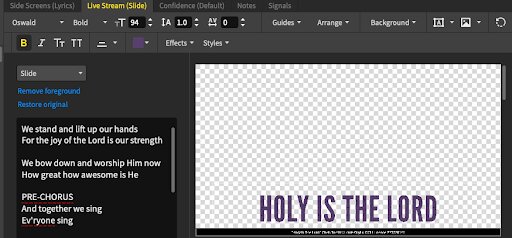 The Remove foreground and Remove backg​​round buttons remove the foreground or the background from your alternate content slide. If you've been using Proclaim, these replace older Background only and foreground only options. These new action buttons work as before, but give greater flexibility and clarity.
Options for non-customizable items
In addition to the above standard items, Proclaim also supports items like On-screen bible, Bible Trivia, Video items, Image Slideshows, and more that don't support the standard slide editing experience. However, on alternate content you can override this, to create a totally custom slide.
When on one of these items you will have a slightly modified set of options. Here I am looking at my alt-content tab on an On-screen Bible for John 3:16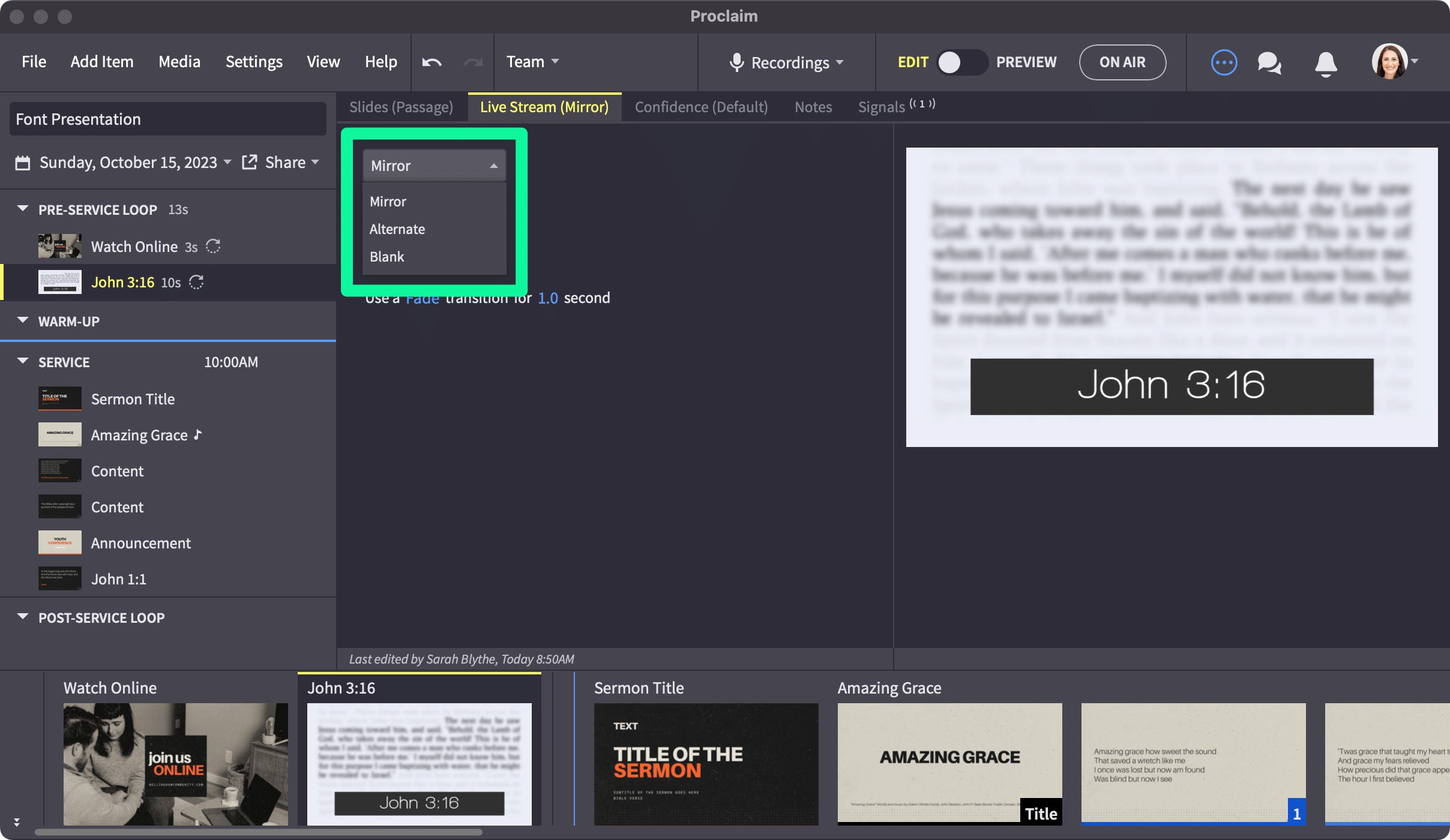 We have Blank, which has the same behavior as above, plus Alternate and Mirror.
Mirror is the default for these items and results in sending exactly the same content to your virtual screen.

Alternate gives you a fully-editable slide. After selecting Alternate, I now have a blank canvas and access to the regular toolbar options I'm used to from the standard items like Songs, Content, and Bible passages.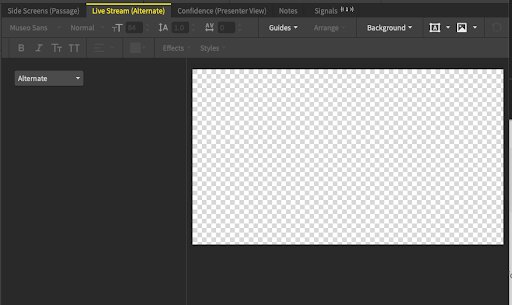 Since my main slide is showing On-screen Bible, I'm going to format a lower thirds passage for my live stream. I'll go to Background > Browse Media, find a lower thirds background I like and hit Apply as backgrou​​nd. I'll then add a textfield, and type in my text. Followed by positioning the field along the bottom.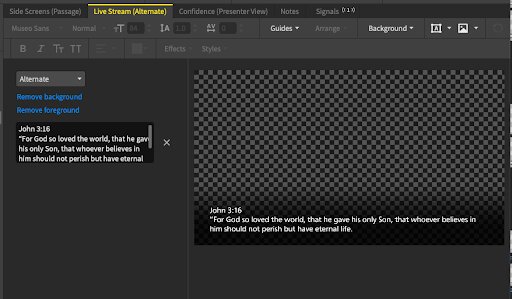 Formatting your Virtual Screens
Formatting your alternate virtual screen is as easy as formatting any slide in Proclaim. Ensure Slide or Alternate is selected in the dropdown, then proceed to customize as normal. You can change the position of fields, add foreground images, and apply backgrounds and smart media.
Note:You can apply the template to multiple service items of the same kind all at once (e.g. Songs, Content). Before editing your virtual screen, hold down the command key on Mac (CTRL on Windows), and choose the items you want to change.
Apply an Existing Template
Edit the virtual screen the same way you would edit a background in Slides. Click Background near the right side of your screen, choose Browse Media to open the Media Browser, and search for "lower thirds" media. You can also click "Lower Thirds" under Popular Tags.
These media have a mostly-transparent background and the textfields in the lower third of the screen to let your live video background come through.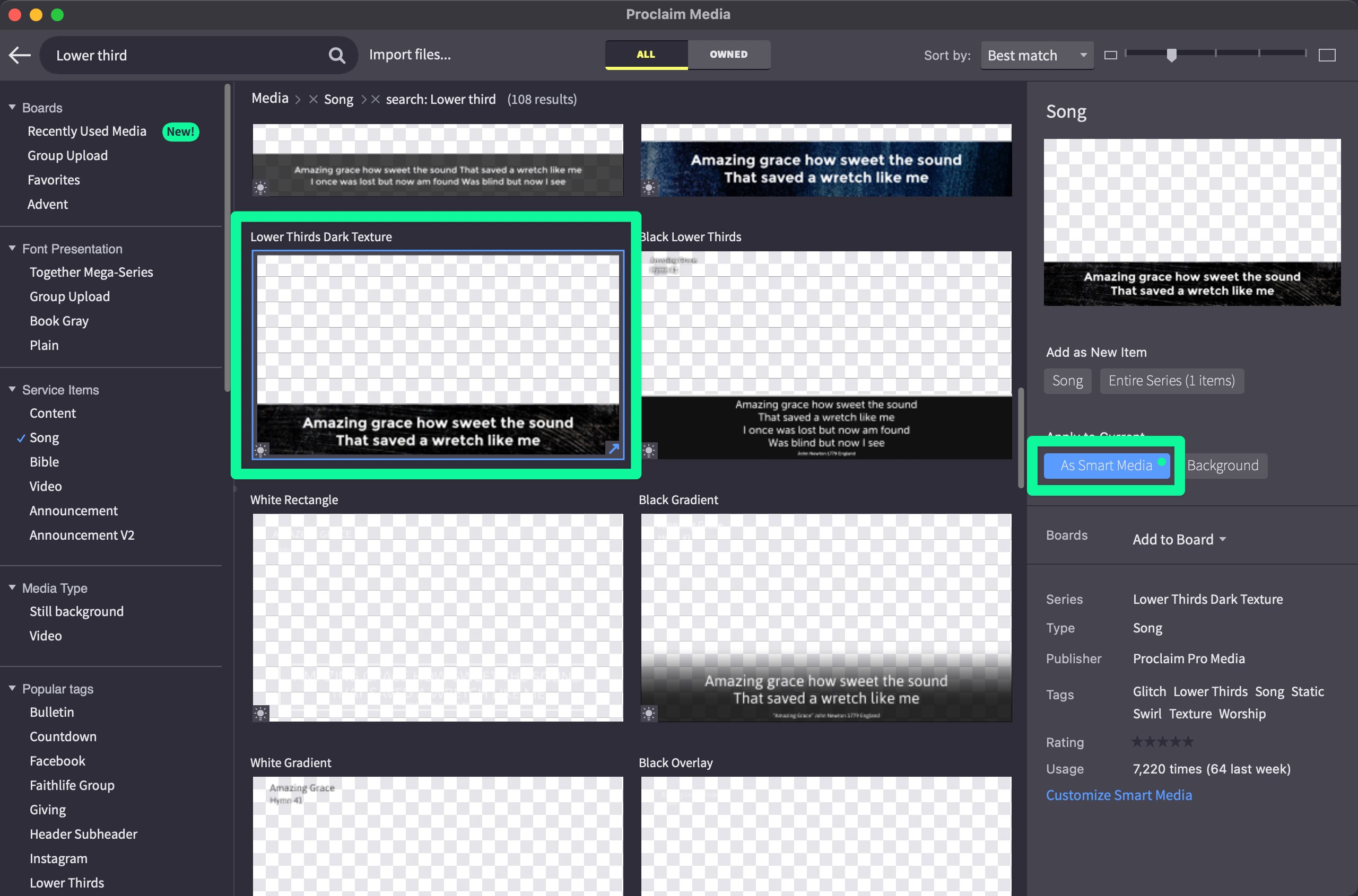 Choose a piece of media, then click Apply as Smart Media. Your virtual screen will now be formatted for your live stream, while your Slides output retains its original design.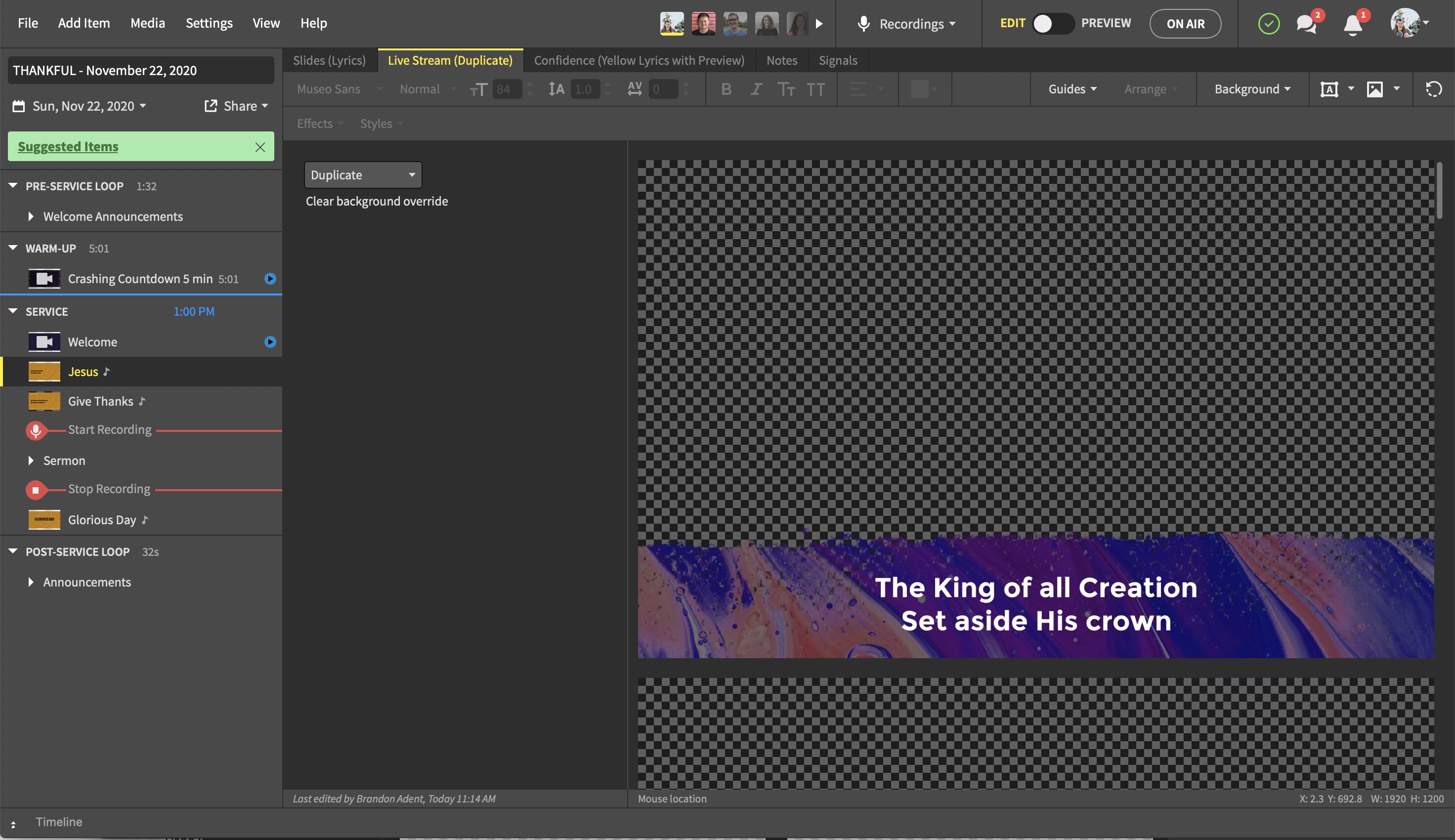 Format the Virtual Screen Manually
If you plan to use a custom background select Slide or Alternate from the dropdown, then click Background, then Import... Select your custom background from the picker and choose it to apply it to the selected items.
Resize and move your text fields to where you want them, just like the Slides output. You can also choose a different font or font color to make your text stand out against the background.
In addition to changing the formatting of your slide, you can also change the content too! Click here to learn how.
Click here to learn more about how to use this output for your live stream.