Members of your Finance Team can use Faithlife Giving to track manual deposits (i.e., non-Faithlife Giving donations) into your church's bank account. Tracking all your gifts with Faithlife Giving can provide another control for those managing your church's finances.
Note: Batch deposits not only keep you better organized financially, but also make life easier for you and your givers. For instance, if you track all gifts given to your church, year-end tax statements will include all donations to your church. Additionally, the Giver Portal will show a live, comprehensive view of each giver's history in one central place.
Start a Batch Deposit
Go to Your Finance Team on Faithlife.com. You must be a member of your Finance Team to access deposits.
Select Deposits in the Admin panel of your Finance Team and click Start batch.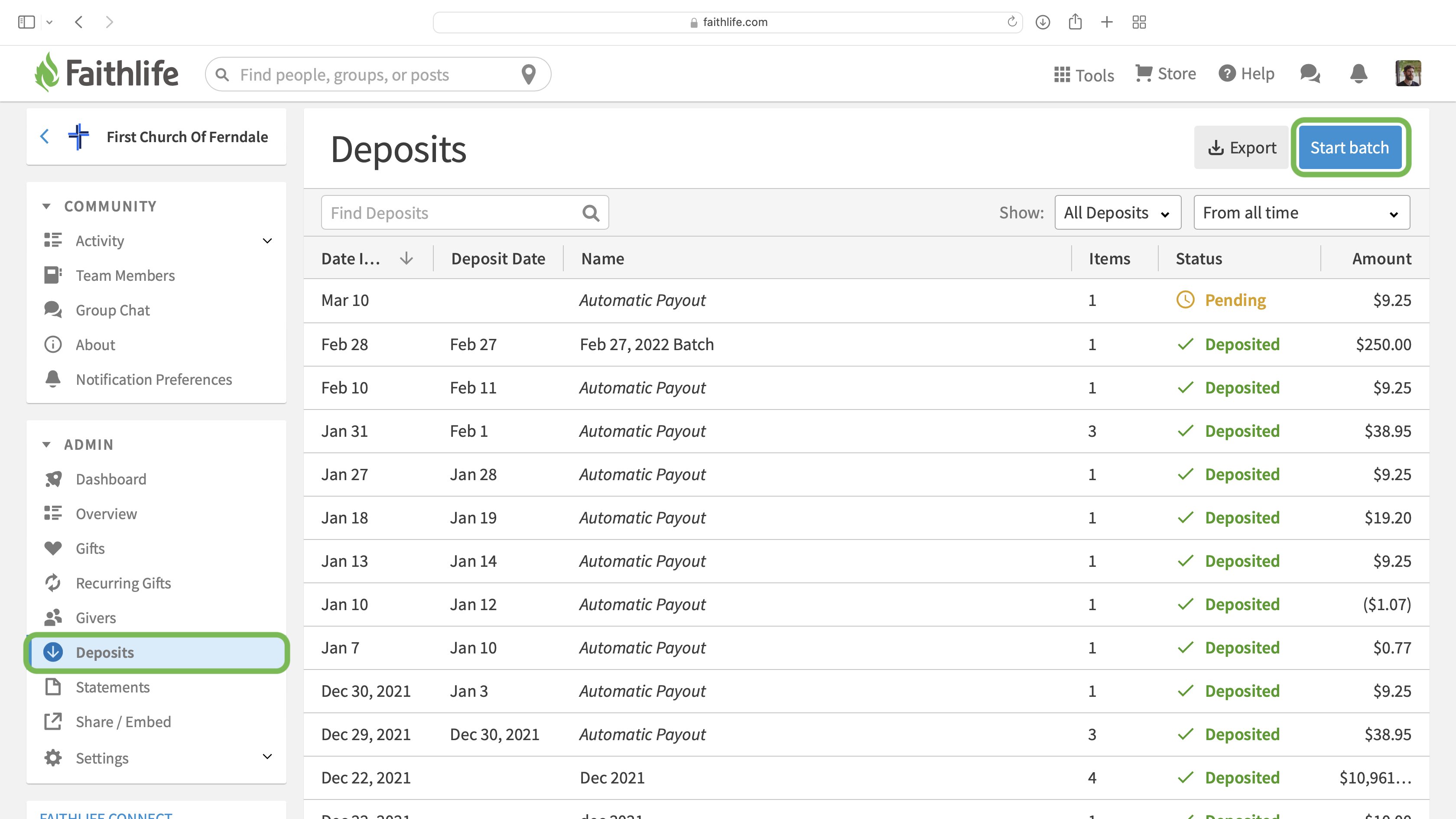 Provide batch details and click Start batch.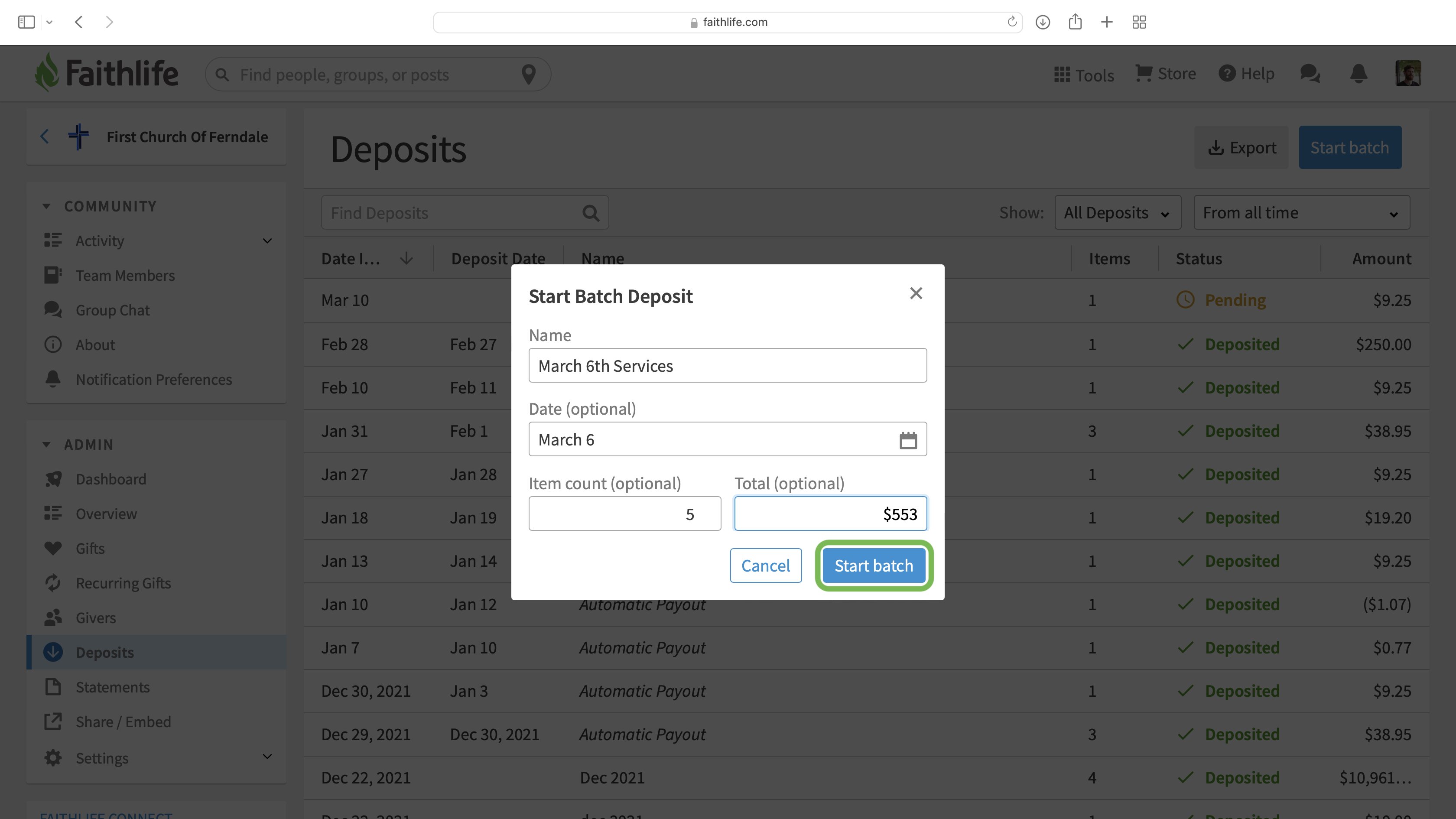 Name: Provide a name to identify the deposit in the future.
Date: While not required, adding a date will show results when searching, filtering, or sorting your deposits in Faithlife Giving and will enable you to match the deposit by date on your bank statement.
Item Count: If you add a total number of gifts in your batch deposit, Faithlife Giving can help you double-check your gift total for the deposit.
Total: If you add a total amount for the gifts in your batch deposit, Faithlife Giving can help you double-check your amount total for the deposit.
Note: You can also start a batch deposit from the Gifts report in your Finance Team.
Add Manual Gifts to a Batch Deposit
You can add cash, check, PayPal, in-kind, or other gifts (i.e., any gift given through something other than Faithlife Giving) to a batch deposit. When you first create a batch deposit, it prompts you to add gifts. You must provide a Date, Gift Type, and Fund(s) for any gifts. Learn more about adding manual gifts.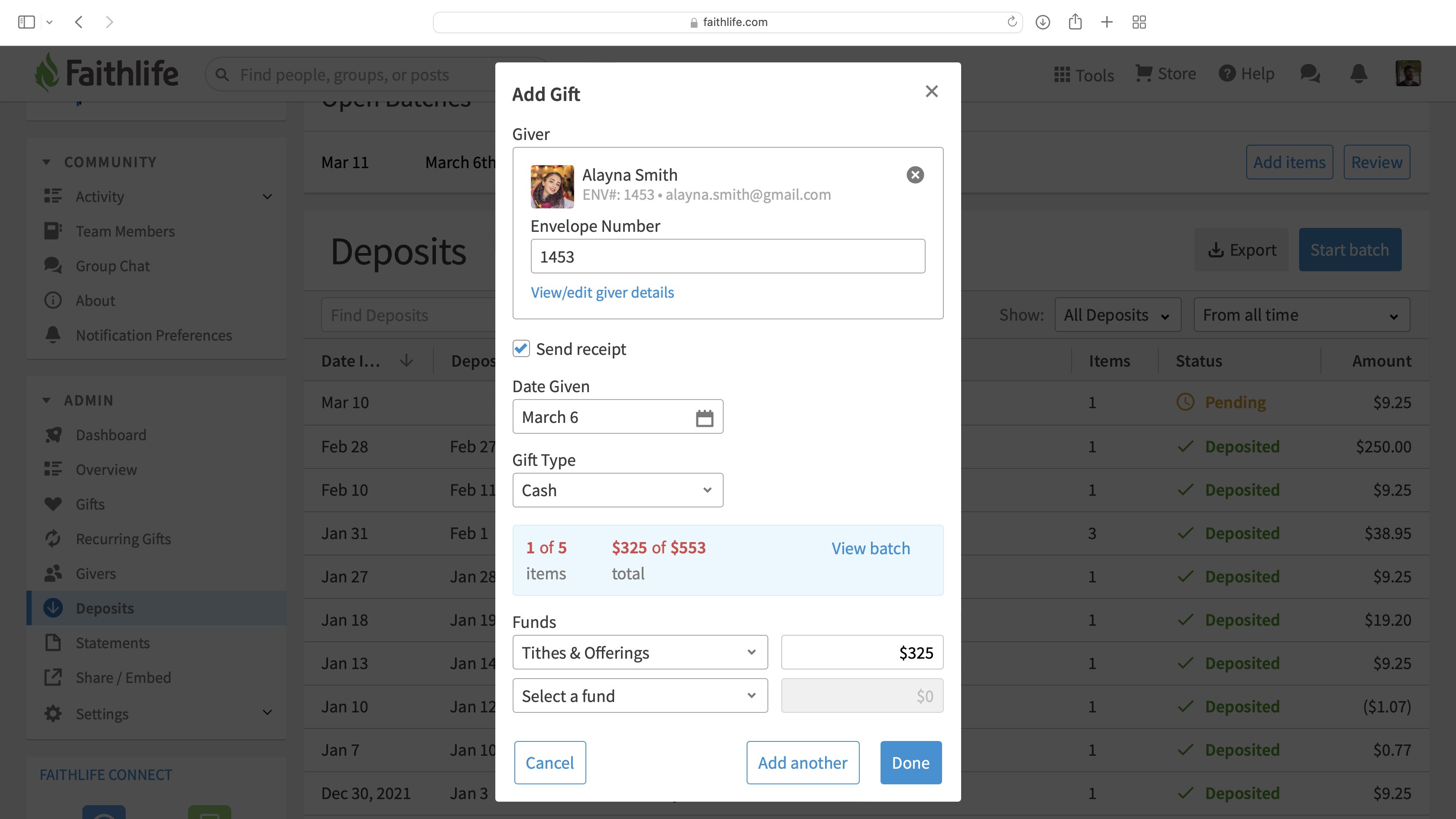 If you included an Item count and/or Total when creating your batch deposit, an indicator helps you check your math as you add gifts to your deposit.
Bulk Add Manual Gifts to a Batch Deposit
To bulk add existing gifts to a batch deposit, navigate to the Gifts report, select your desired manual gifts, and choose Add to batch deposit from the Actions menu. Choose an existing open batch deposit or create a new one.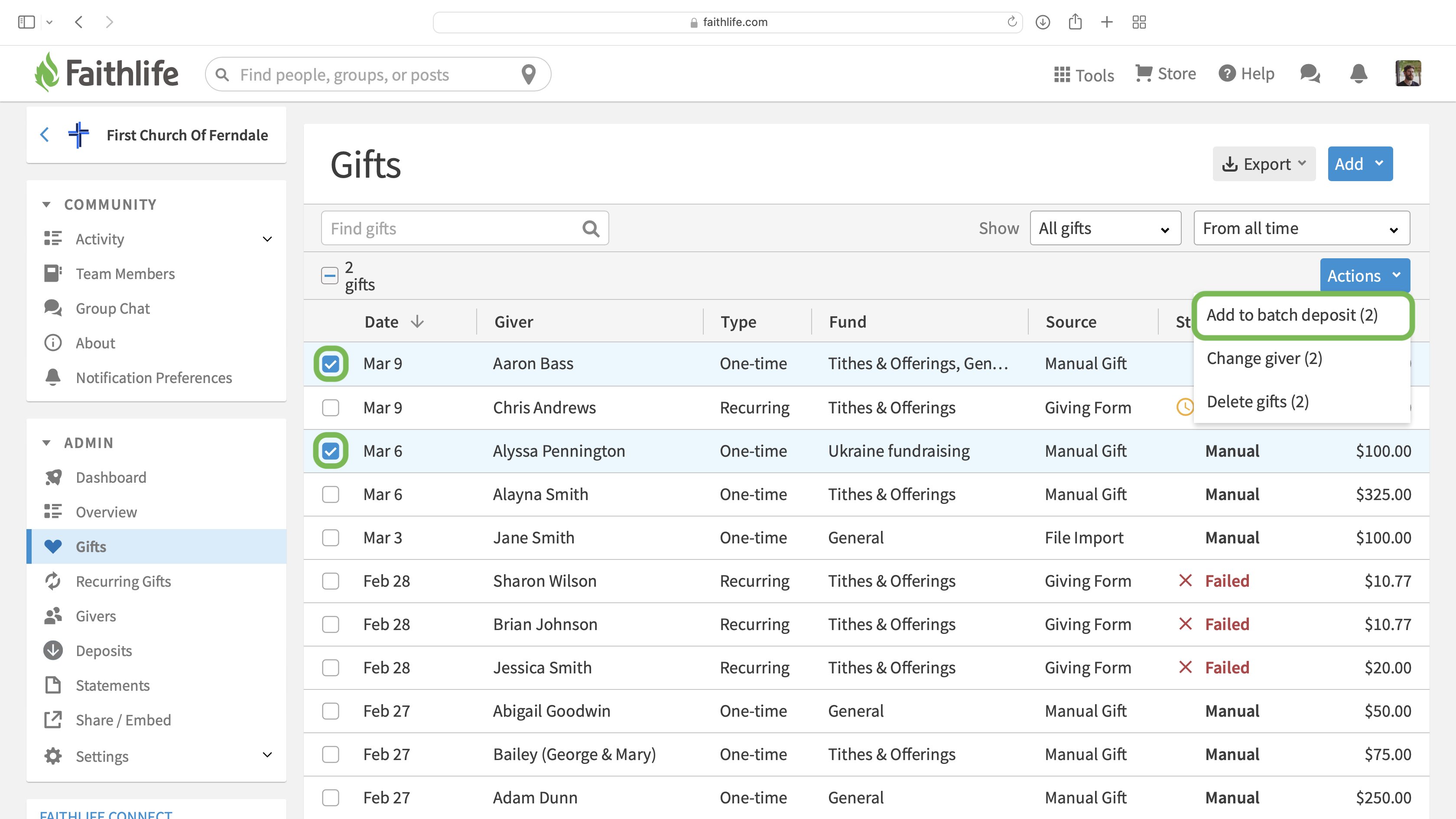 Note: Remember, only manual gifts can be added to a batch deposit, as gifts given through your Faithlife Giving form are automatically deposited for you.
Edit a Batch Deposit
In the Deposits report Open Batches show above. Batches remain open until you complete them (as shown below).
Click Review to view and edit the batch deposit's details.
Note: As when viewing any deposit, linked gifts show at the bottom of the batch deposit so you can easily edit associated manual gifts.
Complete a Batch Deposit
While editing your batch deposit (as shown above), click Mark as complete.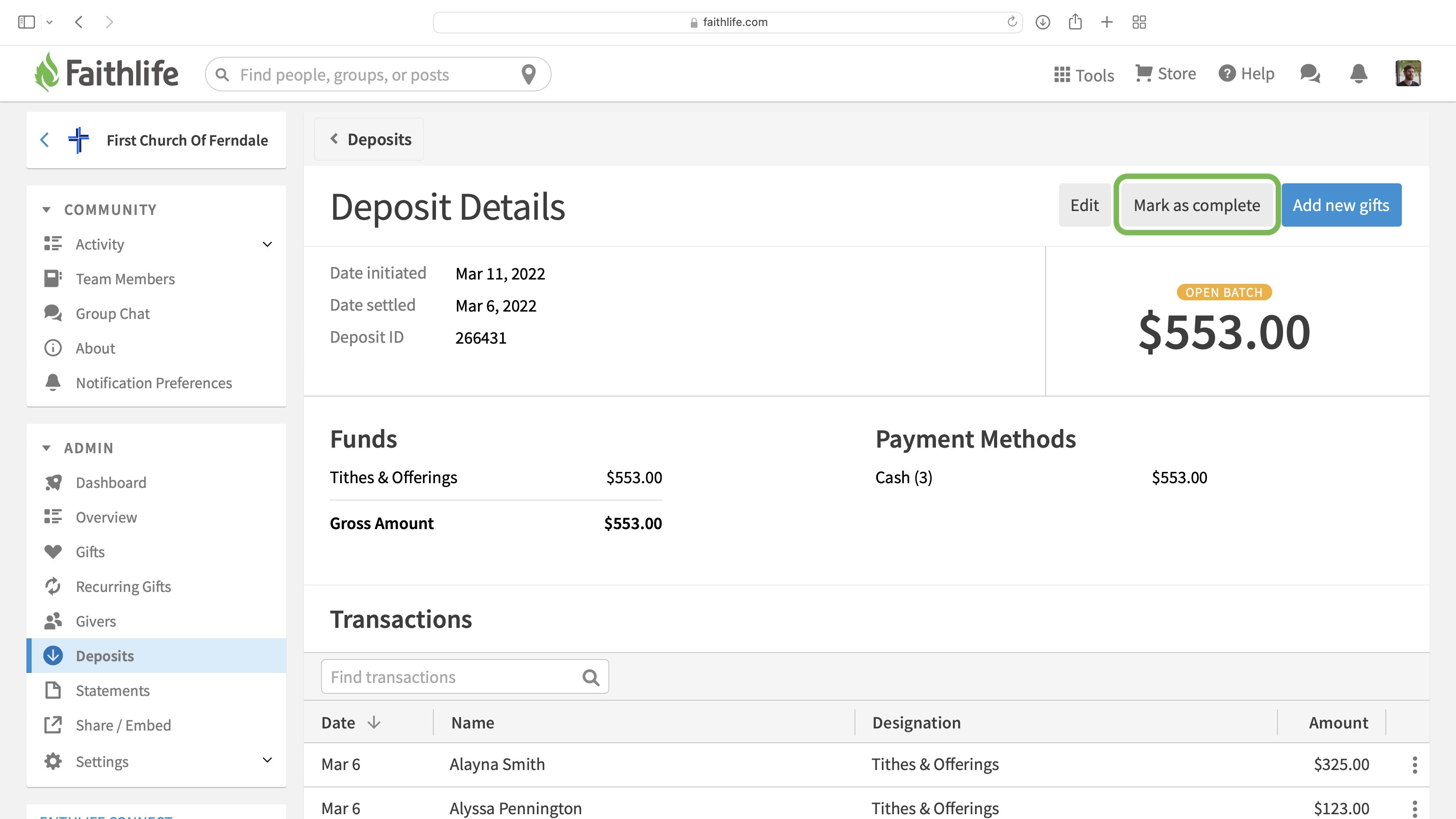 Note: You can also mark the deposit complete when adding your last gift to the deposit by checking Mark as complete before saving it.
Deposits made by Faithlife Giving show as Automatic Payout in the Deposits report while manual batch deposits show the name you've assigned them.