A Worship Team is a part of your church group at Faithlife.com. When you create a Worship Team, vocalists, instrumentalists, and other members also gain access to your church music catalog on Faithlife Music.
Now you can easily stay connected to your team and communicate vital details about upcoming sets. Are you doing a special arrangement of a popular song? Upload it to Faithlife Music, message your team, and everyone can review the arrangement and be ready for rehearsal.
Note: A Worship Team is different from a Proclaim Presentation Team. Presentation teams are for people involved in creating presentations, and Worship teams are for vocalists, instrumentalists, worship leaders, etc. Learn more about Presentation teams. Not a Proclaim user? You can still create a Worship Team and access Faithlife Music. You can also try Proclaim FREE for 30 days!
1. Create your Worship Team.
Note: Creating a Worship Team requires an existing church group. If you don't have a church group, it is FREE and easy to create!
Navigate to your church group at Faithlife.com and click the plus icon

next to Teams.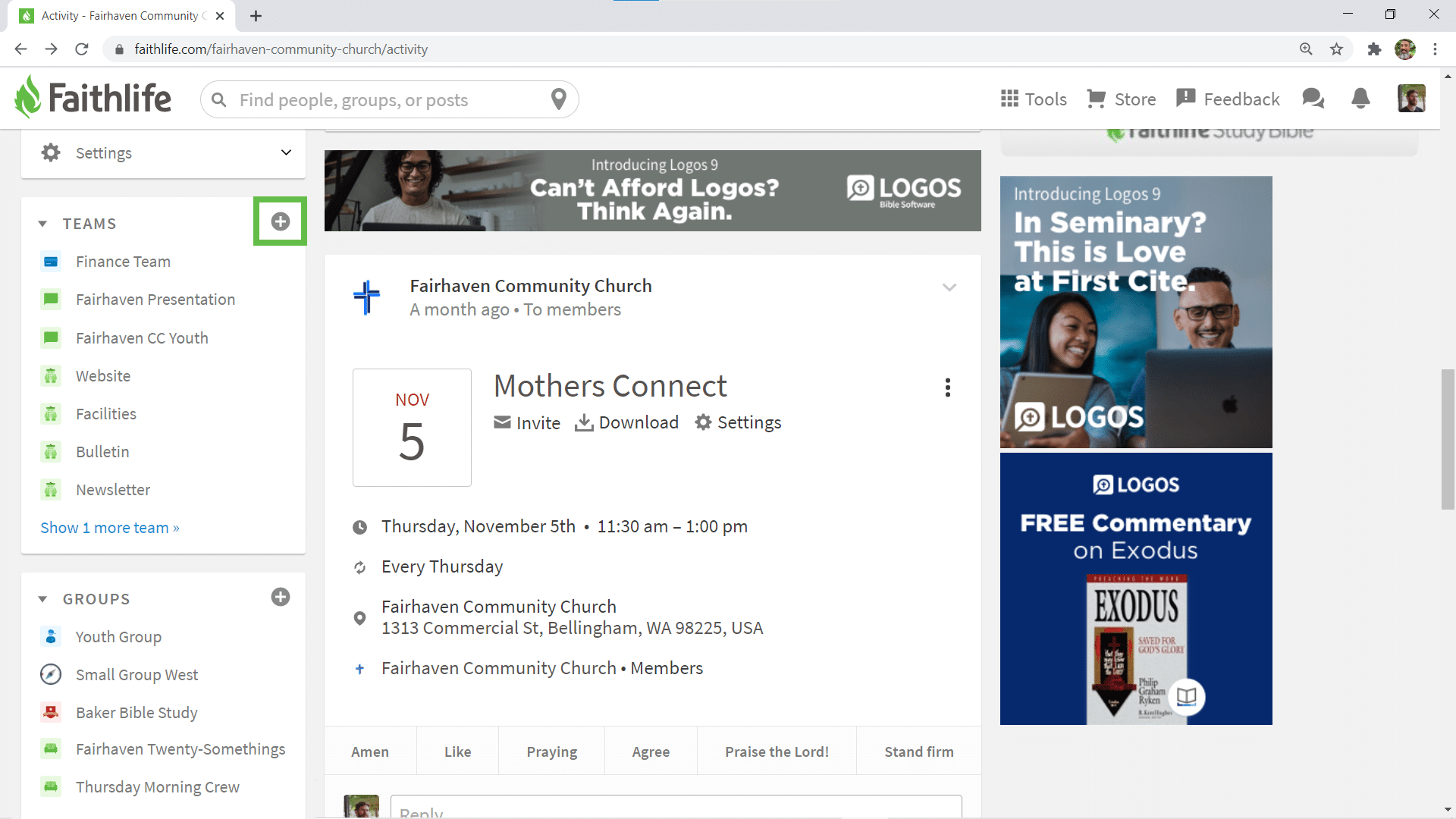 Under the Add New Teams heading, enter music in the search box. Faithlife filters the list to display available teams matching your entry. Check the box next to Worship Team and click Add.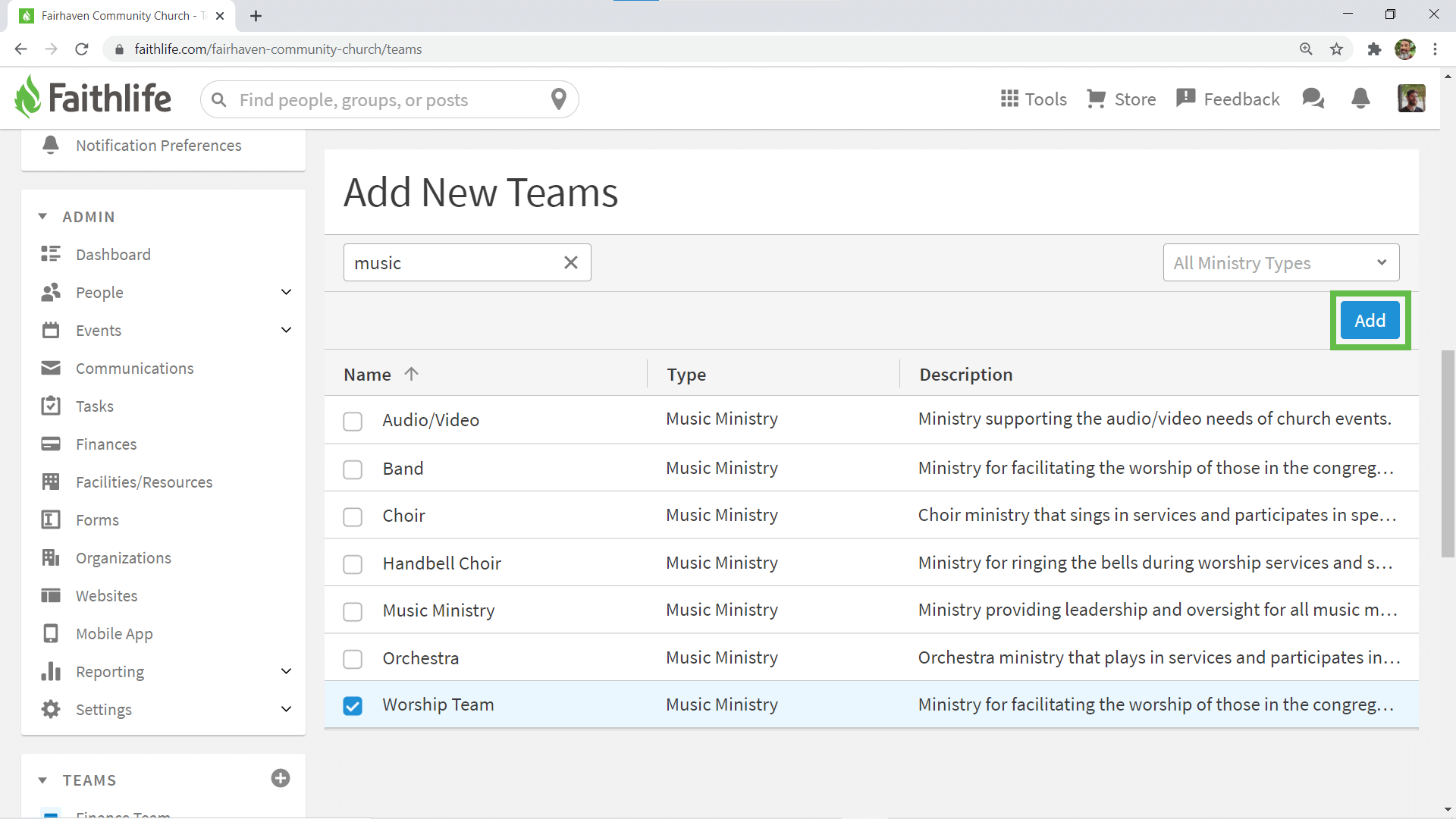 Your Worship Team now appears in the Teams section of your church page. If you have multiple worship "bands", you may want to create a team for each one of them. After creating a Worship Team, you can change the team name to differentiate it from the others, such as "Micah's Band."
2. Build your team.
Now that you've created your Worship Team, you can assign people to it.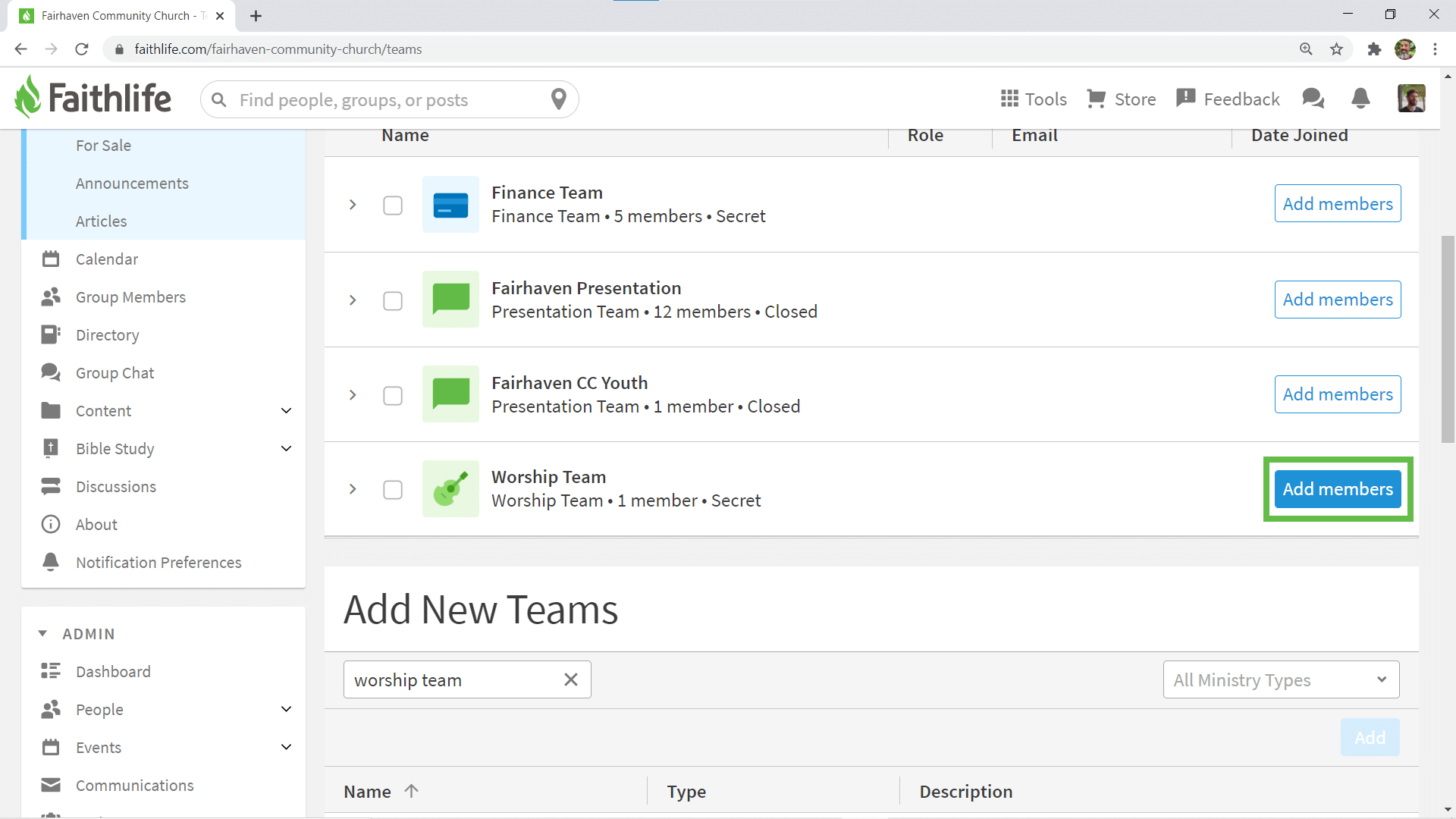 OR
Click your team name and select Add to Team in the upper right corner.

Begin entering the name of the person you want to assign to the Worship Team, and click a name to add it to the assignment. If the new team member does not have a profile, you can email an assignment to them.
By default, each person is added as a Member. To change their role, click the link and select the desired role (i.e. Member, Moderator, or Admin).
Note: In the Worship Team, the roles of Member and Moderator have the same functions.
Click Assign. Each person receives a notification in their profile and/or an email notifying them of the assignment to the Worship Team.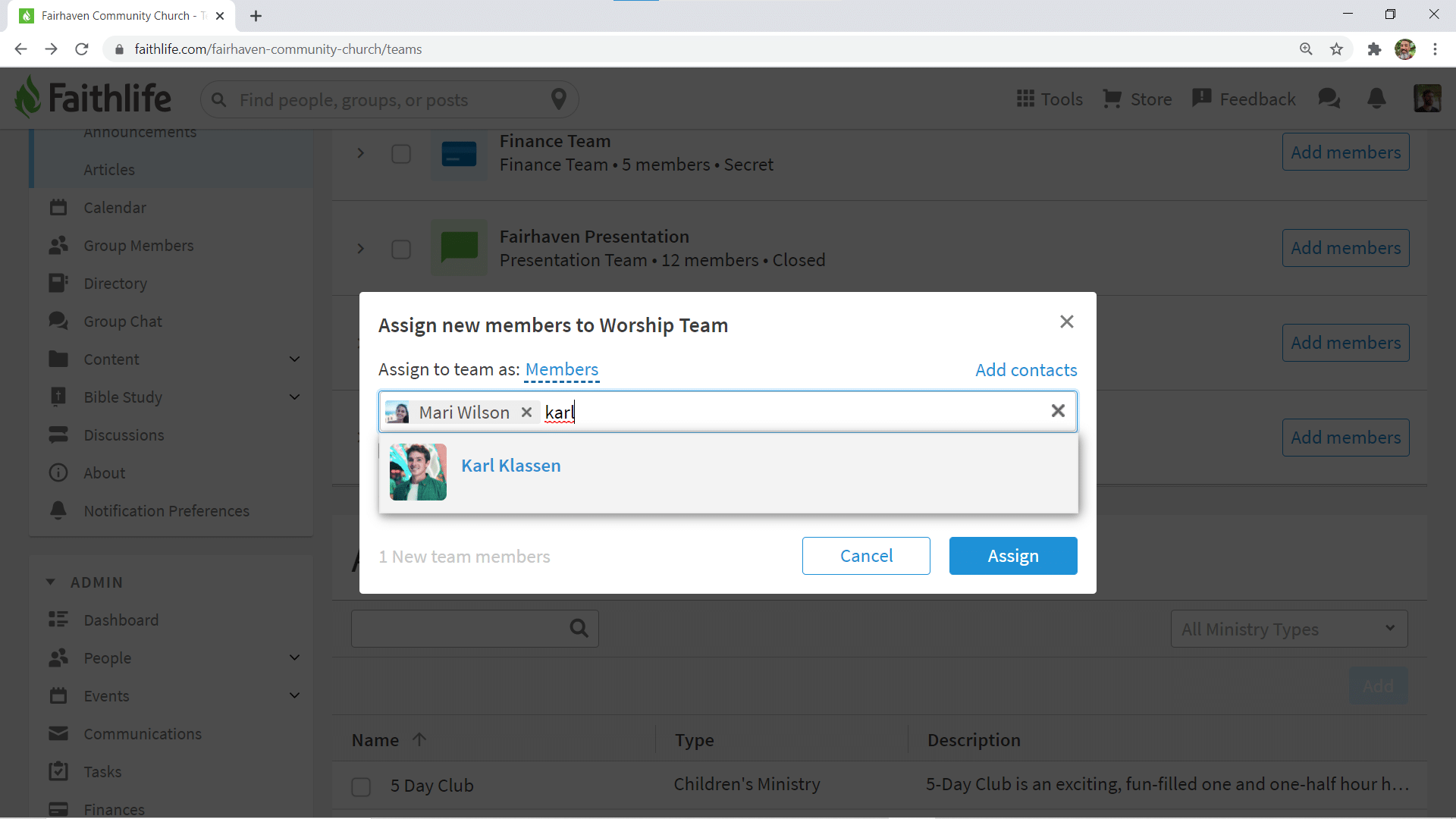 3. Access Faithlife Music
Members of your Worship Team can now access your church's music catalog on Faithlife Music. Select your church name and click the catalog link to view the songs.
You can view the arrangements your church uses for a song by clicking the triangle next to the song and clicking the arrangement name.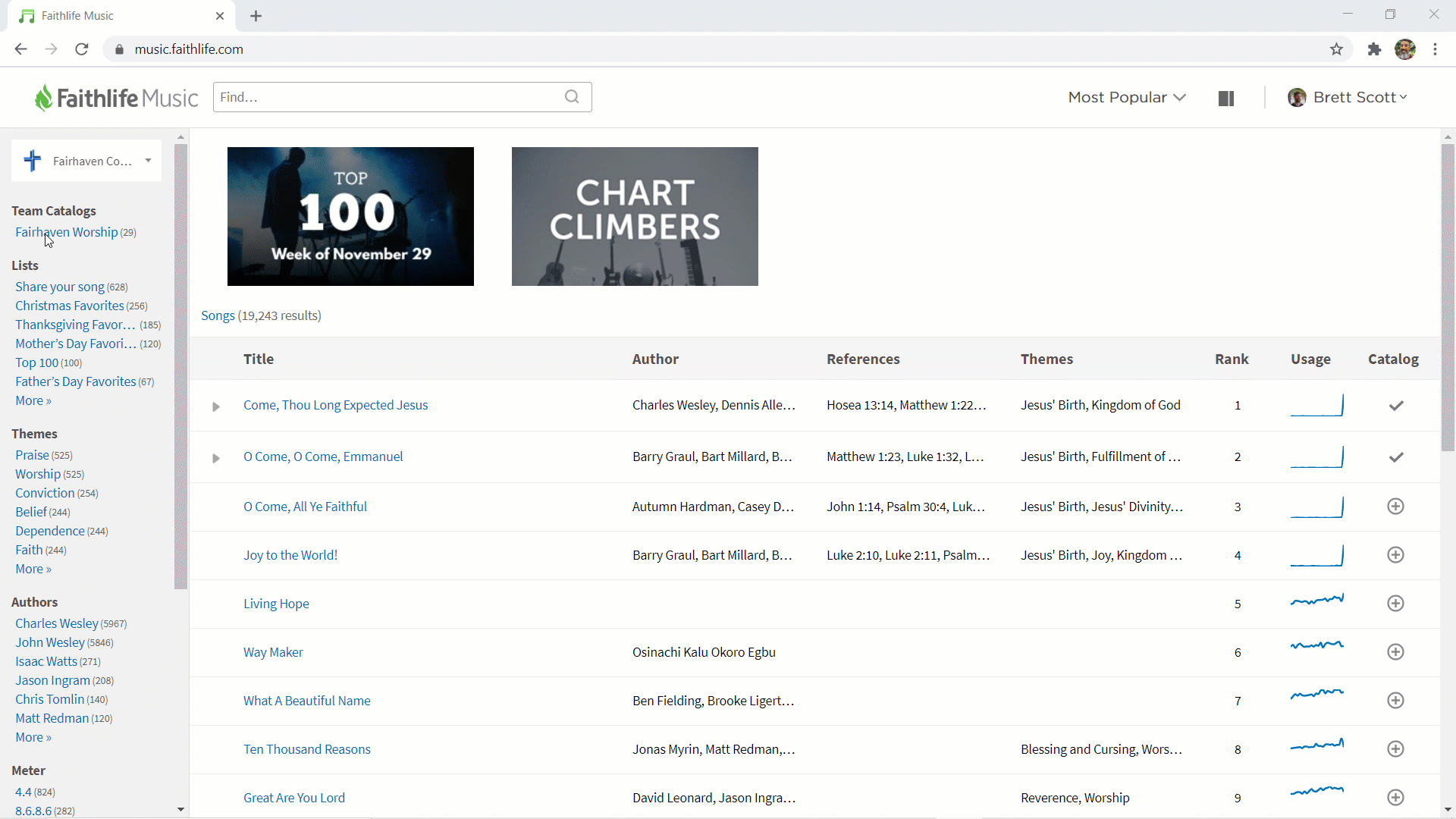 Learn more about Faithlife Music, your church catalog, and arrangements.