Proclaim makes it easy to set up an output for live streaming with Virtual Screens. Virtual Screens are different ways to display the same content, so you can get your presentation content just the way you like it, whether it's for people sitting in the pews or an armchair at home.
This article will show you how to format your virtual screen for a live stream audience.
Before we get started:
1. Set up the slides output for in-person services.
2. Go to Settings, then Video Input, and Enable video input. This tells Proclaim to use live video wherever your background is transparent. Select your input source or camera from the dropdown menu.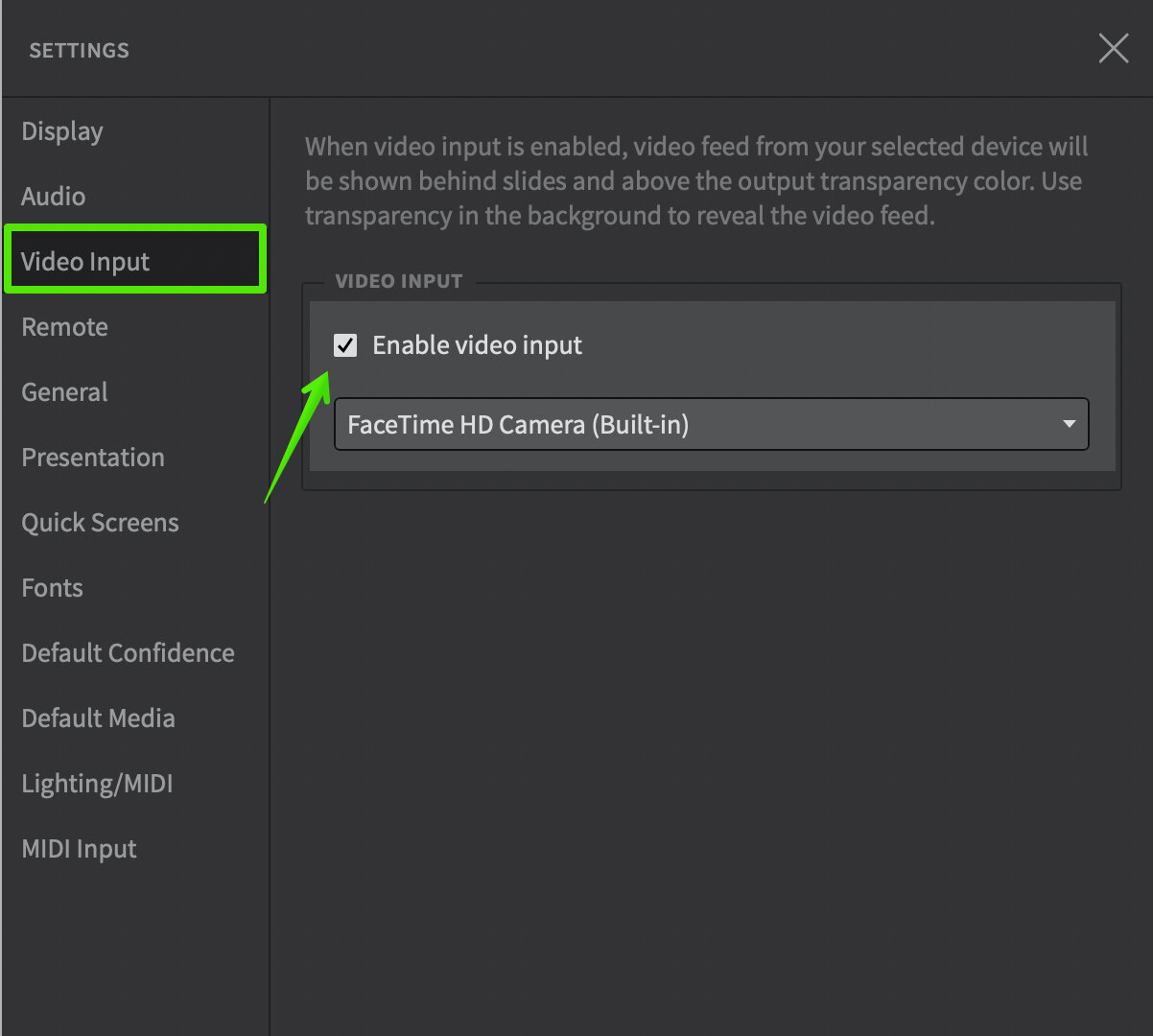 3. Create a virtual screen and assign it to an NDI, SDI, or monitor output to capture with your streaming software, like OBS or VMix.
Format your Virtual Screens
For your live stream, you'll probably want your text overlaid on a live video background and positioned in a lower thirds format.

To do this, choose a service item, select your virtual screen and choose Slide from the dropdown. This will send the background and foreground elements of your service item to the virtual screen. The edit preview will update to reflect your changes.
You now have the option to apply a pre-made lower thirds template to your virtual screen or custom reformat the one you have.
Note: You can apply the template to multiple service items of the same kind all at once (e.g. Songs, Content). Before editing your virtual screen, hold down the command key on Mac (CTRL on Windows), and choose the items you want to change.
Apply an Existing Template
 Edit the virtual screen the same way you would edit a background in Slides. Click Background near the right side of your screen, choose Browse Media to open the Media Browser, and search for "lower thirds" media. You can also click "Lower Thirds" under Popular Tags.
These media have a mostly-transparent background and the textfields in the lower third of the screen to let your live video background come through.
Choose a piece of media, then click Apply as Smart Media. Your virtual screen will now be formatted for your live stream, while your Slides output retains its original design.
Format the Virtual Screen Manually
If you plan to use a custom background select Slides from the dropdown, then click Remove Background. This will allow your camera feed to come through behind your lyrics.
Resize and move your text fields to where you want them, just like the Slides output. You can also choose a different font or font color to make your text stand out against the background.
Below, we've deleted the Title and Hymn Number text boxes, moved the lyrics down, added a background shape effect, and changed the font color to black.
Note: Proclaim lets you have five virtual screens, including two custom ones.