Once you set up an event with classes, you can check-in and check-out attendees as an admin or moderator of your group.
Did you know? Alternatively, you can enable kiosk mode to allow attendees to check themselves in for events. Kiosk mode can be opened by any admin or moderator. Learn more about Kiosk mode.
Create and Configure an Event
In order to conduct check-in, you'll first need to create an event on your group's calendar. You can create an event either from Calendar in the Community panel or from Event Management in the Admin panel. In either location, click Add Event in the top right-hand corner.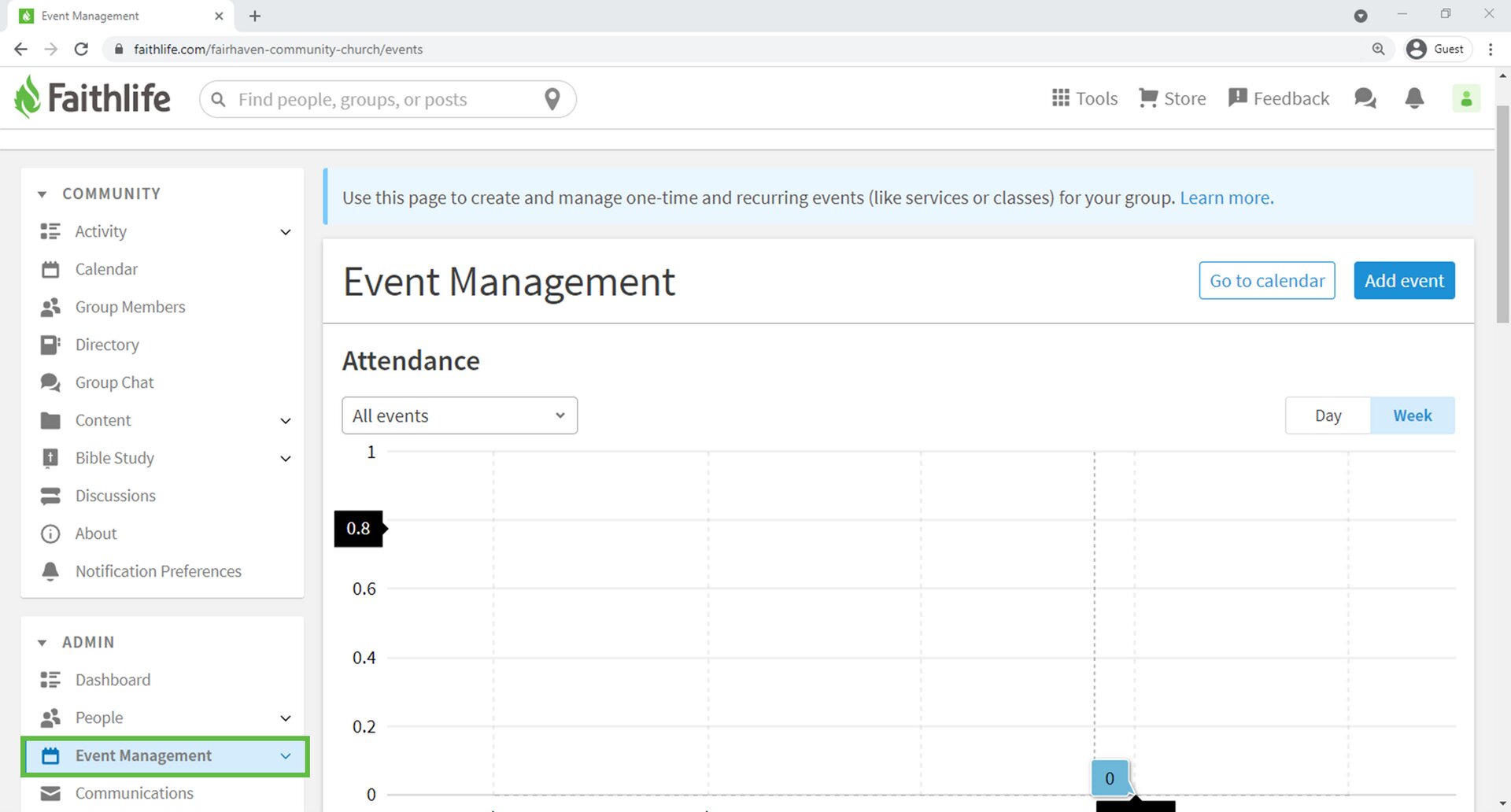 Note: You can also edit an existing event. Once editing the event, go to #2 below to configure check-in for your event. Learn more about creating events in Faithlife.
1. Add event details.
If your event is repeating (e.g., Sunday School), mark it as repeating. You'll only need to configure check-in once for the series and it will be available to you each week.
2. Toggle "Event contains classes"
At the bottom of the event, toggle Event contains classes to Yes. This feature enables you to add classes and check people into your event.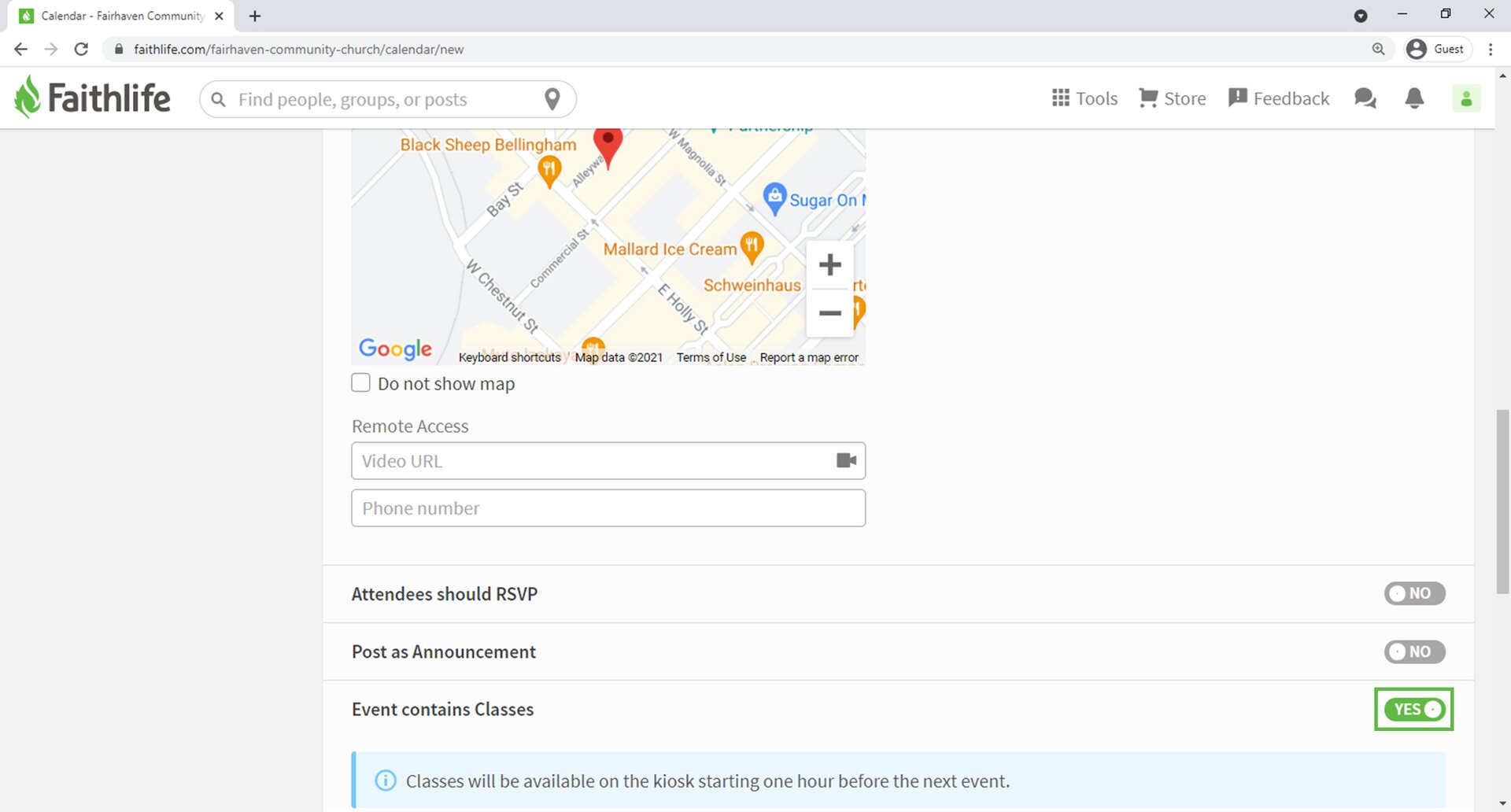 3. Add individual classes for check-in.
Each class in your event can check people in as they arrive.
Click Add Class.
Provide class details.
You can limit which names will display in the check-in window with the filters. Create your own custom filter or pick from a saved list.





Note: Your filter or list selection only sets a default for your event check-in. During the check-in process, you can search to check-in others who don't meet your default filter/list or create new person records for new attendees.
Add as many classes as you need. For instance, if your event is a Sunday School hour, add classes for each class you want to track (e.g., 1st–3rd grade, teens, adults, etc.). To edit an existing class, select it from the list and make your changes.
Review the label printing options. Click the box next to the option to change default printing options. You can also change the number of labels printed, if desired. Click Done when finished.
4. Create the event.
To finalize your event, click Create. You can always edit your event or edit/add classes in the future.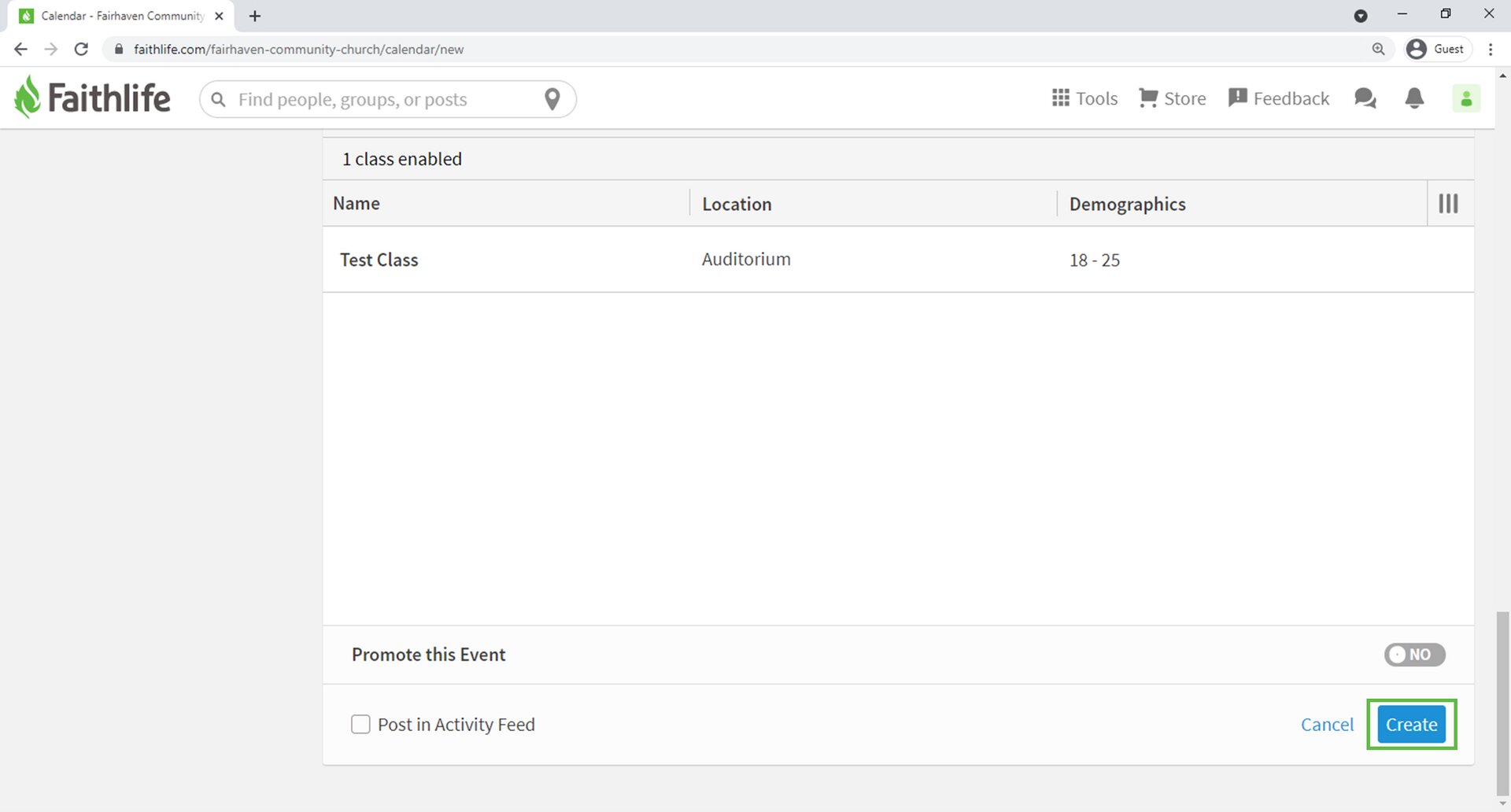 Check In/Out Your Classes
Any admin or moderator in your group can check in people to any class. Learn more about group roles. Classes are available one hour before the event starts.
Note: You can also run check-in through a kiosk, which offers unauthenticated check-in. Many churches use kiosk mode as a self-service station, allowing parents to check in their child upon arrival.
Expand Event Management in the Admin panel and choose Roster Check-in.



Note: Remember, anyone you grant the role of admin or moderator will have access to your people records and other higher-level permissions. To avoid granting someone these permissions in your church group, consider creating subgroups and managing classes within those subgroups. For instance, you may create a Sunday School subgroup and create the Sunday School event within that subgroup. Then, assign all teachers, assistant teachers, superintendents, etc. to the admin or moderator role within that subgroup. They will have full access to the subgroup and can check-in people as needed without having full access to your church data.

Select your desired class from the dropdown. (Remember, classes will be visible one hour before the event starts.)





By default, names matching the filter or list you selected for the class display below. For instance, if you filtered to show only those marked as in 1st–3rd grade when you created the class, names matching that criterion only will display.
To Check In Students…
Check the box next to their name.





Note: For larger classes, consider sorting to make it easier to find your students.

Search for students.
If a student's name doesn't appear below with your default filter/list for your class, you can search to check them into the class (check their name in the dropdown and click Check In). If the student isn't in your church database, you can create the student directly from the dropdown (click the blue link, Create [student name]).

To Check Out Students…
Deselect the box next to their name.
OR
Click the arrow on the student's row and choose Check out.



A readout below the student's name confirms they've been checked out.
Additional Options
Click the arrow

on any student's row to reveal additional options.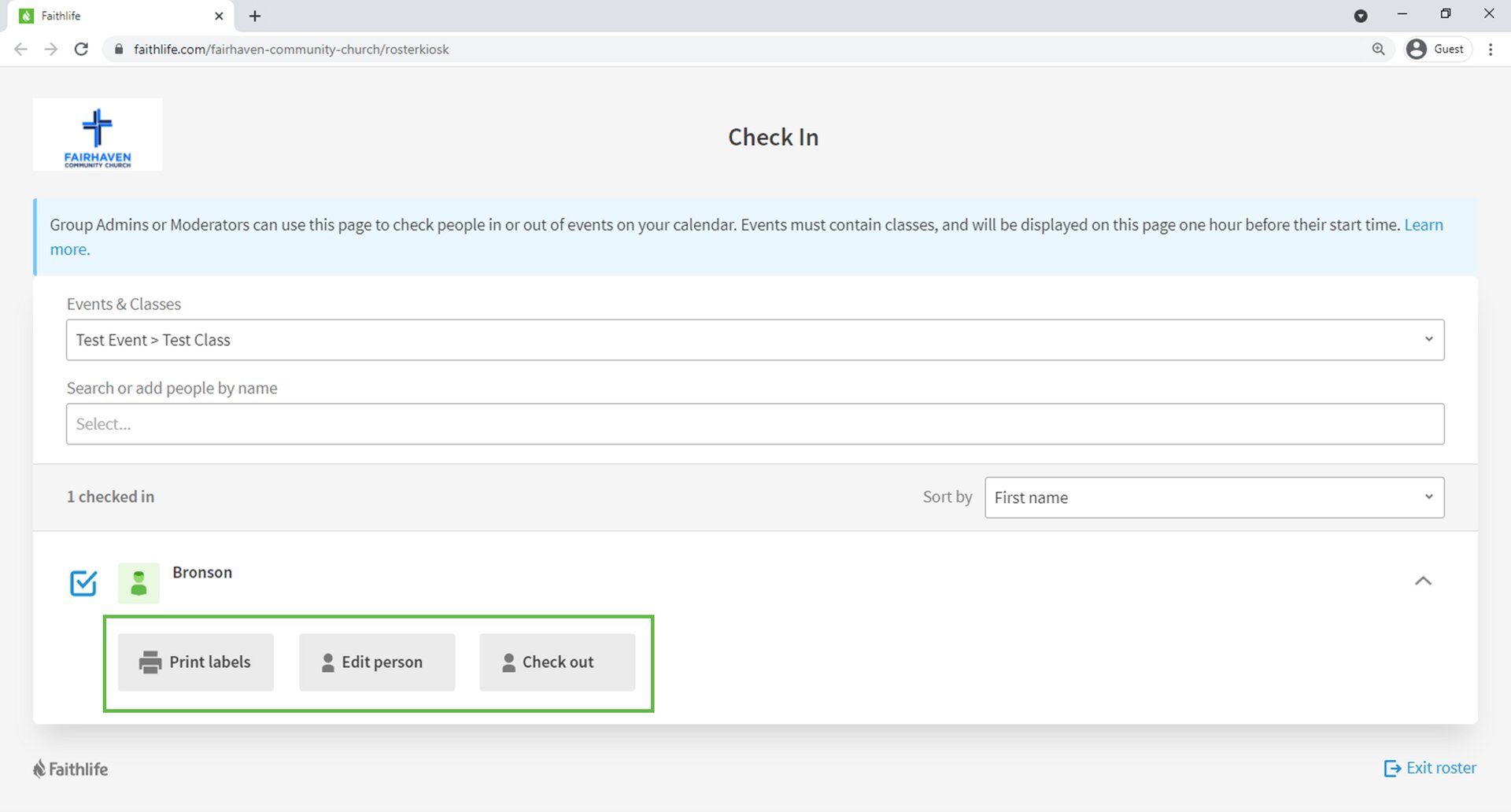 Print labels: Select this option and choose to print 1, 2, or 3 duplicate labels (e.g., one for the student, one for a bag, one for the parent, etc.). At this time, label printing is supported using certain Dymo printers and Zebra printers.
Edit person: Open a new tab to edit the person record.
Check out: Check the student out of the class.
Note: If you plan to print labels for each student, you may want to consider Kiosk mode, as you can configure the check-in process to print labels automatically.