You can upload your people records to Faithlife using a .csv file. Here's how.
Skip ahead to:
Export your .csv file from your old system
Import your .csv file to Faithlife
Export your .csv file from your old system
Your exact exporting steps will vary depending on what system you previously used to manage this data. If given the option, export your csv with:
individual records (instead of family records)
a header row
one item per column (for example, first and last names should be different columns).
all of the data you want to move into Faithlife. Faithlife will create a custom field for any types of data that it doesn't have a predefined field for.
Make sure to select .csv as your file type for export.
Check your .csv file
The Faithlife platform is designed to interpret and import your .csv file. While the import process should require minimal work, there are a few things you can do to help avoid data issues. Generally speaking, it's better to clean up your data before you import.
Open your .csv in a spreadsheet application like Microsoft Excel, Google Sheets, or Apple Numbers.
Make sure that the column names match the data in the columns (e.g., that phone numbers appear in the "Phone Number" column).
Check to ensure that you have one item of data per column. For example, "Age 28, July 9, 1989" contains both an age and birthdate. Instead you want those two pieces of information represented in two columns, one for age and one for birthdate.
Disambiguate names. If your .csv file does not have a "family" column, and if you have more than one family with the same last name, add a number in the last name column (e.g. "Smith 1"). Otherwise, the Faithlife platform will treat everyone with the same last name as members of a single family.
If you prefer, you can start with our import template and organize your exported data using the predefined columns.
Import your .csv file to Faithlife
Navigate to your church group on Faithlife.com.
Go to your people tab.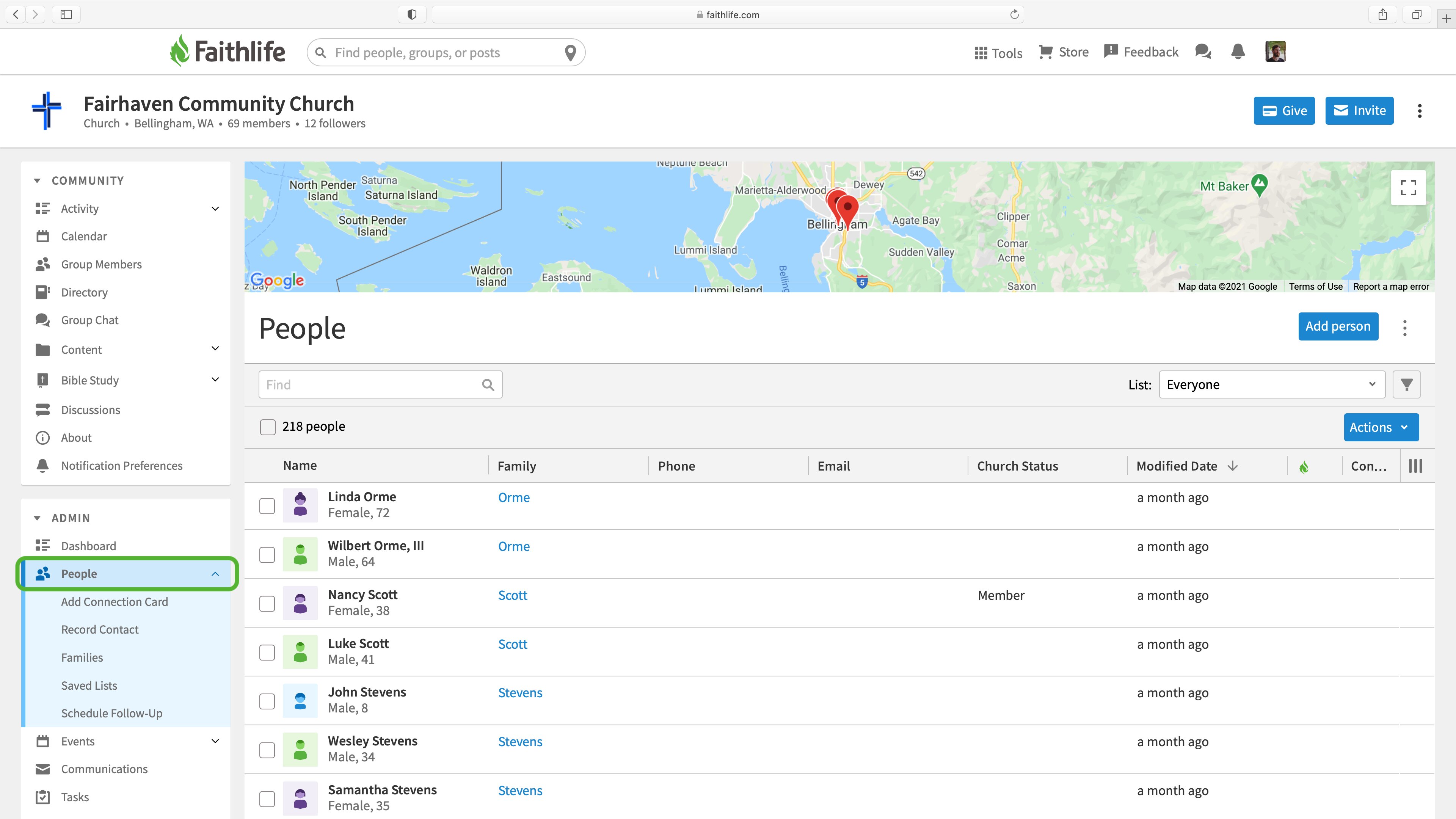 Click the more options icon , then select Import from CSV.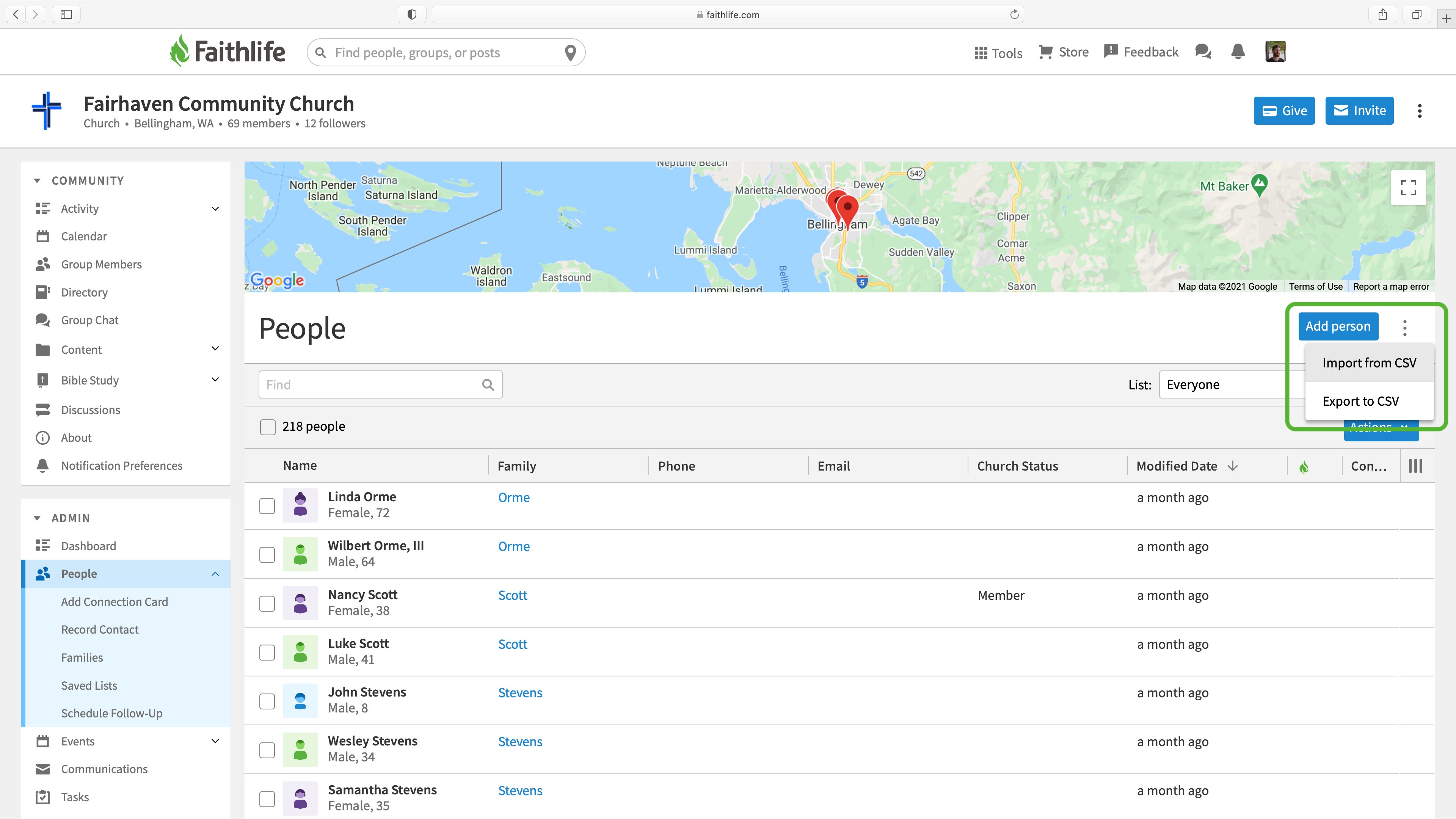 Select the .csv file you exported. A window will appear with three columns.
The first column displays column names from the first row of your .csv file.
The second column displays the corresponding field on the Faithlife platform.
The third column displays the type of data corresponding to each column.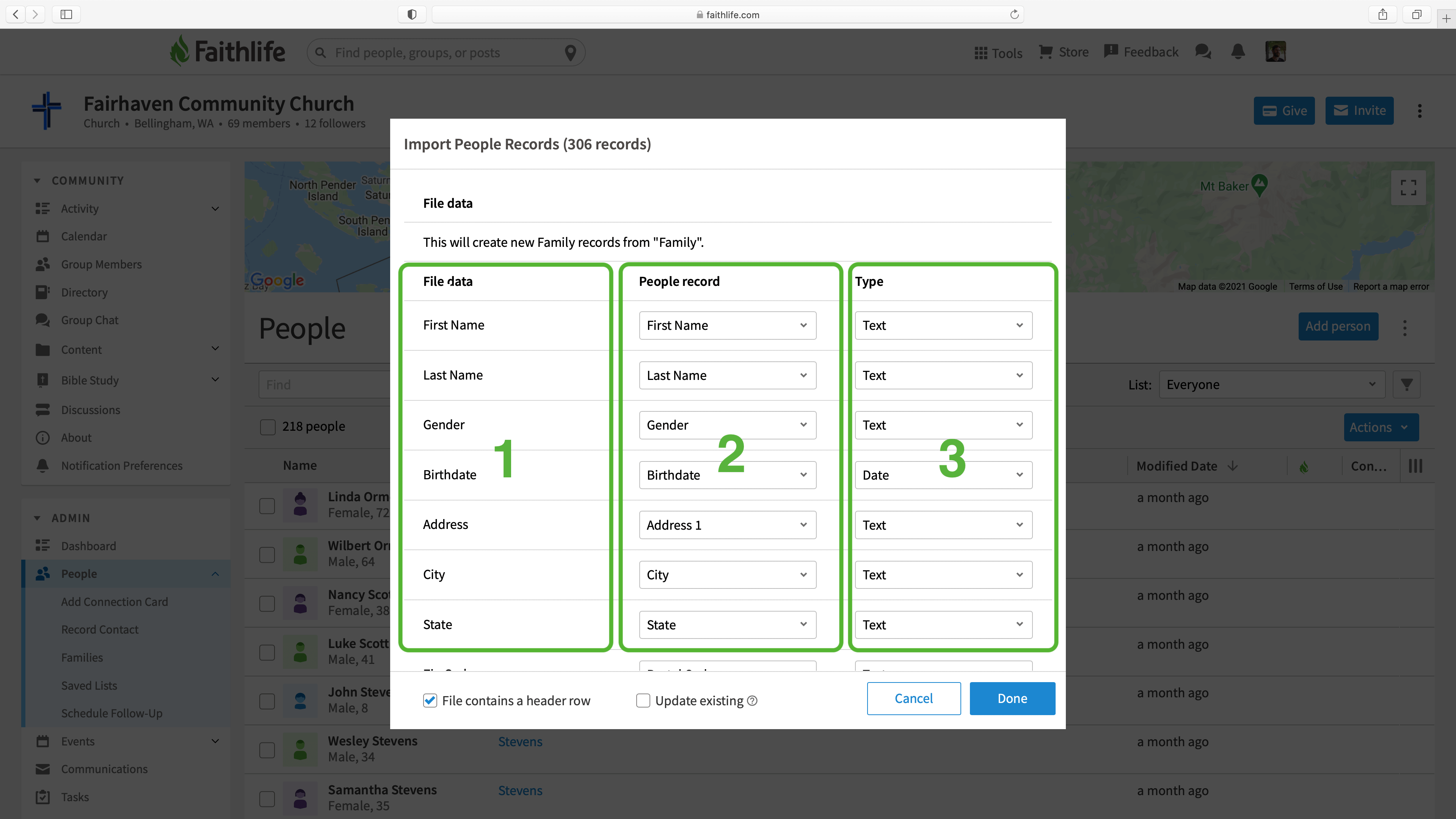 Ensure that the first and second columns match as closely as possible. For anything you can't match, select Notes in the second column.

Do not leave empty rows in the second column

. If you do, that data will not be imported.
Check the data types in the third column and make sure they correspond to the first and second columns. (for example, that email addresses are correctly designated with the email address data type).
Check or uncheck File contains a header row.
Check or uncheck Update existing. If you leave this checked, the system will search for corresponding people records and override them instead of creating new ones (the system will ask you to confirm the changes).
Click Done. It may take a few moments for the system to process all of the data--do not press Done more than once. When it's ready, your people records will appear in the People area of your church group.