As an admin of your Faithlife group, you have the ability to run reports, both simple and complex, on your people and family records. The reporting page displays all of your people and their data in a dynamic, customizable table. You can use reports to find gaps in your database, create reports about your community, help you care for your people, and so much more. And because these reports are saved for your group, and not for you as an individual, every admin of your church group can access and edit them.
Note: Financial reporting is only found within the Finance Team, and is not included in these reports.
Skip ahead to:
Build a Custom Report
Let's say you want to see every member and regular attendee of your church with a birthday next month. Since all of the fields in your people records are queryable, you can quickly filter your data to find your answer.
Here's how:
Navigate to the main page of your Faithlife Group.
Scroll down to the Admin panel.
Click Reporting to open the Reports page.
Note: Every report you create is accessible and editable here.
Click Create report.
Give your report a recognizable title (like April birthdays) and provide more details in the Description field if you want.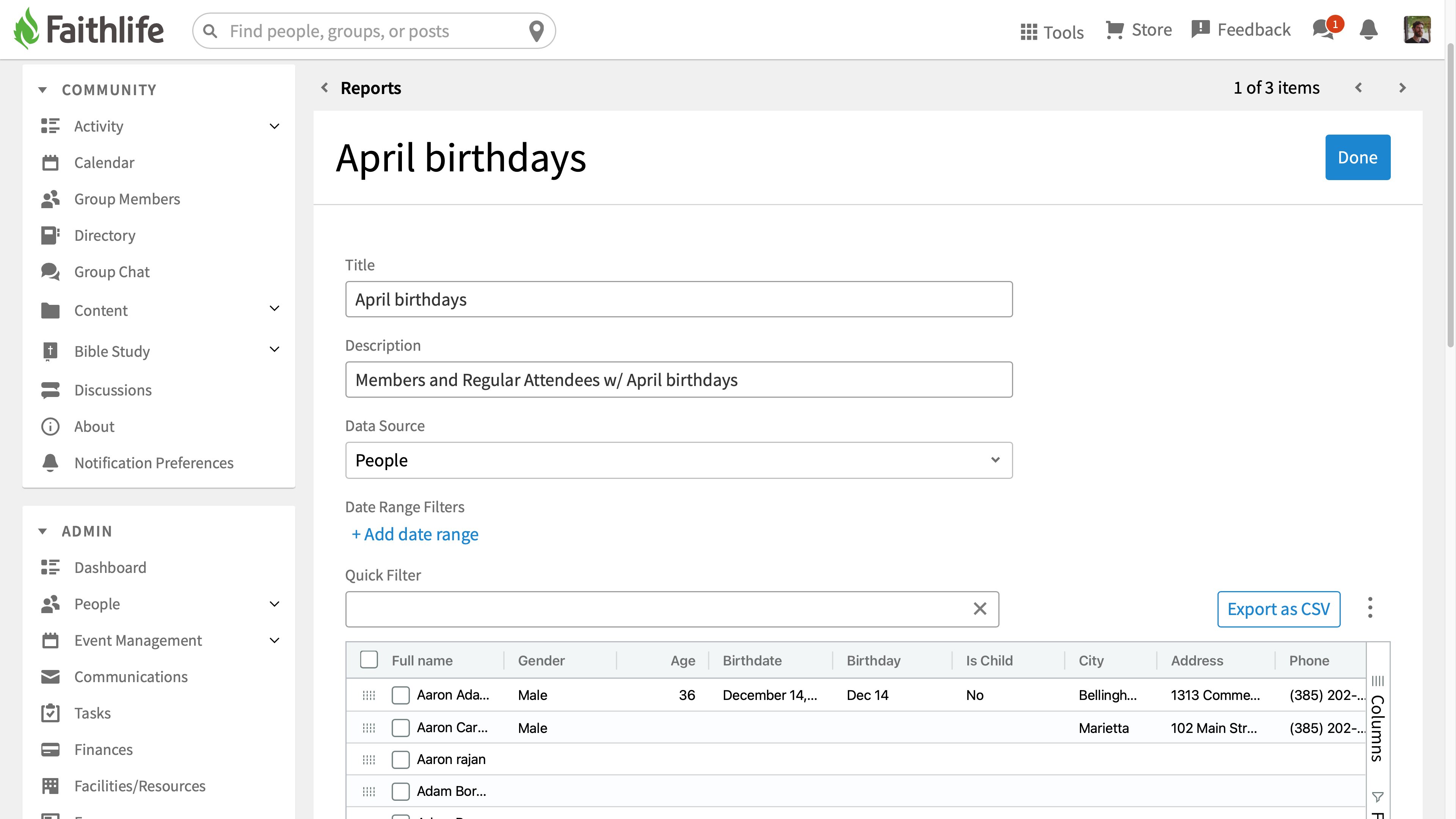 Select the data source for your report. Since we're looking for information on people in this example, we'll keep the report set to query people records, but we can also choose family records or facilities/resources.
Click +Add date range.
Select birthday from the dropdown menu.
Enter your date range manually or by clicking dates within the calendar.
This immediately filters your displayed records to people with a birthday in your set date range.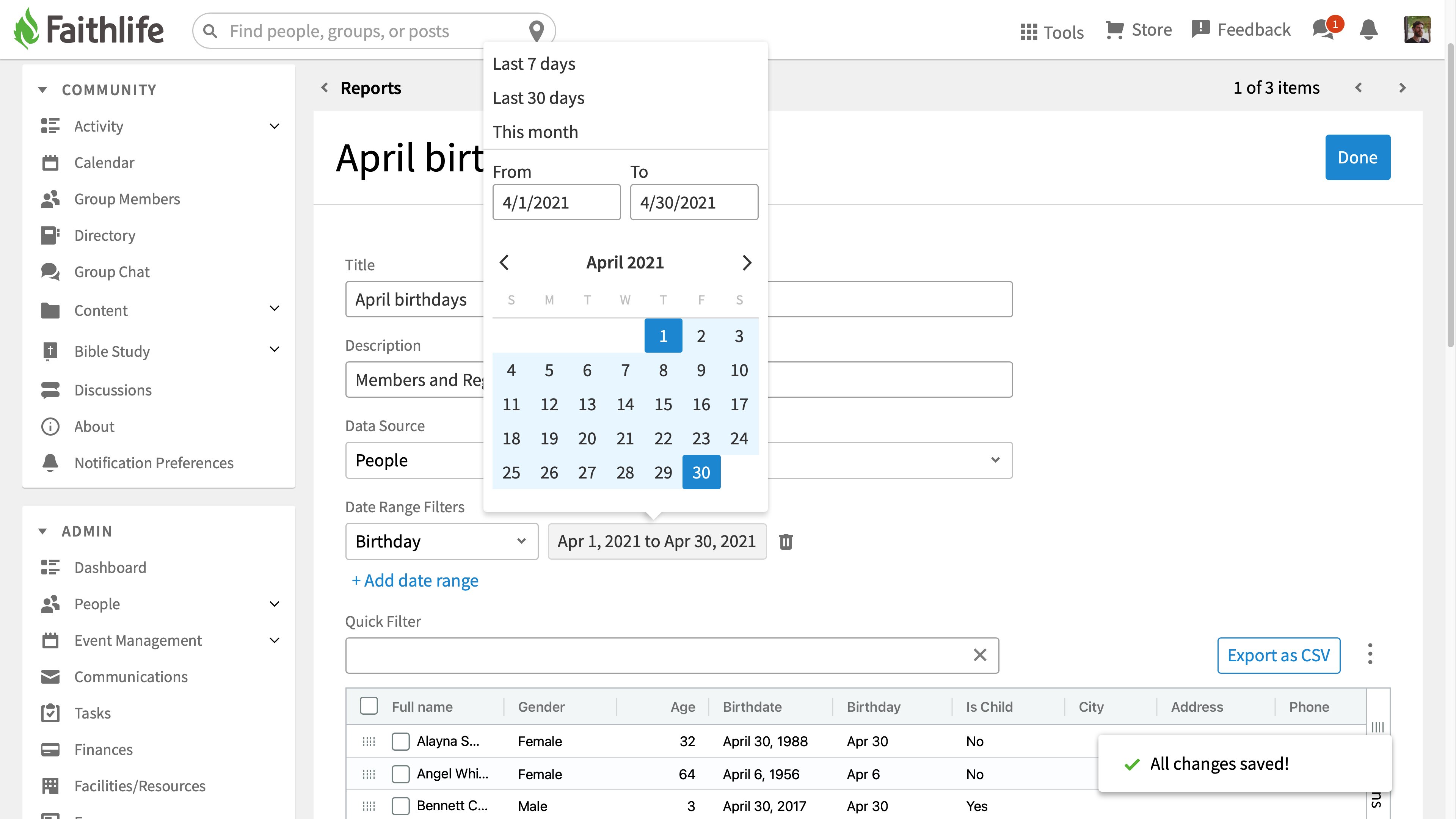 Choose what information to display in your table and how you want to filter your records.
Select Columns and Filter Displayed Records
You'll notice that the right-hand column of your table features [icon] Columns and [icon] Filters. Clicking these allows you to adjust which columns of data your table displays and which records will populate the table. Clicking them again hides the Columns and Filters selector.
Note: You can also adjust Columns and Filters from the Columns menu (discussed below).
Since we want to see which members and regular attendees have a birthday next month, we'll click Filters and scroll down to Membership Status. To view only members and regular attendees, simply deselect the options you don't want to display.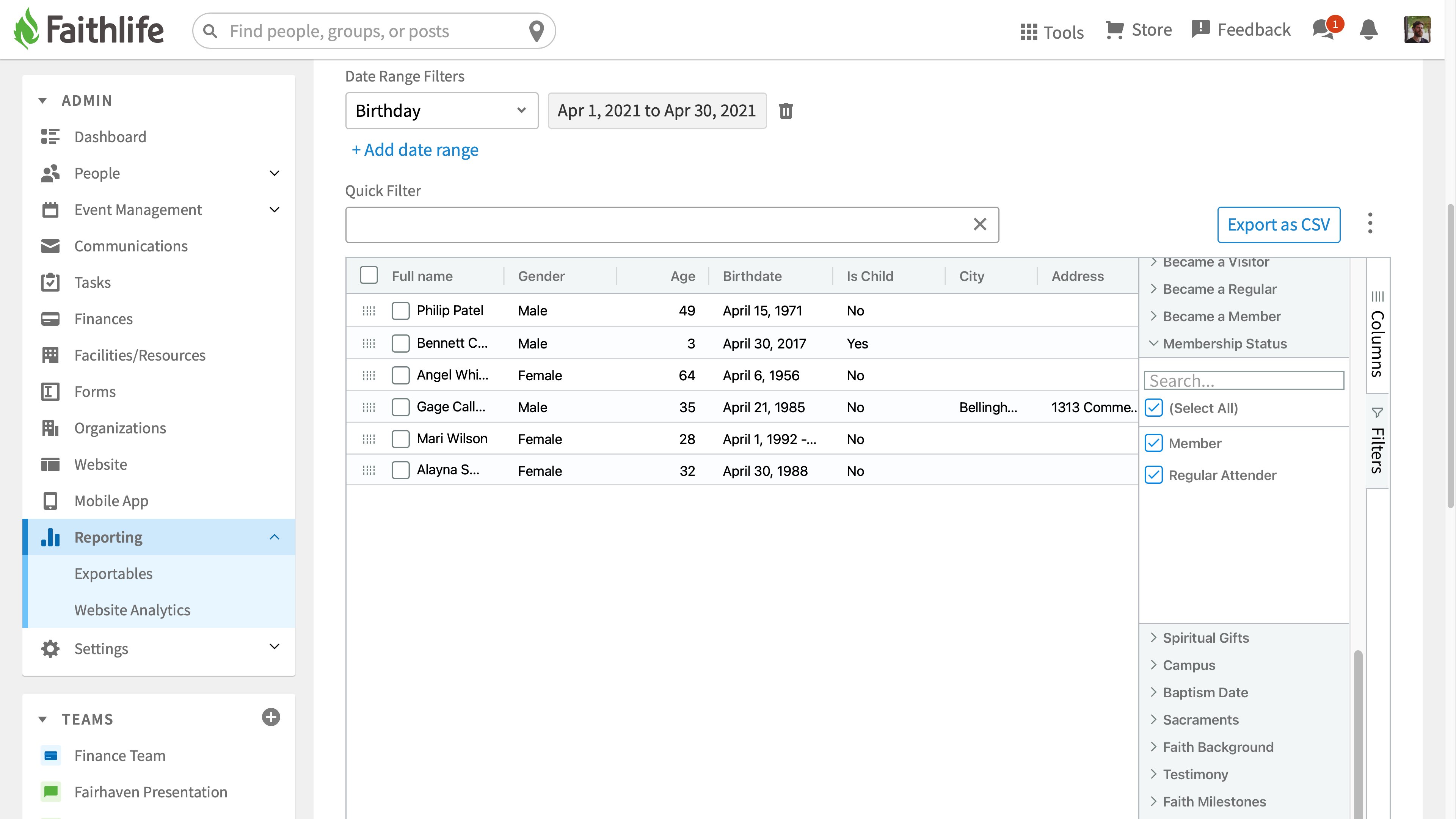 Note: Faithlife saves your report as you work, so you don't need to worry about losing your table if something unfortunate happens.
Feel free to add additional filters to further limit the records displayed. Note that filters work like AND operators. This means that when you select data from multiple categories, Faithlife will only display records that match all of your selected criteria.
To adjust what data your table displays, click Columns. Not only does this adjust the table in your browser window, it also affects the data that displays when you Export as CSV. The fastest way to limit the displayed columns is by clearing all the selections and choosing only the ones you want.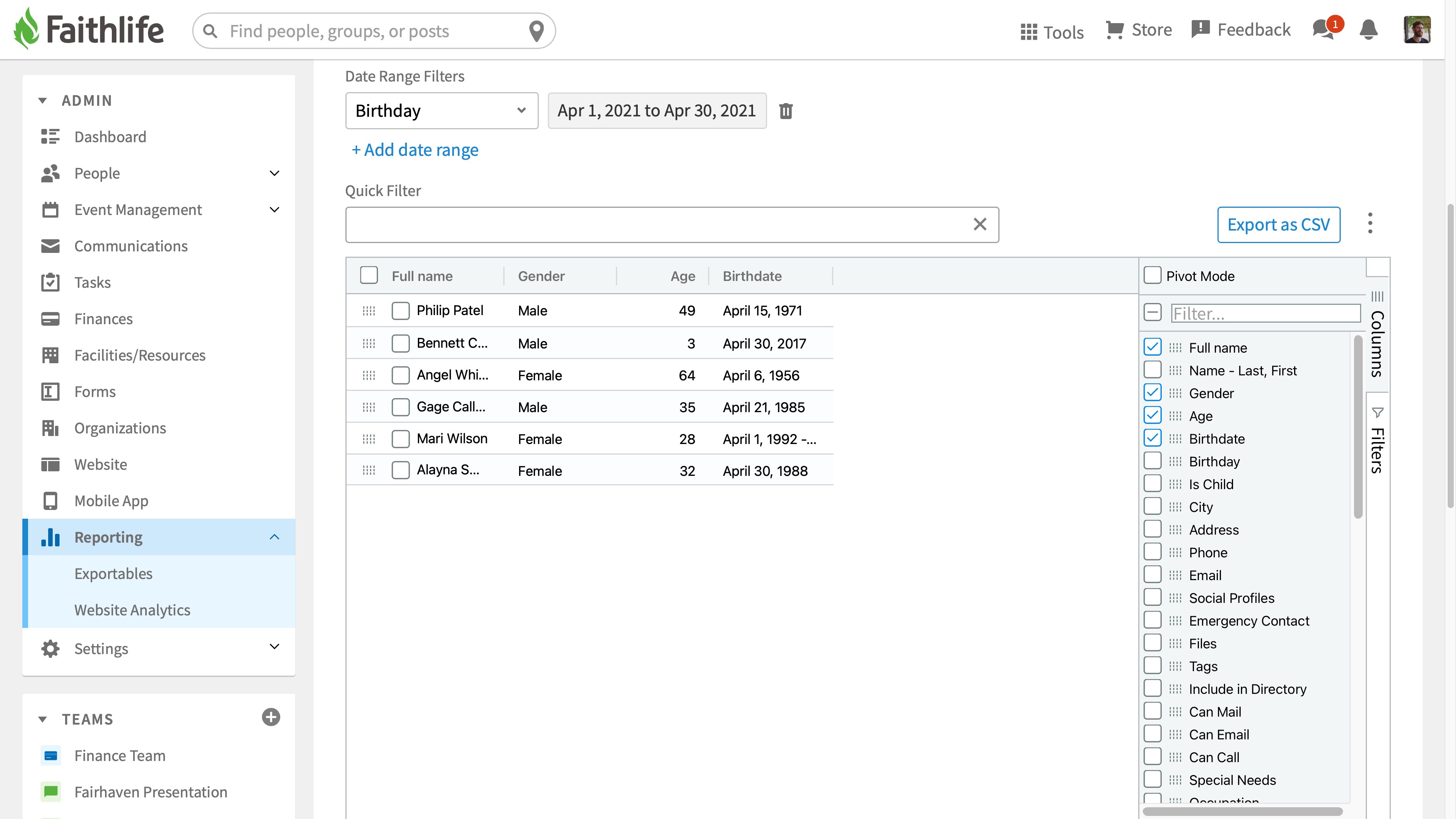 Note: Filters are independent of the columns displayed. So, just because you want to know which members and regular attendees have a birthday next month doesn't mean you need to display their membership status in your table.
Additional Options from the Columns menu
When you hover over a column header, you'll see the column menu icon [icon] appear. Click this to pin a column in a particular location, autosize the selected column or all of them, group the displayed records by the data in that column, and reset the columns to the table's previous display settings.
This menu also houses the same filter and column display options discussed above.
Start with a Community Report
Community Reports are premade reports provided by Faithlife or by another church.
Note: Don't worry. These reports share only the filtering criteria, not your data.
You can add any Community Report to your group's reports with just a couple of clicks.
Here's how:
Scroll down on the Reports page until you see the Community Reports section.
Check the box next to a report you want to us.
Click Copy selected.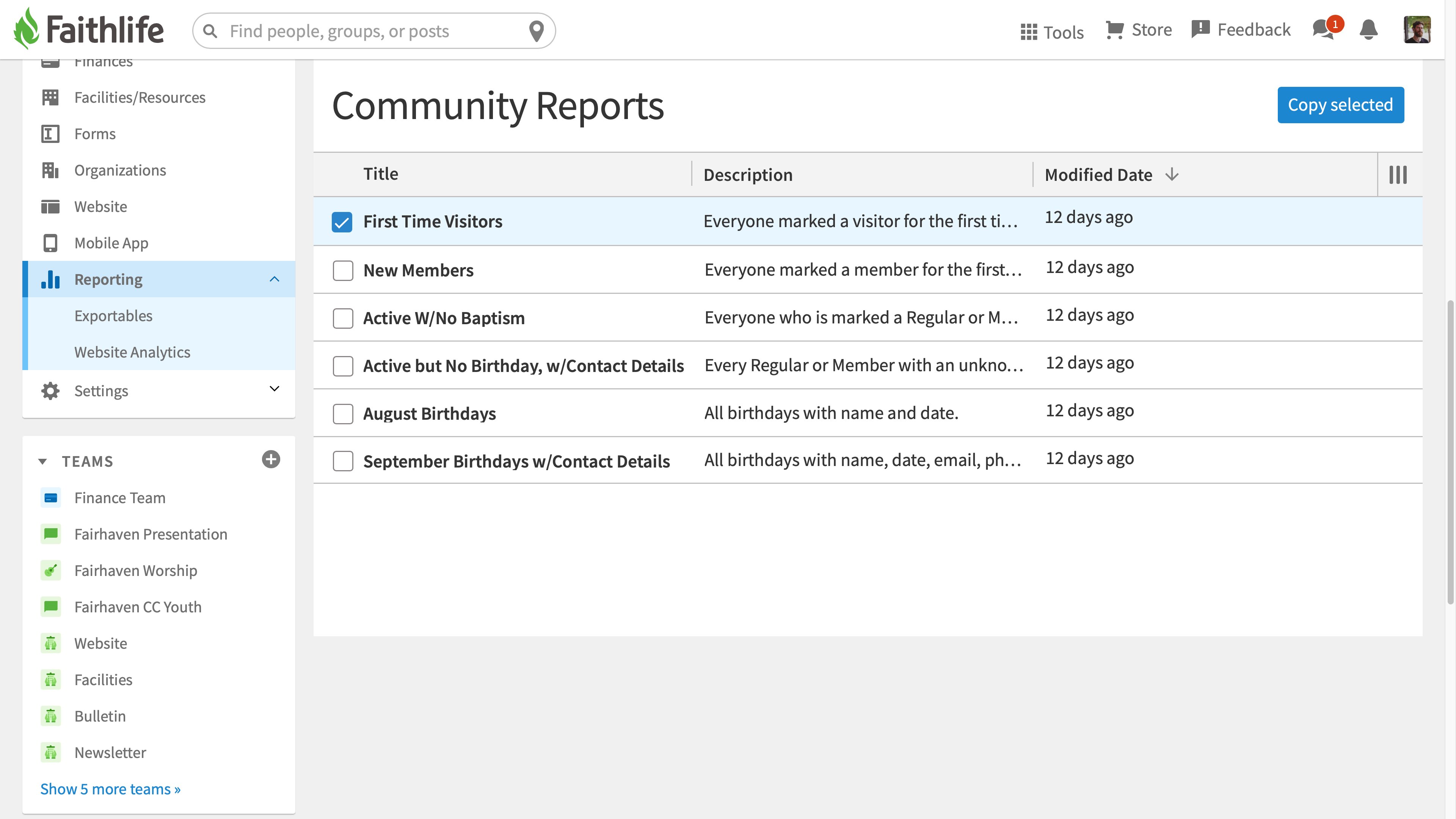 This adds a copy of the report to your Reports section at the top of the page. Simply click its title to open and edit it.
Export Your Report
Once you've finished customizing your report and adjusting which columns are displayed, click Export as CSV to download an editable spreadsheet for offline use.