Faitihlife Connect offers an all-in-one subscription of biblically centered resources designed to help you grow your faith. By combining Logos Bible Study, video courses, Ebooks, and Faithlife TV, Faithlife Connect is your one place for deep, biblically-centered Christian learning.
Skip ahead to:
Features Available with Faithlife Connect
Features Available with Faithlife Connect
There is more to Faithlife Connect than a subscription to Logos Bible Study.
Subscription levels: Note that while all four features are available in the Starter option, there are additional benefits of increasing your subscription level. See the Faithlife Connect pricing guide for more information.
Faithlife Connect Hub
Access all the features available to you using the Faithlife Connect hub. From this landing page, you will find the coupon codes for free ebooks each month and your free Courses, download links for the Logos Bible Study desktop app, and the web apps for Logos, Courses, and Faithlife TV.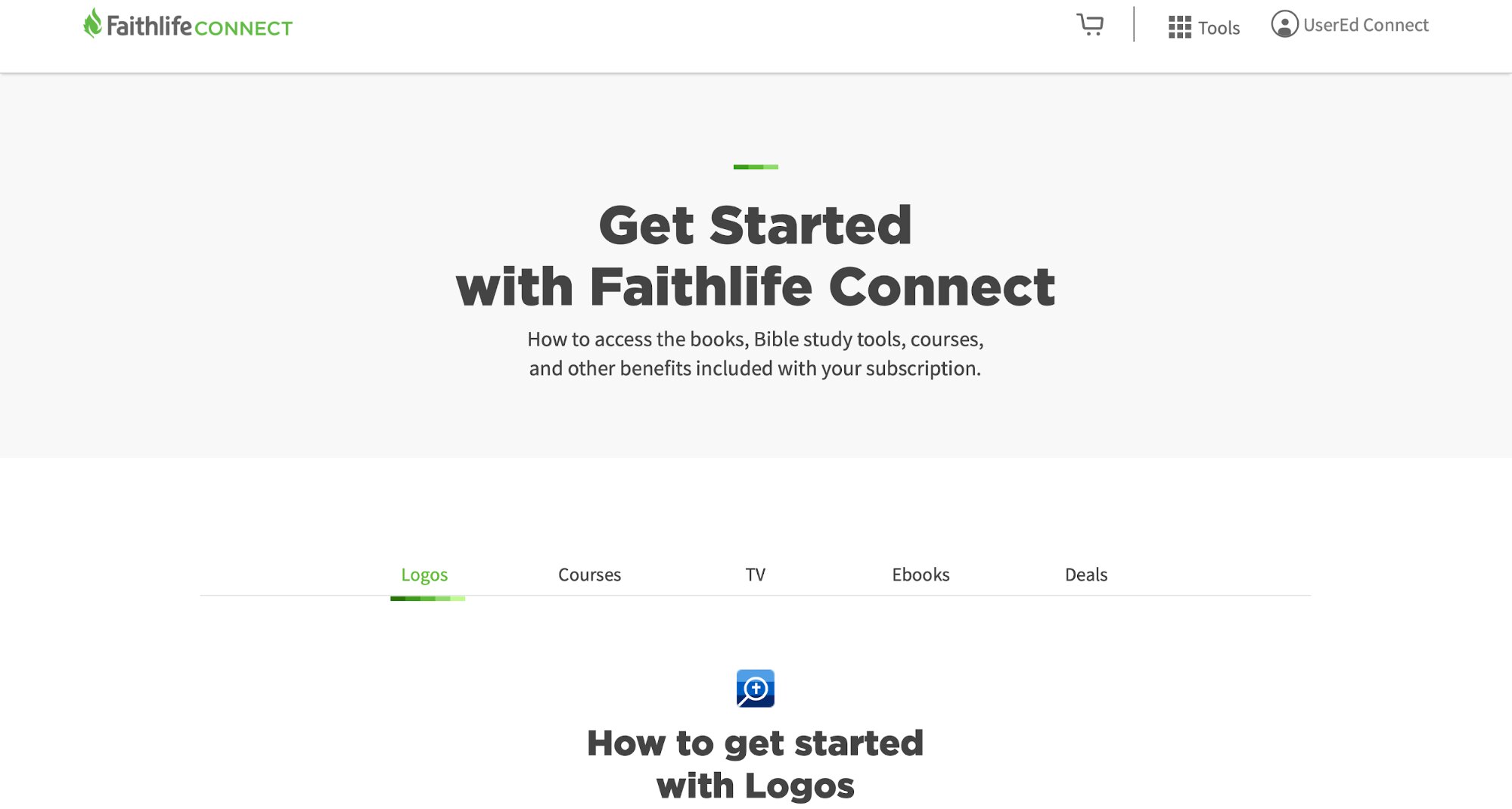 Note: Once you download the corresponding apps, you will primarily use the Faithlife Connect hub to manage your account and access your coupon codes for Ebooks and Courses.
Logos Bible Study
Access the powerful study resources of Logos Bible Study with your Faithlife Connect subscription. Connect gives you access to the core library of Bible study resources. (You can also be purchase any books available in the Logos store. Books you purchase are permanently part of your Logos library and will not be removed at the end of your subscription.) There are three ways to access your Logos Bible Study library.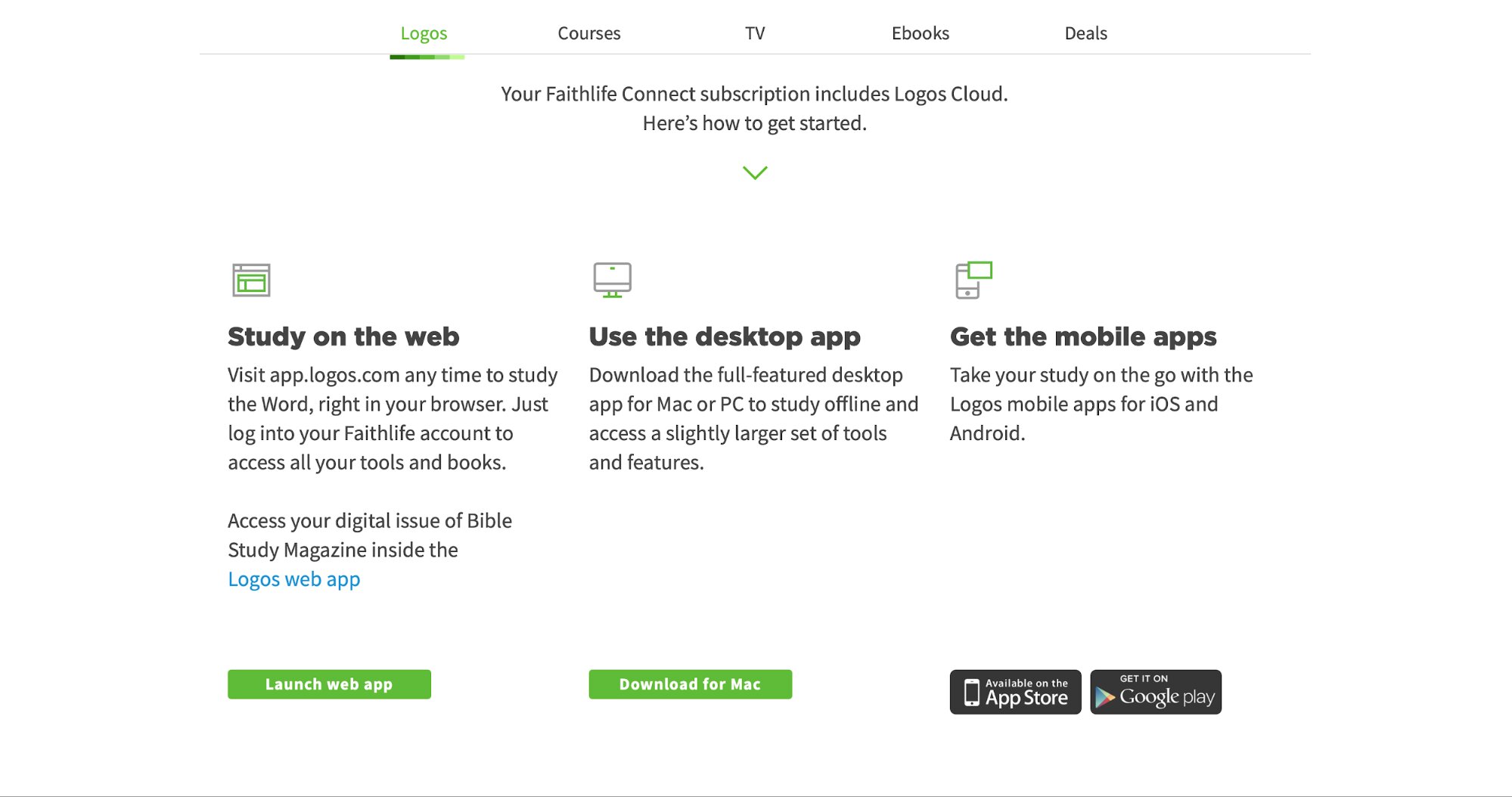 Access the Desktop App
Download the full-featured desktop app for Mac or PC to study offline and access a slightly larger set of tools and features than available on the Web and Mobile apps.
Access on the Web
Visit app.logos.com any time to study the Word right in your browser. Log in with your Faithlife account to access all your tools and books. Ebooks and Courses available through your Faithlife Connect subscription will be available here (Ebooks are also available in the Faithlife Ebooks app).
Note: While your Faithlife Connect subscription gives you access to the full version of Logos Bible Study, the web app does not include every tool available on the desktop version. For full feature access, download the desktop app to your computer. Click here for help getting started with Logos Bible Study.
Access on Mobile Devices
Take your study on the go with the Logos mobile apps for iOS and Android.
Note: With Logos Bible Study's ability to sync your information, you can start reading a book on your desktop and continue reading and annotating from your mobile device without losing your place or any of your work!
Courses
Courses help you go deeper into subjects of your choice at the pace you prefer. With your Faithlife Connect subscription access courses each year on topics like Systematic Theology, New Testament Studies, and much more!
How to Get Your Courses
Open your Faithlife Connect hub.
Copy your course coupon.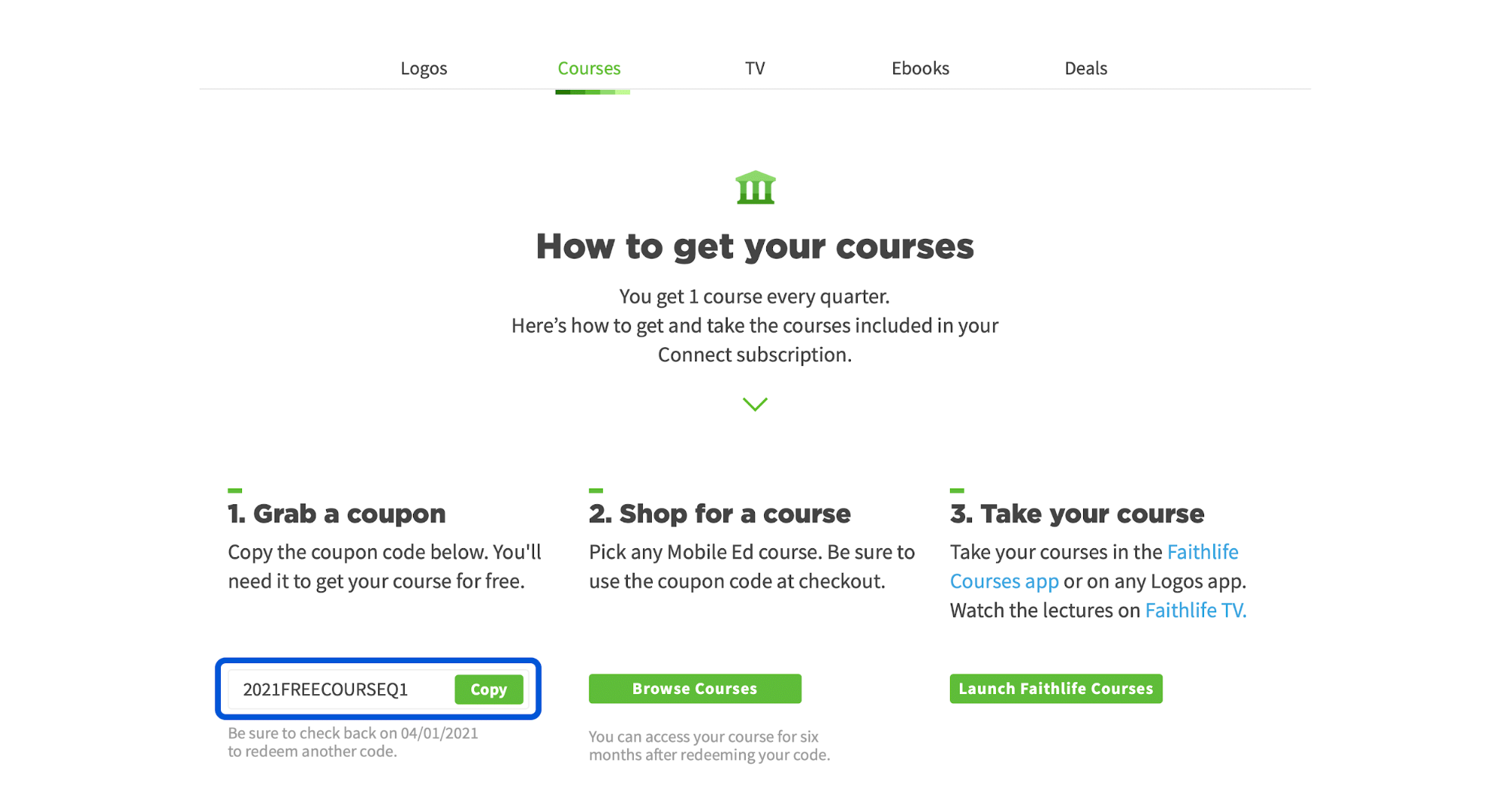 Browse through the course catalog to find the course you'd like to take.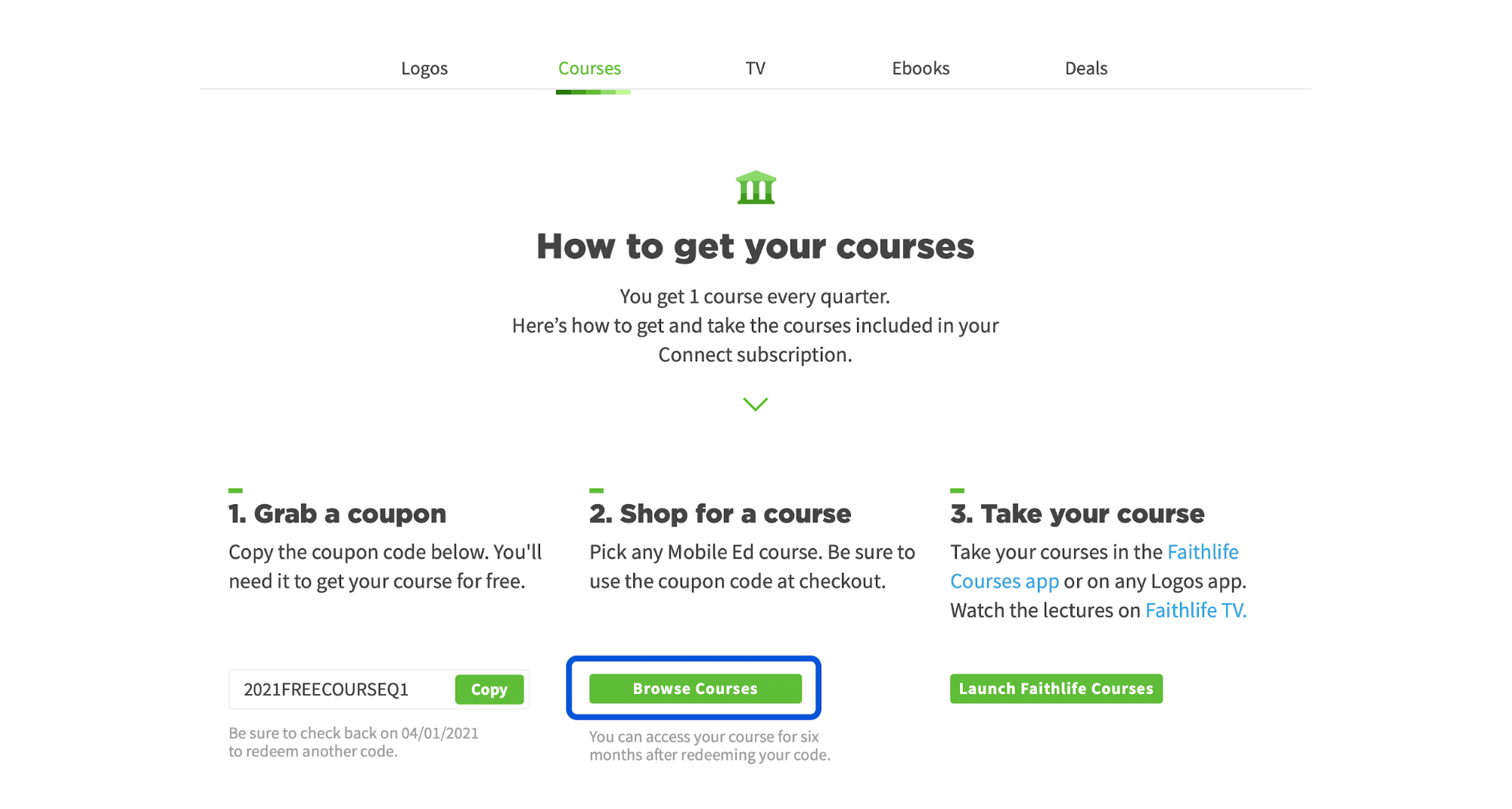 Apply the coupon code at checkout to get your course for free.
Note: Coupon codes for courses will update depending on your subscription level. See the pricing guide for more details.
How to Take Your Courses
You can access your courses in several ways:
Use the Courses tool in the Logos desktop, web, or mobile apps.
Use Faithlife TV via your TV, Roku, Apple TV, Fire TV, and Chromecast apps or on faithlifetv.com.
Ebooks
With Faithlife Ebooks, you can build your library of Christian books.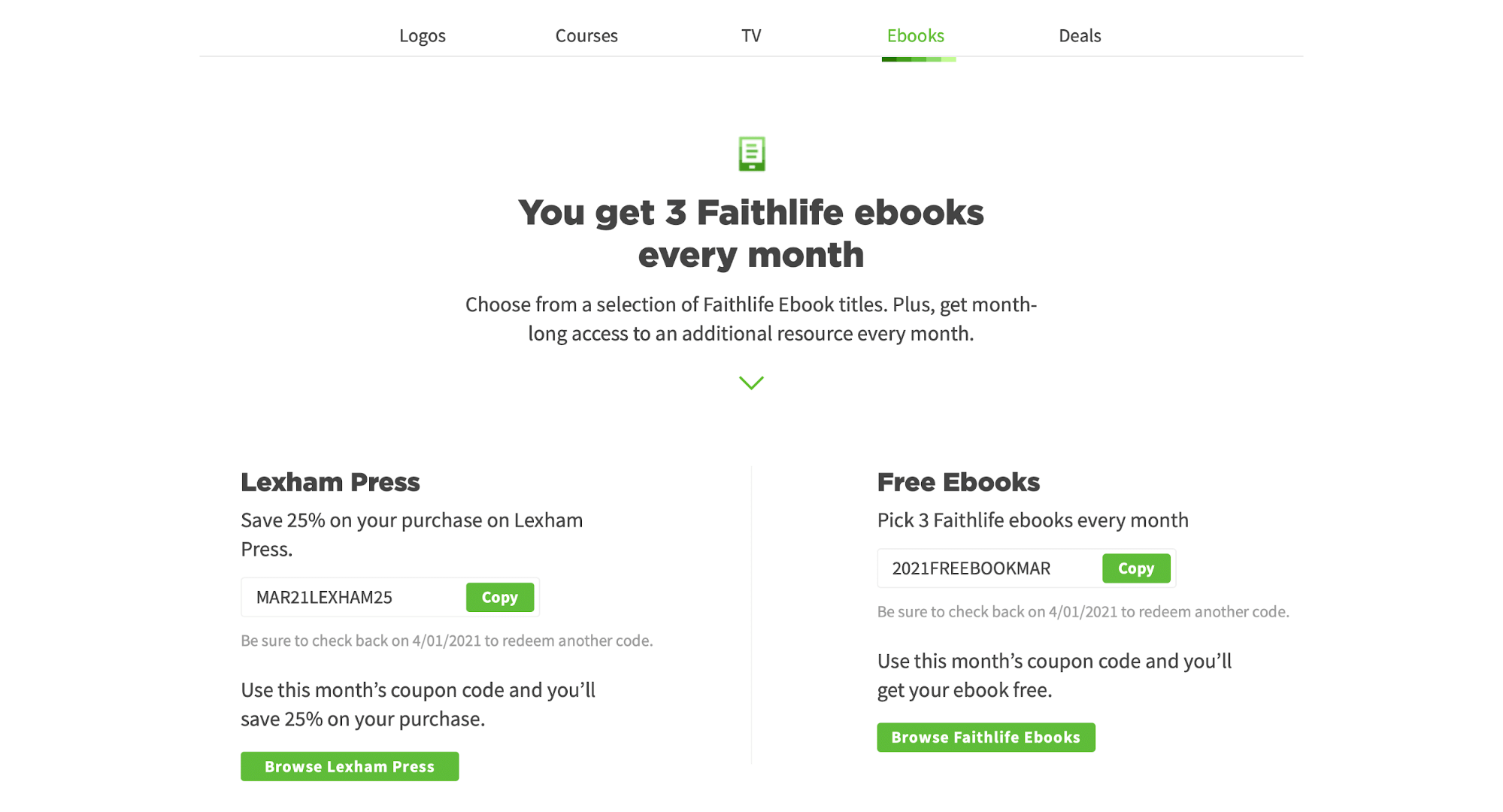 How to get your Free Ebooks
From the Faithlife Connect hub, you will see there are two options for Ebooks available to you. Your subscription gives a discount for a Lexham Press purchase. Copy the code and apply it at checkout. Additionally, you'll see code for free ebooks. Copy the code and browse the available books.
Note: Free ebooks are only available in Faithlife Connect Essentials and up. See the pricing guide for more details.
How to Read your Ebooks
Note: Filter your library according to 'date added' to see the most recent editions to your library. Logos may take a few minutes to sync and download your resource.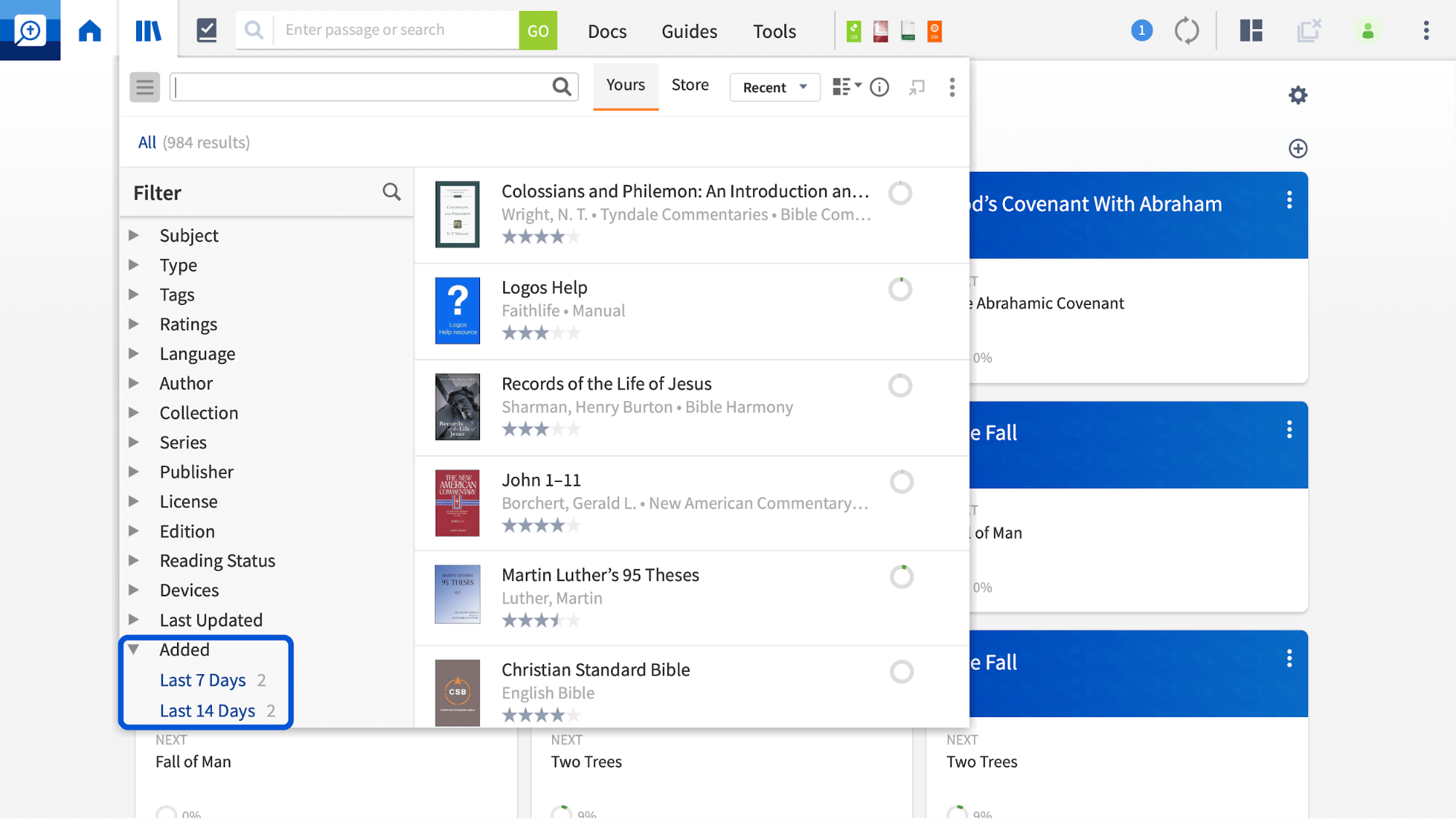 There are three ways to access your Ebooks:
From the Logos desktop app, you can find your books automatically added to your Logos Bible Study library.
From the Logos web app.
Faithlife TV
Stream Christian movies, documentaries, and Kid's shows with new content added regularly.
Note: Some content will only be available with further purchase.
How to Watch Faithlife TV
There are three ways to watch Faithlife TV:
From the Web, stream Faithlife TV Plus videos anytime by visiting Faithlifetv.com and logging in with your Faithlife account.
From your TV, watch with our Roku, Apple TV, Fire TV, and Chromecast apps.
Deals and Special Offers
Faithlife Connect subscribers get access to exclusive deals and special offers each month. Make sure you check your Faithlife Connect hub regularly to take advantage of these deals.