Each page on your site contains widgets, which are blocks of space that hold content. To show events on your website you must:
Add an event widget to your website.
To get started, go to your website and enter Edit mode:
Go to Faithlife.com, sign in, select your church group in the left-hand Groups panel, open the Website tab in the left-hand Admin panel of your church group. Click Edit Site.

OR
Go to your Faithlife website, click Sign In if you're not already signed in, and click Edit Site in the top right-hand corner.
Note: You must be either an admin in your parent church group or a member of the Website Team to edit your church website.
When you first created your church website, Faithlife automatically added an Events page with an Events widget. You can edit that widget or add additional event widgets anywhere on your site. Each widget can be customized separately to fit its page.
1. Add a new widget.
When editing a page on your site, click the blue add widget icon

to add a new widget.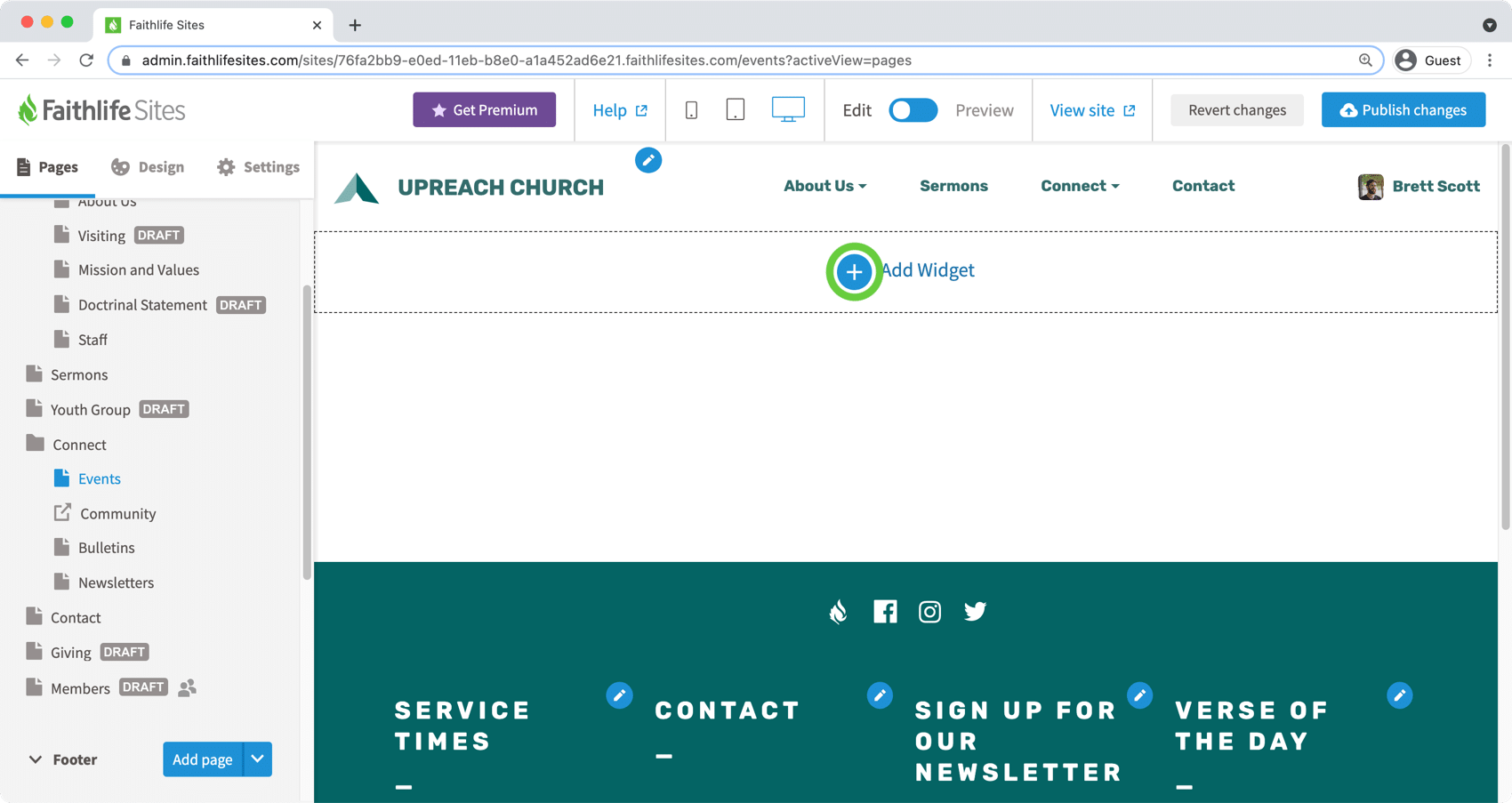 Note: You can also edit an existing widget*. Click the blue edit icon

on an existing widget. If the widget is another type, choose Change widget type and choose Events.
2. Set up the Events widget.
Click Events.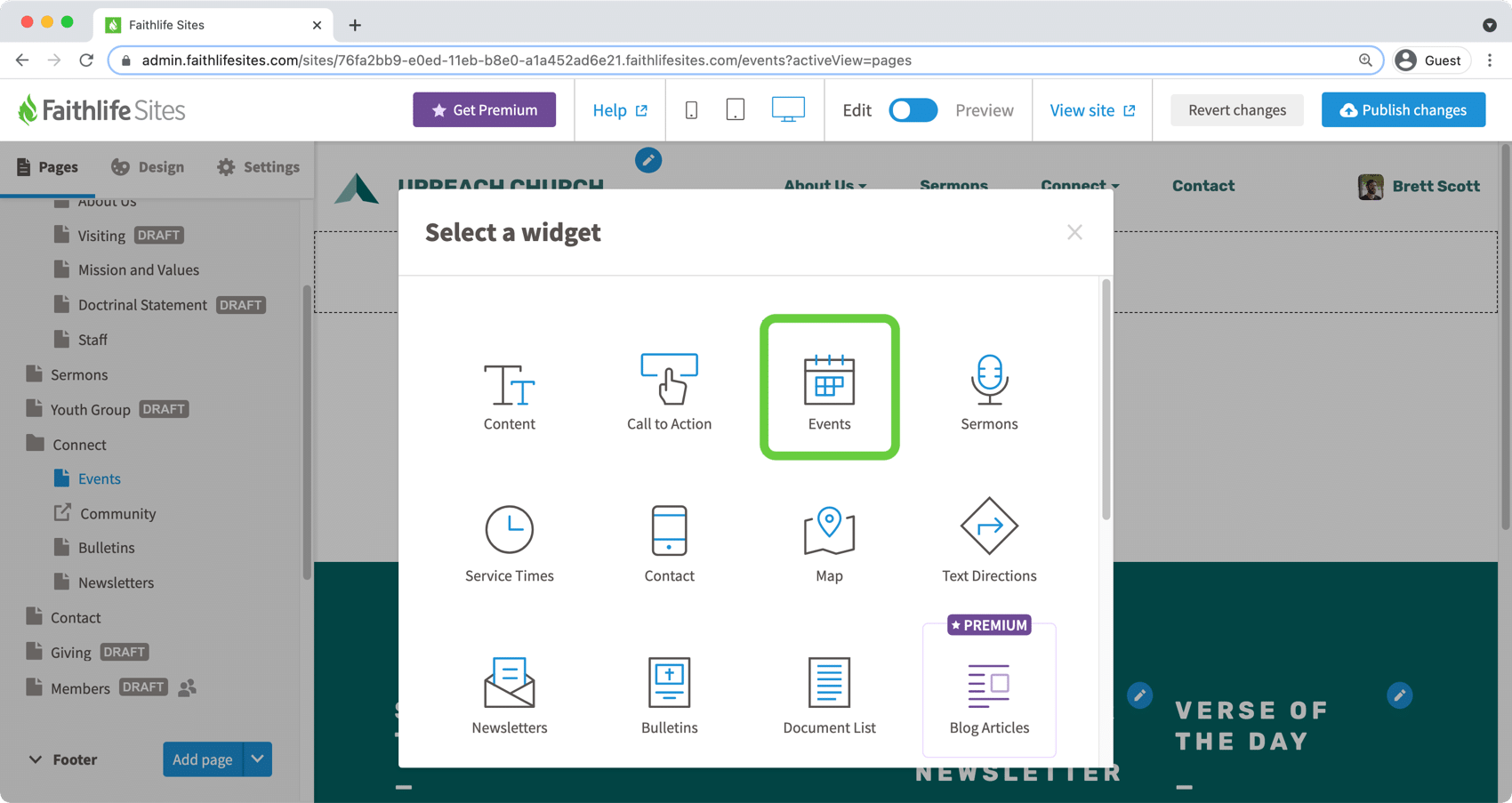 Customize the widget to fit your needs.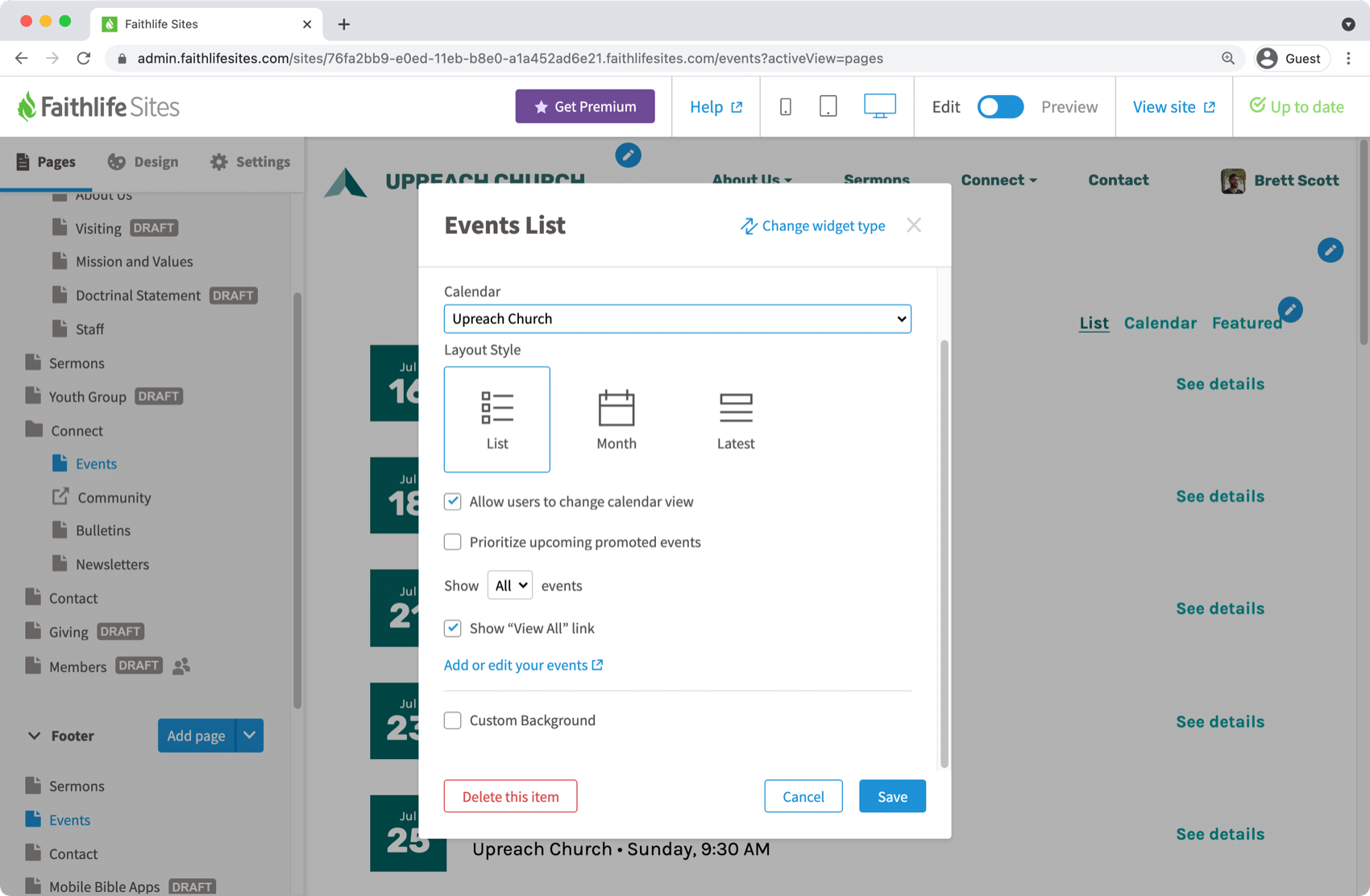 Title: Optionally choose a title to show at the top of the Events widget.
Calendar: Choose which calendar to show in the widget.
Layout Style: Select your desired style. The widget updates in real-time to preview each style.
Note: Learn more about changing the background of widgets.
3. Save and publish your changes.
Click Save to confirm your customizations. To make the changes live for the public, click Publish changes.
Add events to your church group calendar.
You can add events to your calendar from your church's Faithlife group on Faithlife.com.
1. Open your church calendar.
Go to Faithlife.com, sign in, and select your church group from the left-hand Groups panel.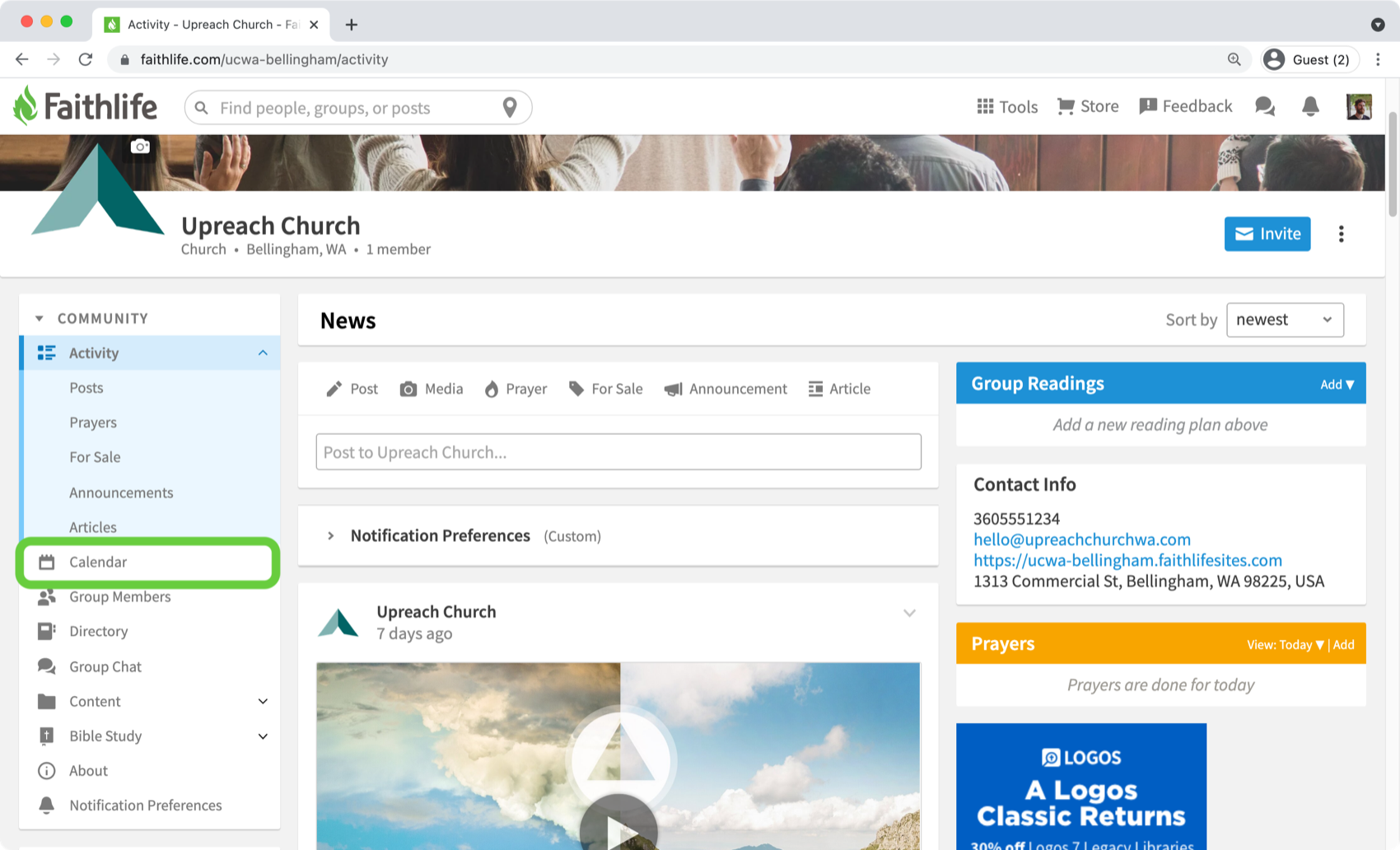 Note: Optionally, if you edit any Events widget on your website, you can click the link Add or edit your events to open your group calendar.
2. Add a new event.
Click New event to add a new event.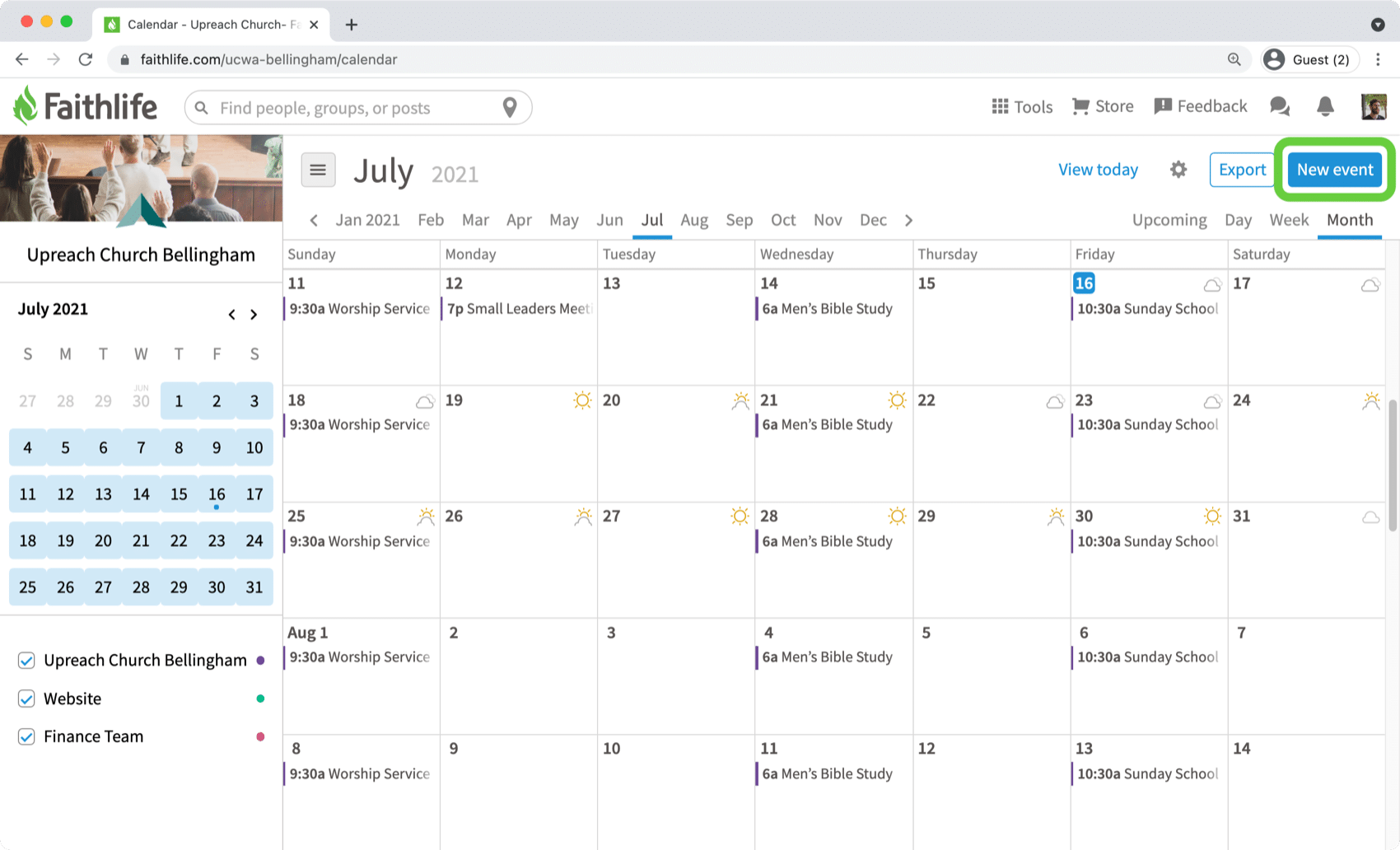 Add event details and create your event. Your website will update to show the new event automatically. View a step-by-step guide to creating events.
Note: To ensure the event will be visible for anyone who visits your website, ensure the event is set to be visible To: Public.