When someone gives for the first time, they may be new to your church. This is a great opportunity to invite them to engage with your church in other ways, such as inviting them to a newcomers lunch or to join a small group.
This article describes how to generate a list of first time givers for a specific period, export this list, and send an email or an SMS/text message to these first time givers.
Note: Only Admin and Moderators of the parent church group are authorized to send communication. Learn more about group roles.
1. View Givers.
Go to Faithlife.com, sign in, and select your Finance Team from the Teams sidebar. Click Givers in the Admin sidebar.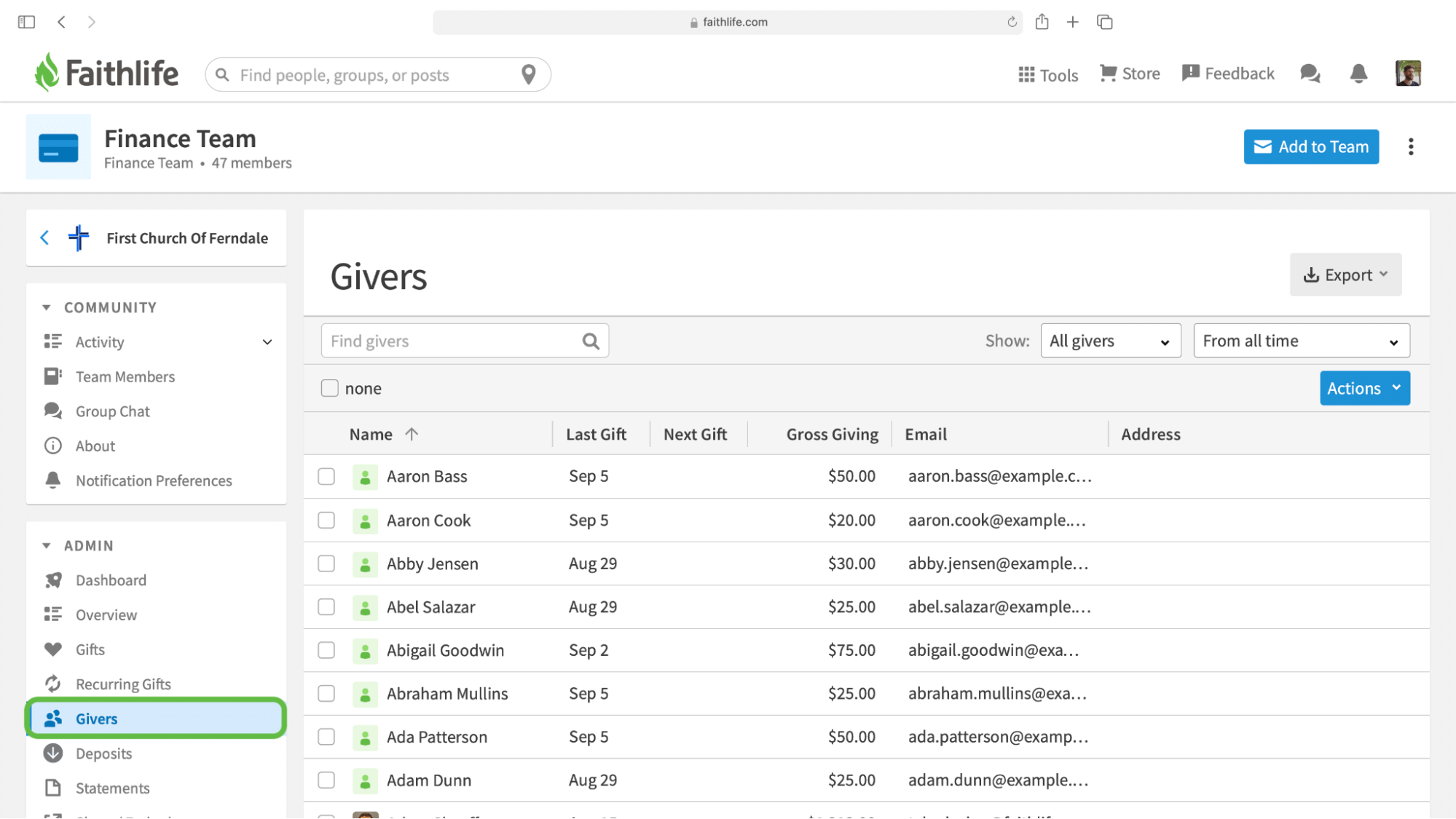 2. Select first time givers.
Select First time giver in the first filter menu.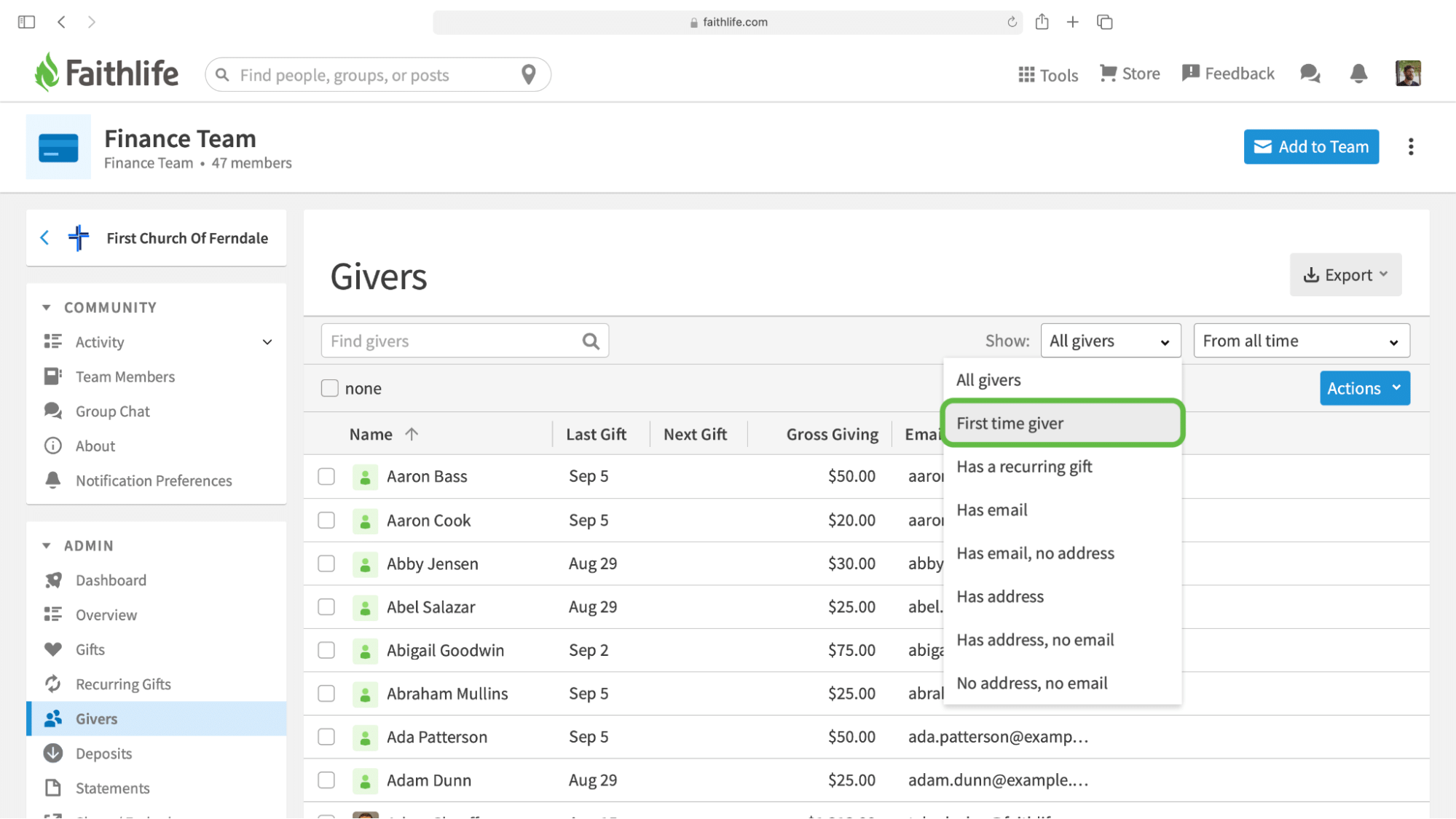 3. Select time period.
Select or input your desired time period (e.g., From this quarter) in the second filter menu.
4. Export report.
To download this list of first time givers, click the Export menu and select one of the following:
Givers which exports this list sorted by gross gift amount; or
Givers by fund which includes additional detail about the funds the givers supported (e.g., $100 to General Fund, $50 to Missions, etc.).
Note: The Givers by fund report may be useful if you have an event to support a specific fund, such as VBS 2021, and you want to determine which first time givers gave at this event rather than at a normal service.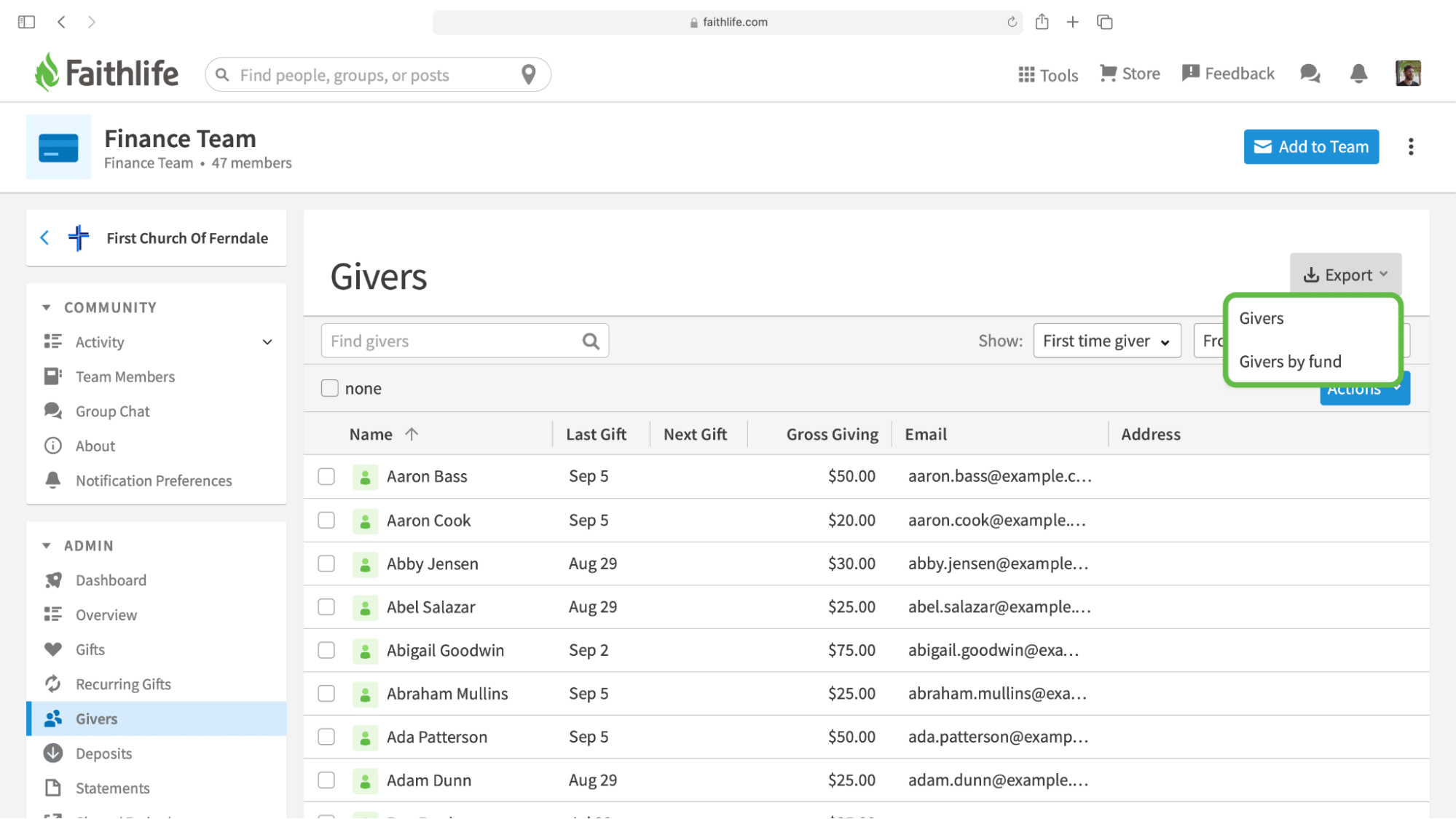 5. Send an email or an SMS/text message.
To send an email or an SMS/text message to these first time givers, first check the box to select all, and then from the Actions menu, select Create a communication. Learn more about creating a communication.
Note: Your church has already thanked the first time givers for their gift. Every time someone gives to your church, they receive a receipt which includes gift-specific details as well as a note of gratitude. Learn more about giver receipts and how to customize them.
Note: At this time, Faithlife supports text/SMS in the United States and Canada only.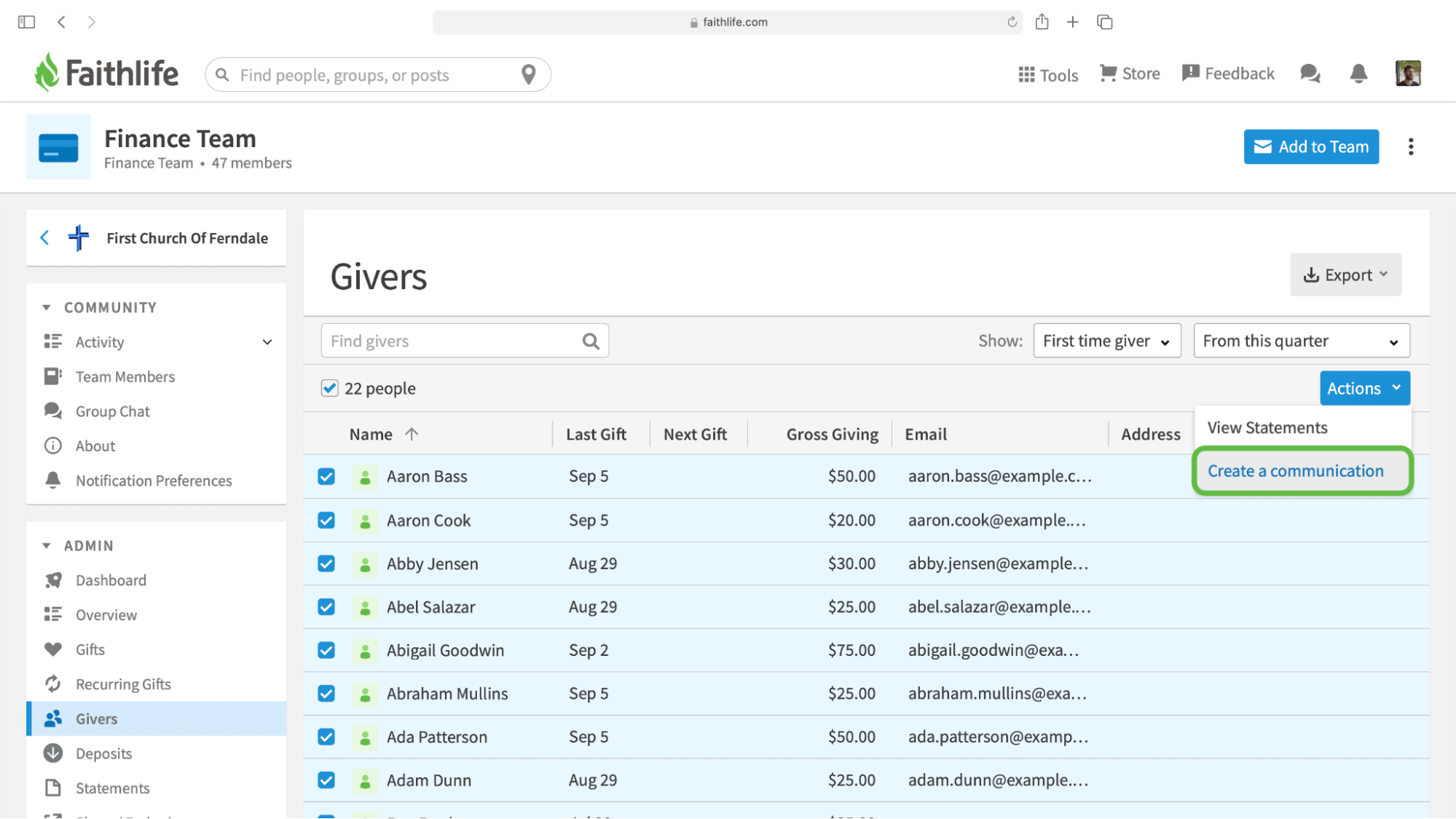 The Edit Communication page comprises several inputs.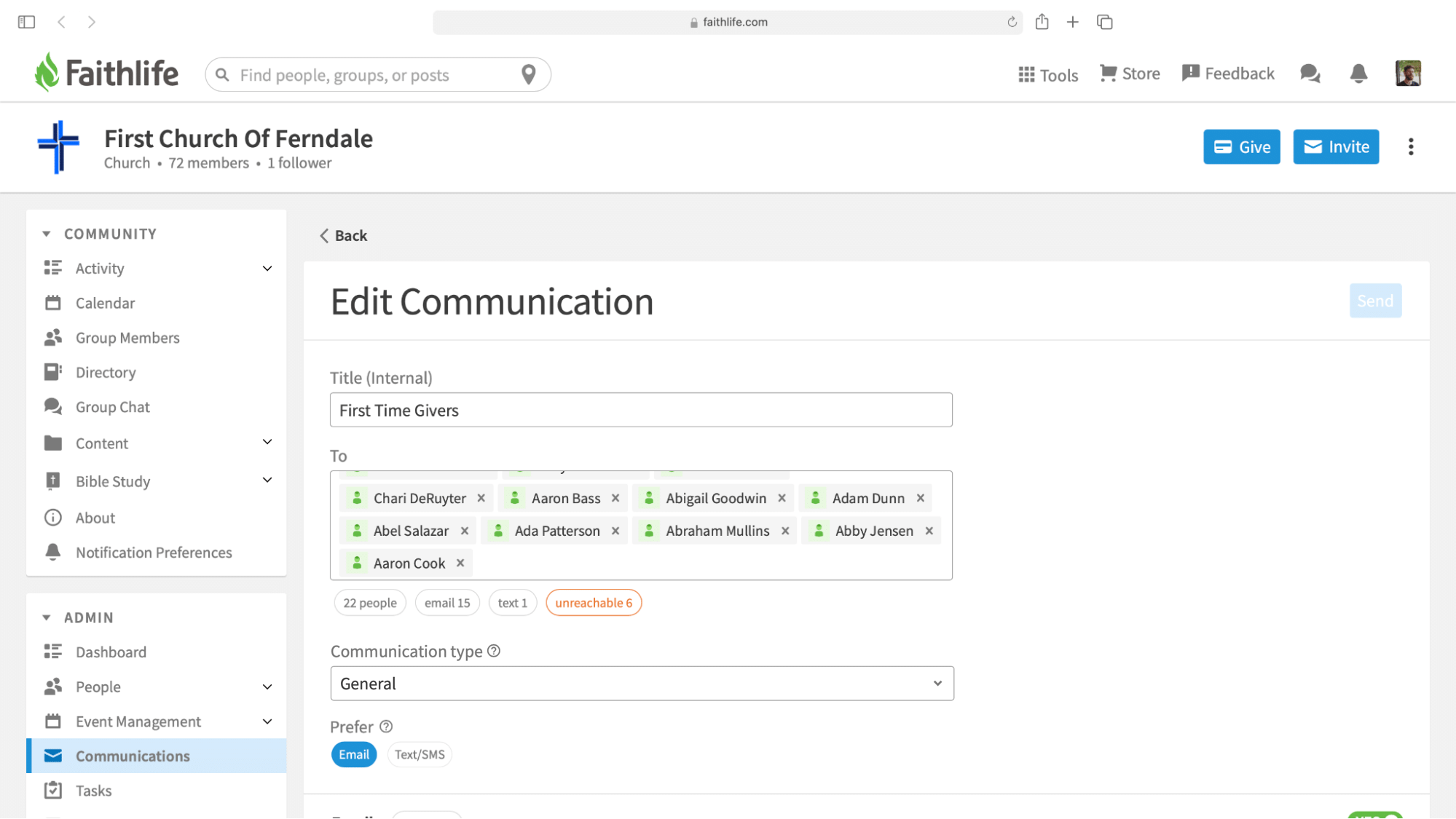 Title (Internal): The title is seen only by your admins and moderators and helps you identify the specific piece of communication.
To: Faithlife automatically populates this field with your selected first time givers as recipients. Beneath this list of recipients, indicators show how many of your recipients have an email and/or phone number in your database and how many of them are unreachable (i.e., they have neither email nor phone number and will not receive the communication). Click any indicator to see more details about the identified people.
Communication type: You can group similar types of communications to stay organized, and recipients can unsubscribe from communication types via unsubscribe links attached to communications.
Prefer: Communications can be delivered either by email or SMS/text message. If a recipient has both an email and a phone number, choose which you want them to receive. By default, if someone has only one method of communication, Faithlife will use that method to send your communication.
Note: Email through Faithlife allows for a wider range of customization and a higher character limit than SMS/text messages.
Now, write your email and/or text message, inviting your first time givers to get involved or encouraging them to set up a recurring gift, and send it! Learn more about how to create a custom email or SMS/text message.