Google Analytics helps you measure website traffic on your church website, giving you detailed data on your audience, how your visitors found you, their behavior on your site, and more. To use Google Analytics with your Faithlife website, add your Google Tracking ID in your website's Settings panel while in Edit Mode.
Create and copy your Google Analytics ID.
To use Google Analytics with Faithlife Sites, you will first need to create and copy a Google Analytics ID.
Open the Google Analytics and login with your Google account.

Setup a Google Analytics account.

If you haven't previously set up an account, click Start Measuring. (Alternatively, click your account avatar and choose Add an account.)

Creating your account requires providing the following details. Work through each of the sections and then click Create to finalize your account creation. For more help, see Google's guide.

Account setup: provide a name (e.g., "Marietta Community Church") and set your data sharing settings. You can leave the settings at the default or learn more about data sharing with Google.). Click Next.
Property setup: provide a property name (e.g., "Church Website"). Click Next.

Business information: provide optional information about your church to Google.

Note: You may need to accept Google's Data Processing Terms to finish setting up the account.

Choose Web as your platform.

You can use analytics for several different platforms. Since you're linking your Faithlife website, choose Web.

Provide your website information.

Add your Faithlife website URL (without the https://) and give your stream a unique name. You can track page views, scrolls, outbound clicks, site search, video engagement, file downloads, and more with enhanced measurement. Once finished, click Create stream.

Note: Use your primary domain for your church website. In other words, if you have a custom domain, add your custom domain to Google Analytics rather than your .faithlifesites domain.

Copy your Measurement ID.

Note: For more help with Google Analytics, visit the Google support center.
Add your Google Analytics ID to your Faithlife website.
To get started, navigate to your church website and sign in if necessary.
Click Edit Site to enter edit mode.

Click Settings in the left-hand panel.

Scroll down and paste your Google Analytics ID.

Click Publish changes to make your changes live.
Interact with your website data in the Google Analytics dashboard.
The Google dashboard at analytics.google.com should begin to show data as people visit your site. Navigate the dashboard with the left-hand menu options to see Realtime data, Acquisition, Engagement, and more.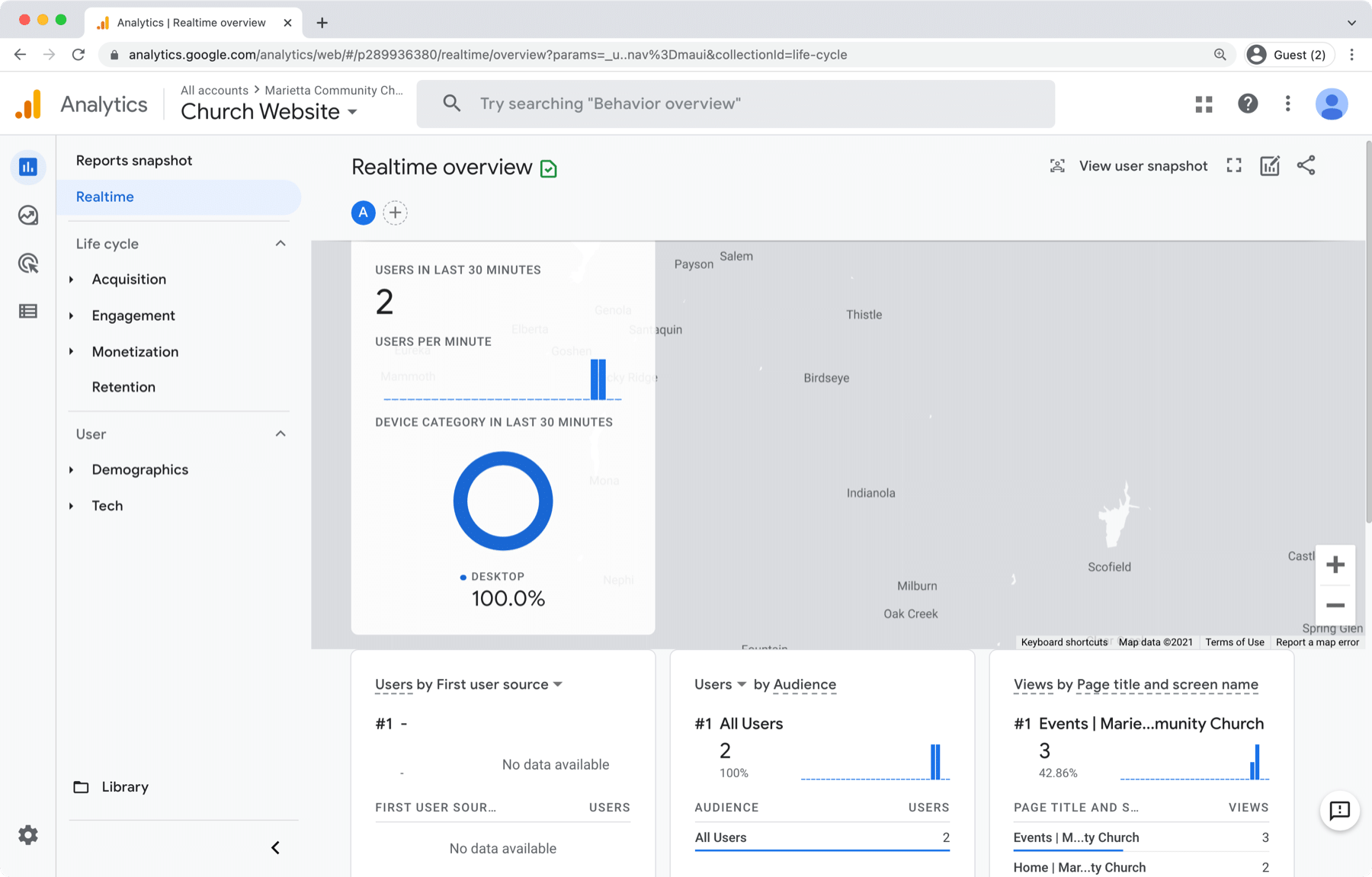 Note: Visit the Google support center for more help using Google Analytics.