Individuals in a family may each give at different times, but it can be a hassle for them to receive a separate giving statement for each giver. If your church group uses an envelope number system, you can assign an envelope number to a family record in Faithlife Giving. Then, when you receive a gift with an envelope number, you can search for that number and apply the gift to the family record, ensuring that giving statements for the family are consolidated.
Note: Only group Admins or Moderators have access to view or modify family records.
This article describes how to create a family record, assign an envelope number to a family record, and apply manual gifts to that envelope number.
Note: Admins or Moderators can also assign an envelope number to an individual person's record rather than a family record. All you need to do is go to that person's record and fill in the "Envelope" field in their personal details. Learn more about people records.
1. Create a family record.
If the family does not already have a family record, you must first create one for them. From your church group's page on Faithlife.com, click People in the Admin sidebar and then click Families.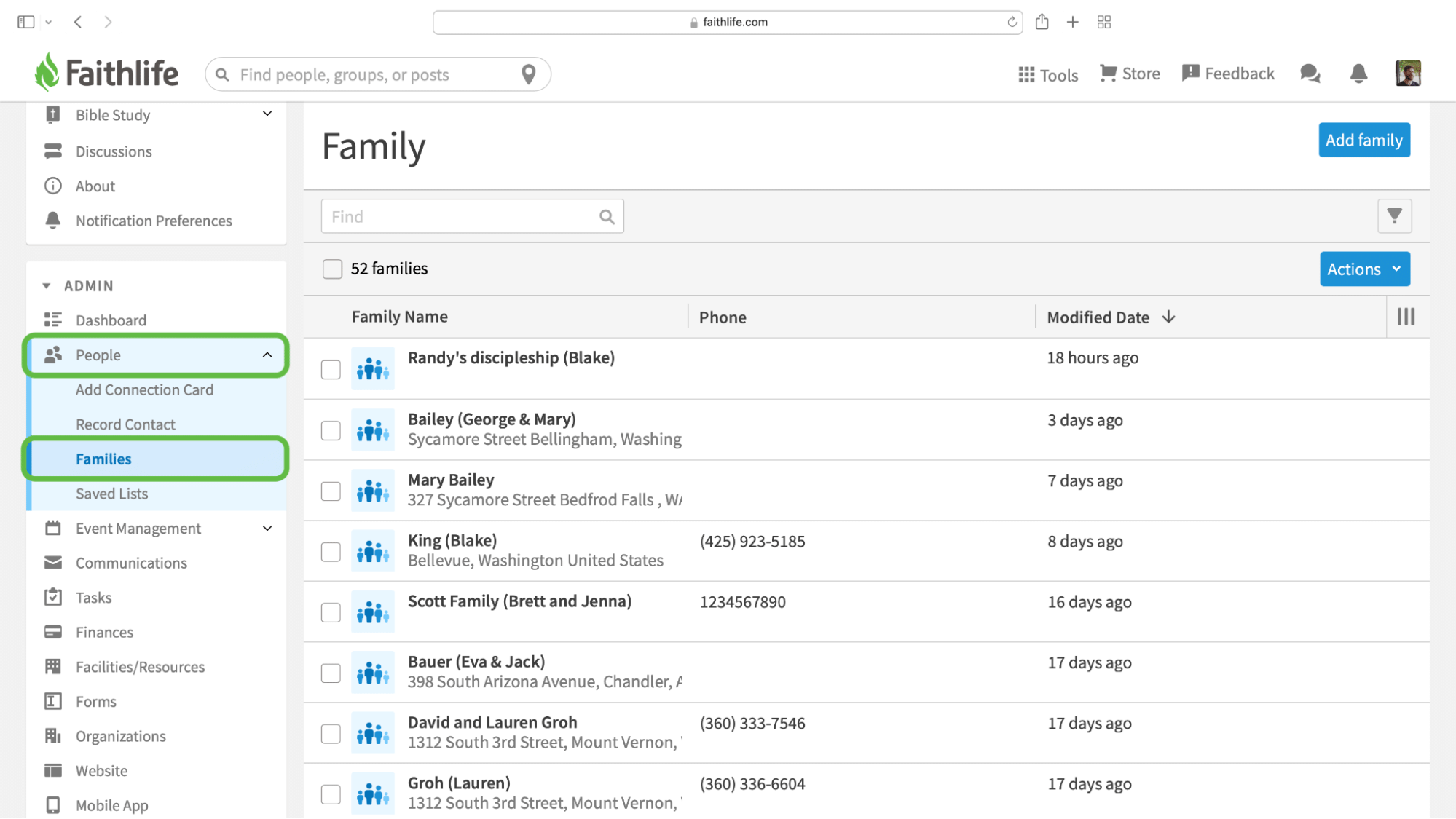 Existing family records will appear in the main panel of the page. You can search and filter these records. If the family to whom you would like to assign an envelope number already exists, select their family record here. Otherwise, create a new family record by clicking Add family.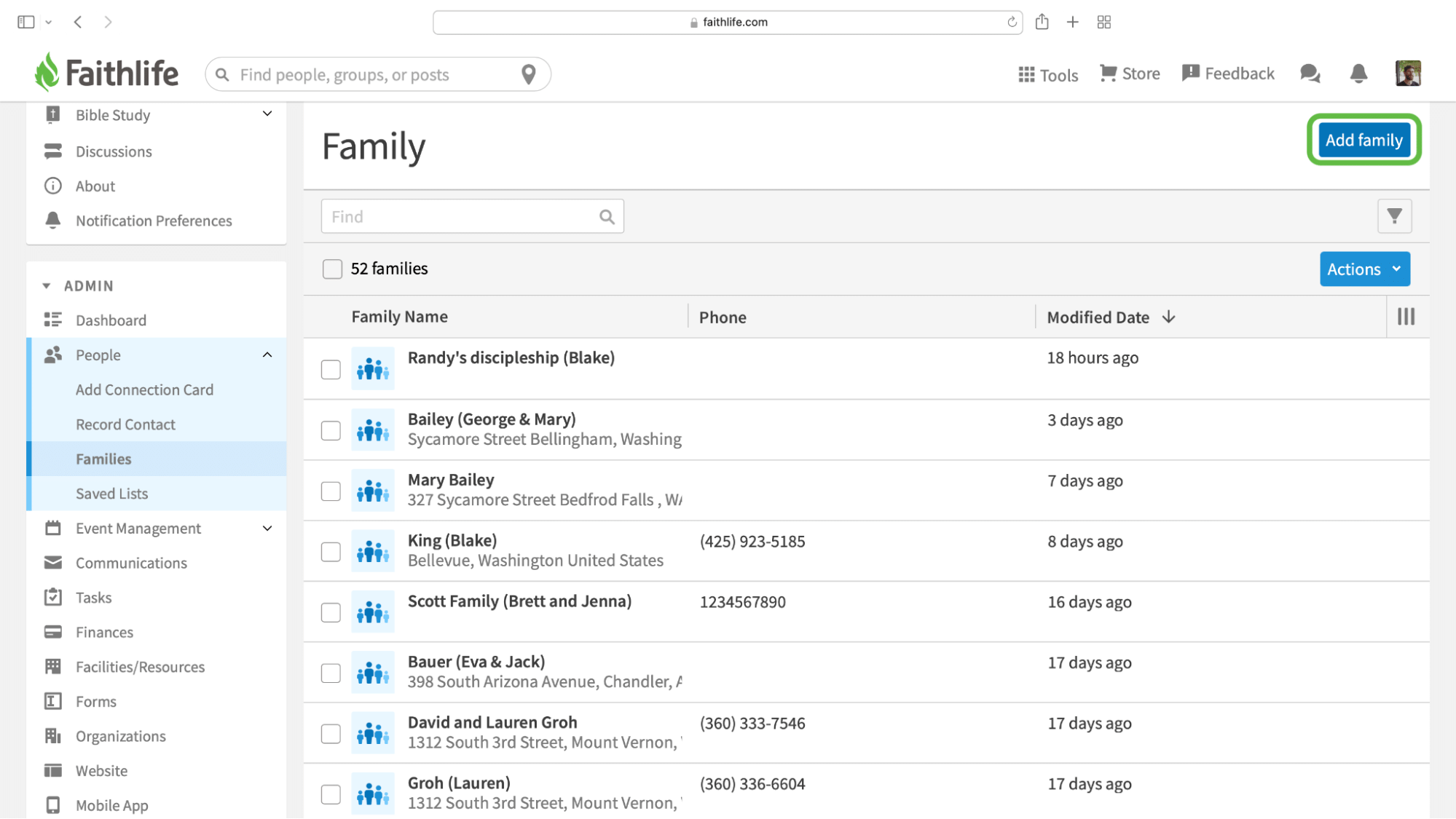 Complete the form with information about the new family.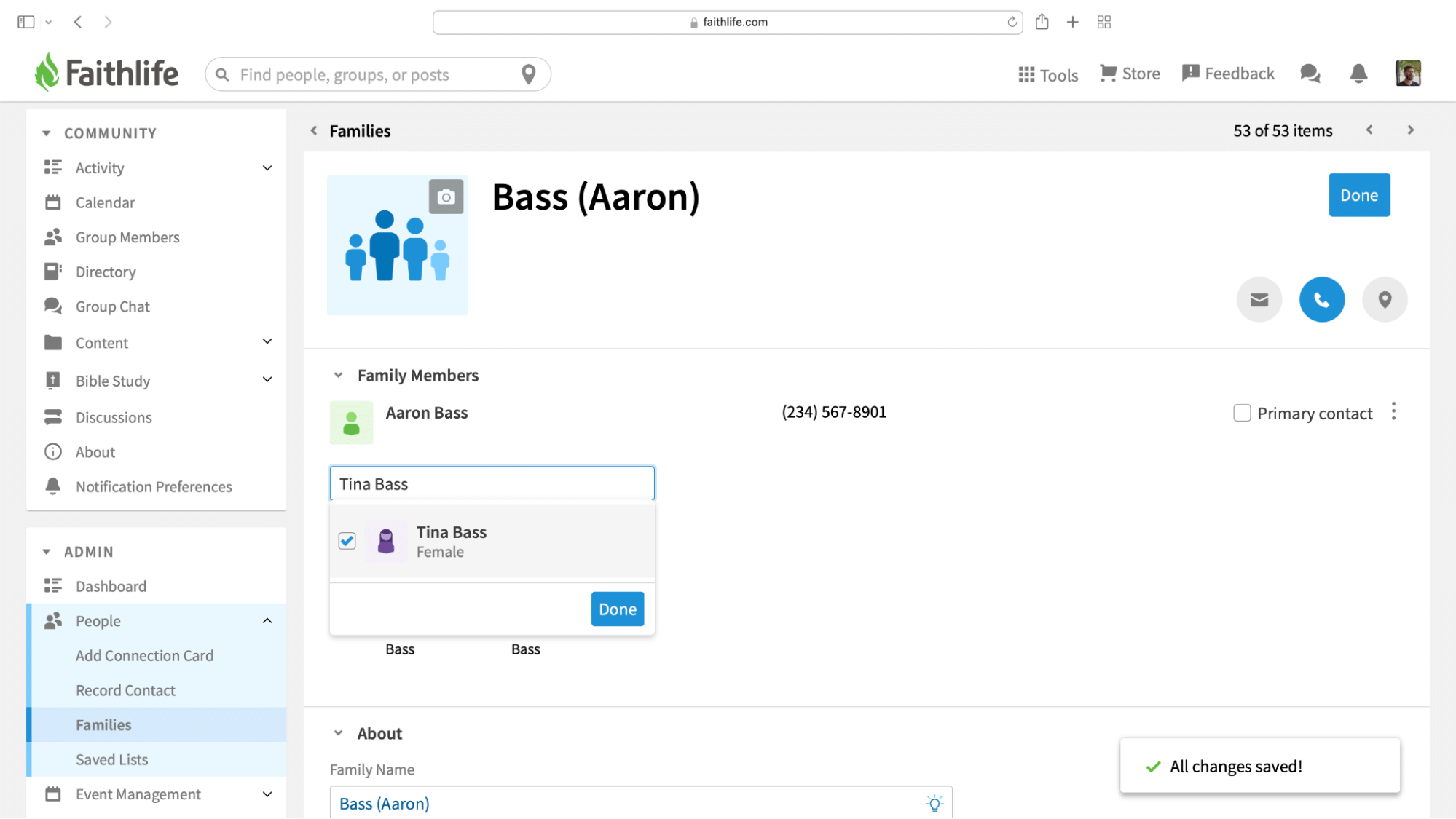 Photo: If desired, add a photo representing the family unit which will appear in the Directory and will be visible to all members of your church group.
Family members: Add people to the family record by clicking + Add Family Members. Begin by typing a person's name. You can select existing people records to add to the family record or create new records by typing the person's name, then selecting Create new record.

Note: New person records created this way are empty. You can modify them by clicking the person's name or from the People page. Learn more.

Address as: This field determines how certain communications are addressed to the family unit. It is automatically populated based on the family name, but you can also modify it by clicking in the text box and entering different text.
Contact information: Provide addresses, phone numbers, and email addresses for the family. You can select which information to include in your group's directory by clicking the directory icon next to each field. A blue checked icon indicates that the information will be included in the directory.
Note: Learn more about creating, managing, and searching family records.
2. Assign primary contacts.
Primary contacts have access to their family giving statements and can also choose to give as a family rather than an individual from your giving form. By default, the first person you add to a group is treated as the primary contact for the family. You can change or designate additional family member(s) as the primary contact, and their name(s) will appear in the Family Name field.
Note: Learn more about assigning a primary contact to a family.
To add family members as primary contacts, check the box next to "Primary contact."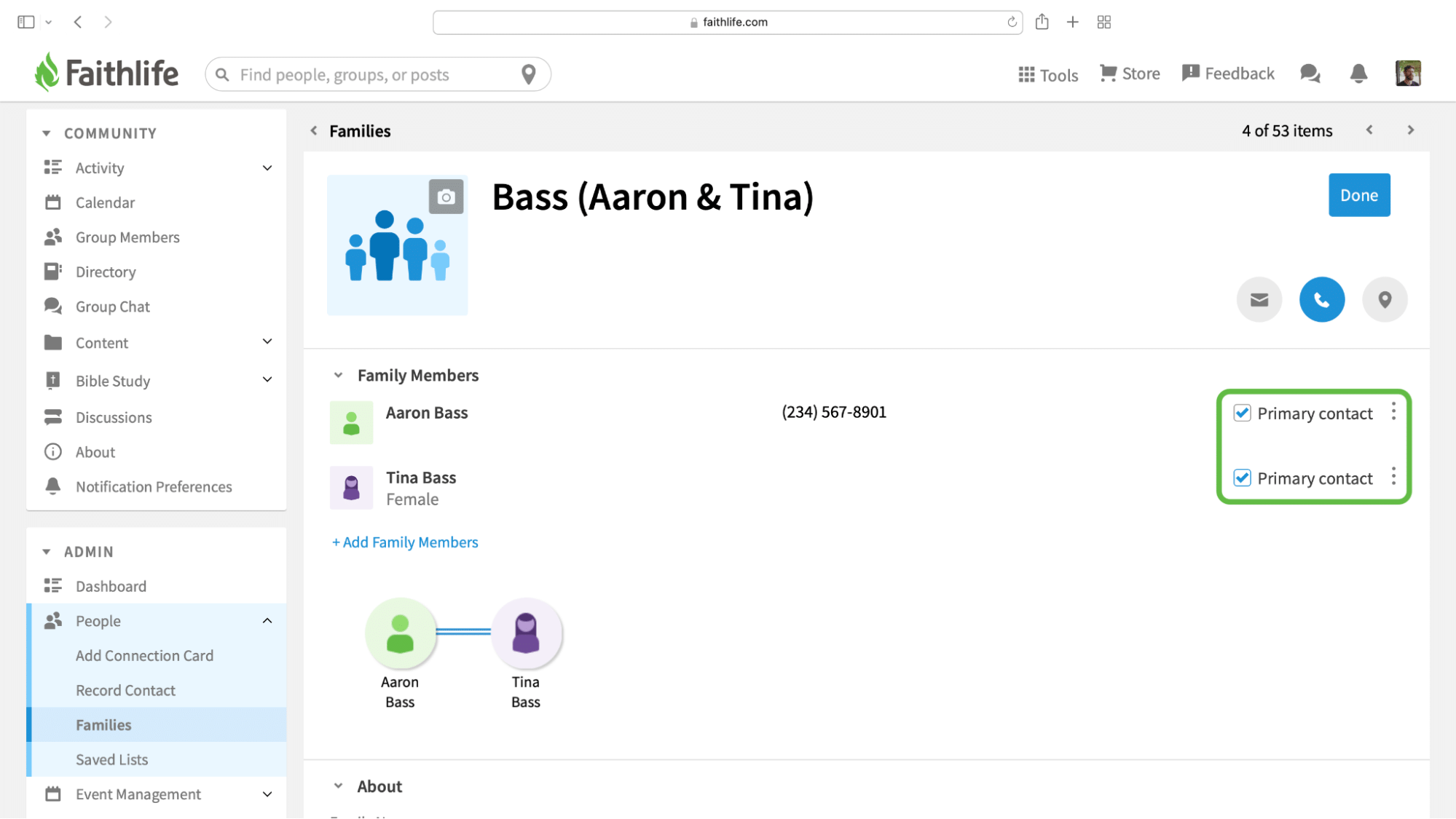 3. Add the envelope number.
Finally, add the family's assigned/shared envelope number in the Envelope Number field in the About section. Once you are happy with the information in your family record, click Done.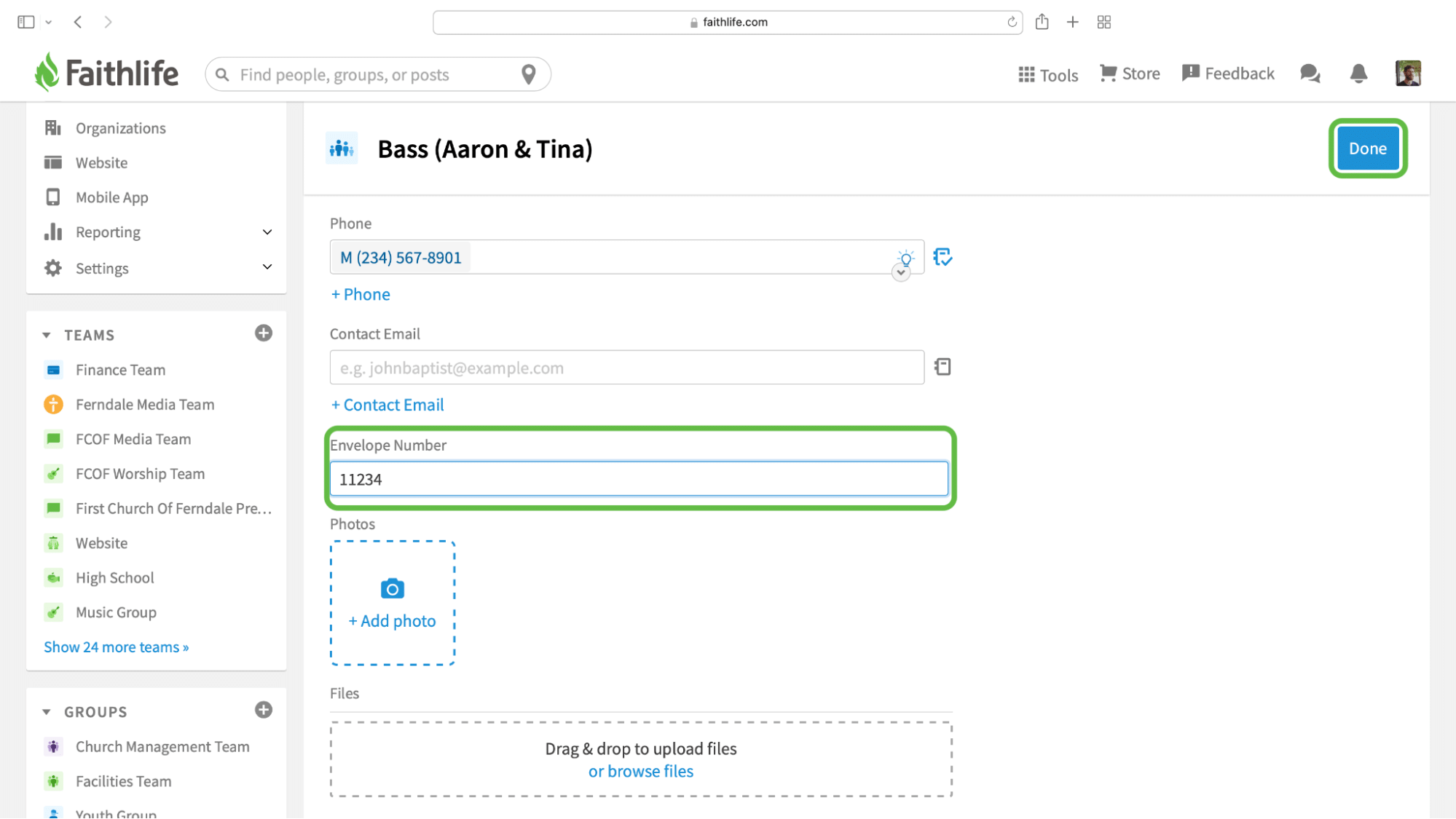 4. Add a manual gift.
To add a manual gift assigned to a family envelope number, first go to your Finance Team, and select Gifts from the Admin sidebar. From here, click the Add menu and select Manual gift to start a manual gift entry.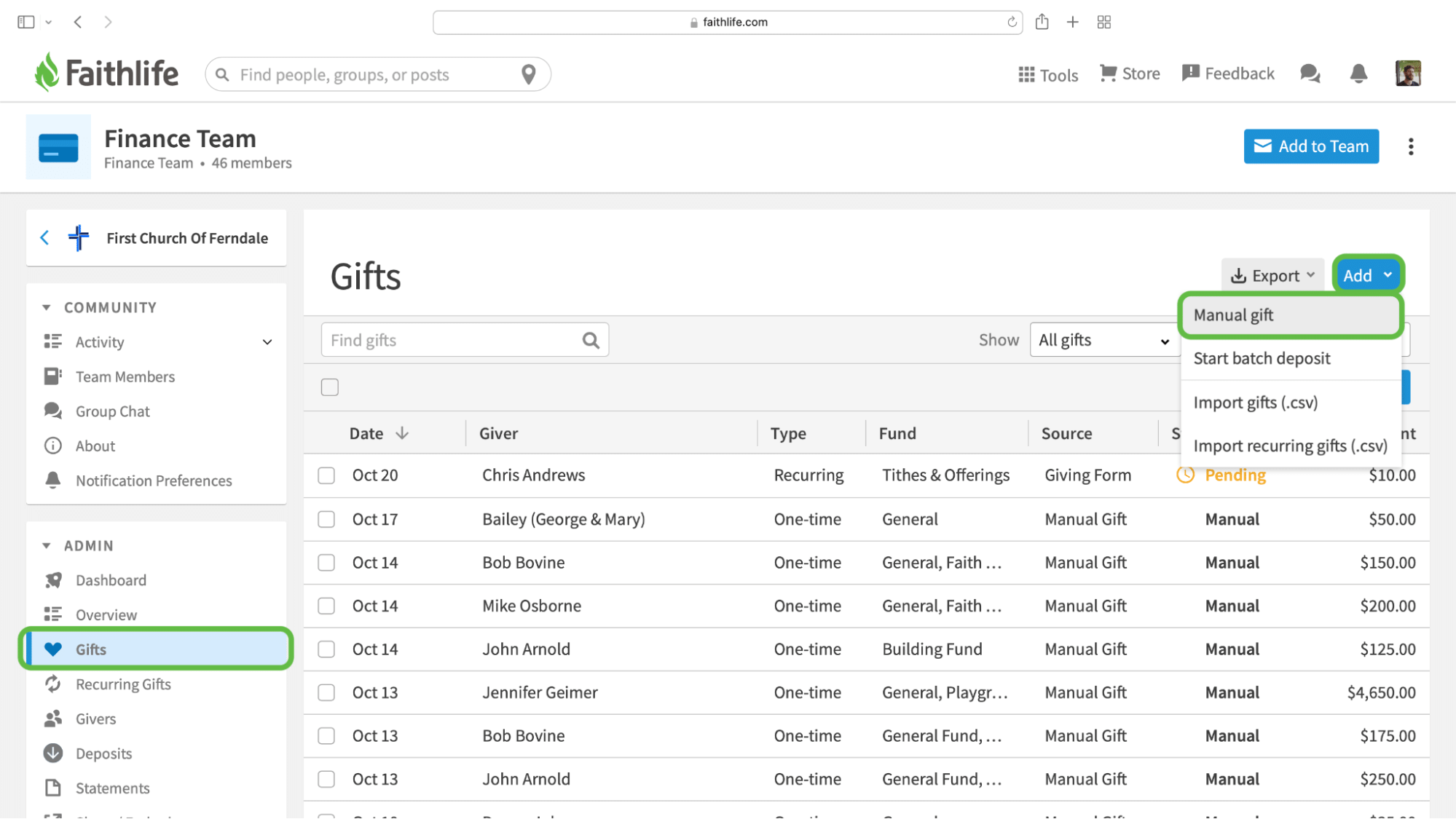 5. Search for the envelope number.
Next, search for the envelope number in the "Giver" field and select the family record from the records returned.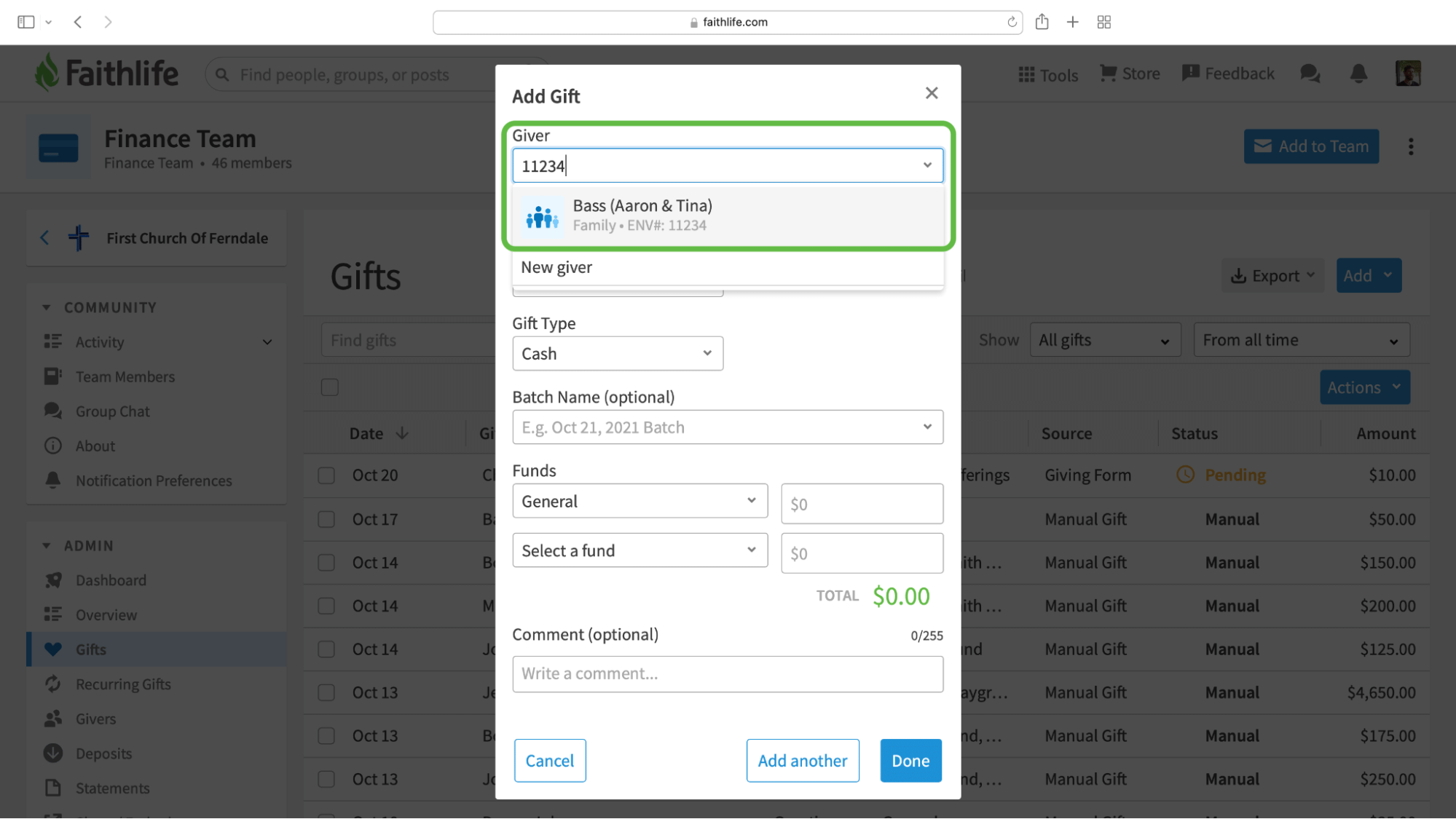 6. Complete the gift.
Finally, complete the gift details, such as giving date, gift type, and funds, then click Done.
Note: Learn more about how to add a manual gift.
By entering the manual gift using the family's envelope number, the gift will be applied to the family record you've selected rather than an individual, ensuring that giving statements for the family are seamlessly consolidated.