When an Admin or Moderator sends a communication through the Faithlife platform to more than 30 recipients, an unsubscribe link shows at the bottom of the email. This link is required to be compliant with spam legislation. However, sometimes recipients unsubscribe by accident and miss out on valuable communication! It's important to know how to prevent accidental unsubscriptions and also how to resubscribe.
Note: Click here to learn how to change how your groups on Faithlife.com notify you, or click here to learn how to unsubscribe from Faithlife marketing emails.
This article explains:
Prevent Accidental Unsubscriptions
If an Admin or Moderator sends a communication to more than 30 recipients, then the email includes a link which allows recipients to unsubscribe.
Note: The unsubscribe link is included in emails but not in SMS/text messages and is always included when the communication is sent to more than 30 recipients, regardless of the format. For example, if you send a communication to 31 recipients, 20 of whom receive an email and 11 of whom receive an SMS/text message, the email will contain an unsubscribe link.

Admin and Moderators can easily prevent recipients from accidentally unsubscribing by including a simple reminder in your email. By adding bold or italicized text saying, "Please do not unsubscribe if you would like to continue receiving these communications," Admin and Moderators can remind their recipients to take a moment to consider before clicking the unsubscribe link.
If recipients do decide to click the link, they will see a screen requesting confirmation. If the recipient then clicks Unsubscribe, they will no longer receive that type of communication (emails and SMS/text messages) from their church group. In the below example, the recipient will be unsubscribed from all "General" emails and SMS/text messages of First Church of Ferndale.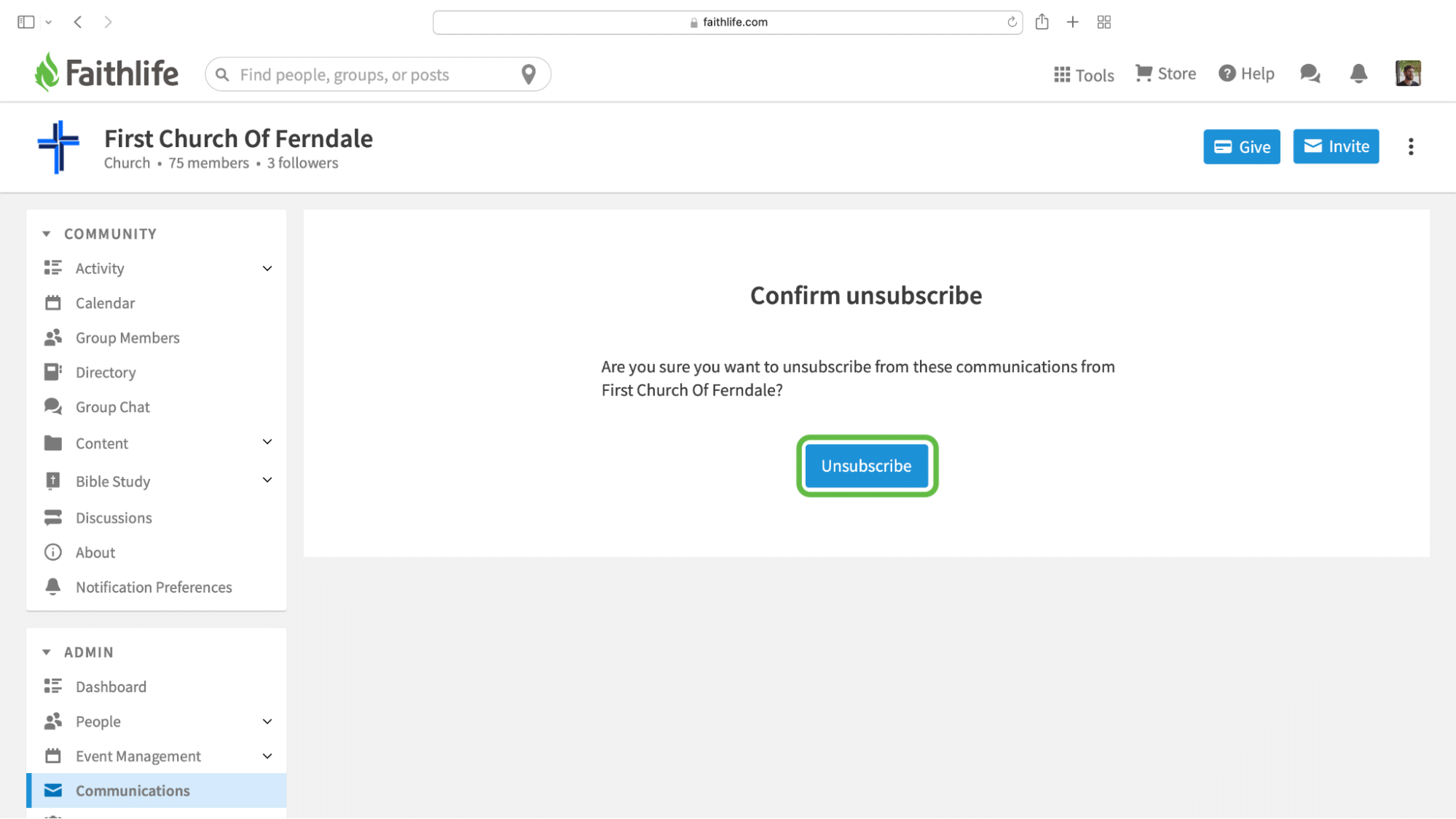 Resubscribe
1. Click the Resubscribe button.
When you click Unsubscribe on the confirmation screen shown above, you see a screen with a Resubscribe button. If you click this button, you will immediately be resubscribed to that type of communication from your church group.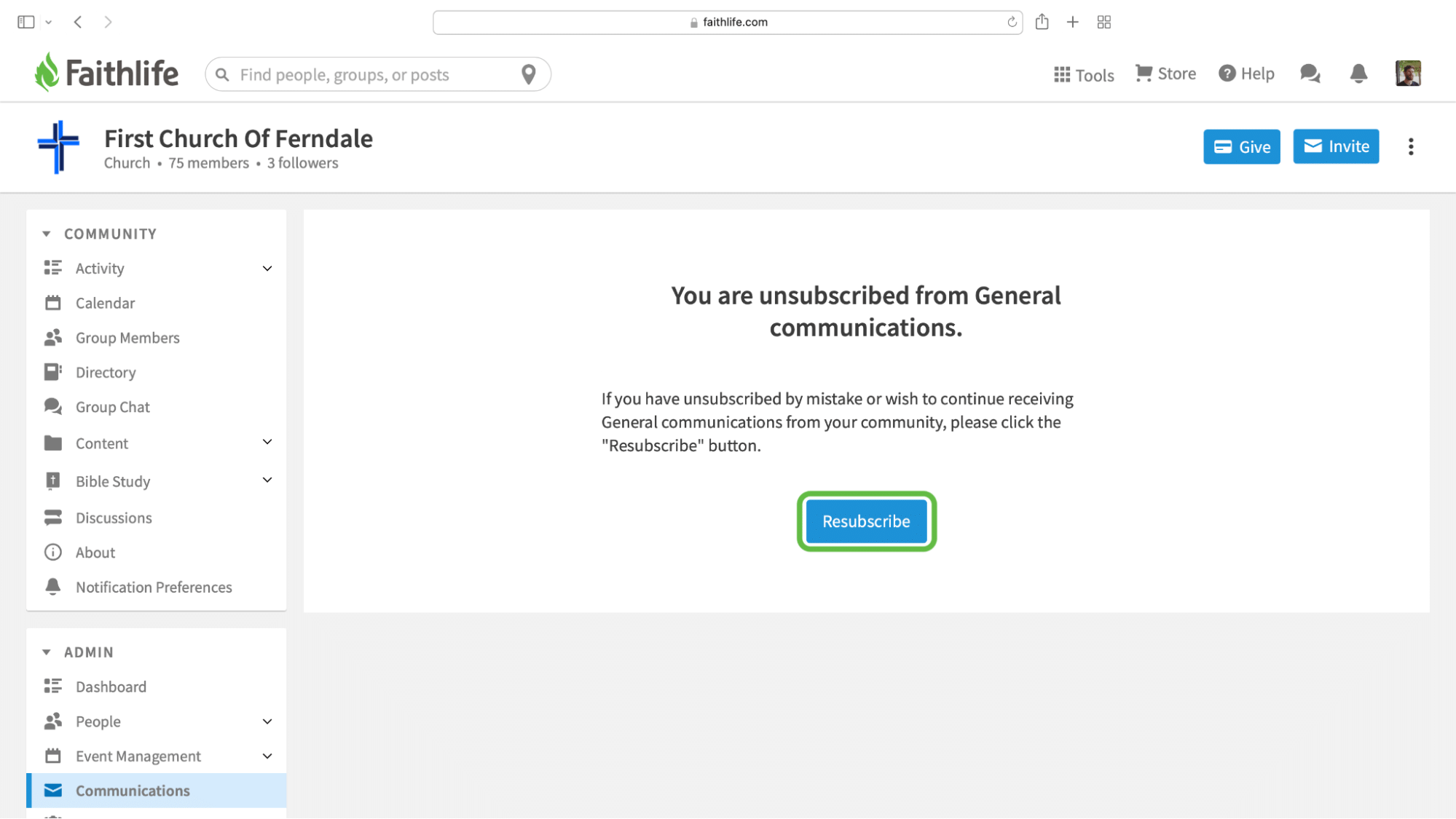 2. Click the unsubscribe link from an old email.
If you have already unsubscribed and no longer see the screen with the Resubscribe button, you can open an old email that contains the unsubscribe link and click this link.

Once you click this link, you will see the unsubscribe confirmation screen. First, click the Unsubscribe button.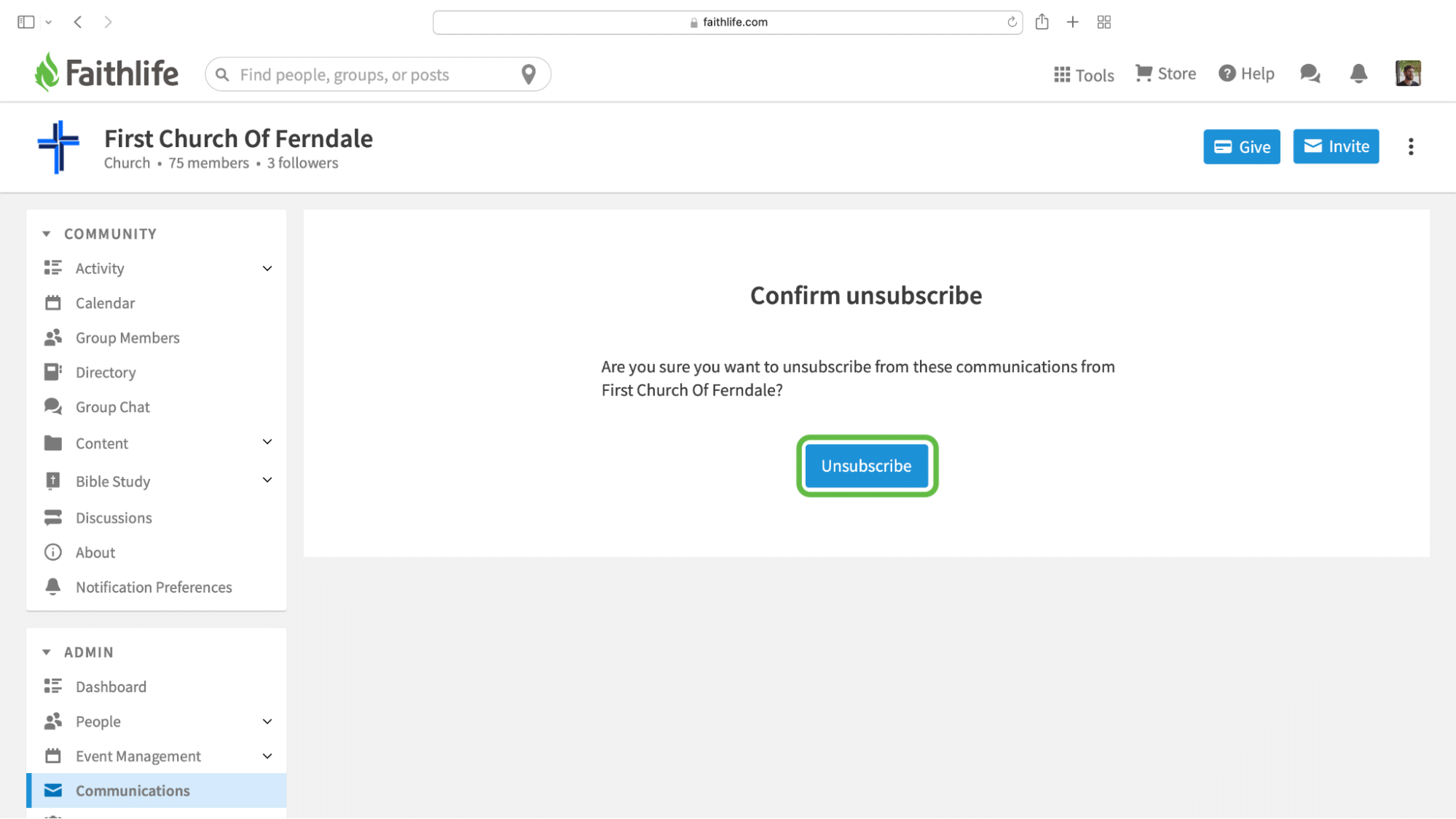 Then, on the following screen, click Resubscribe. By doing this, you will immediately resubscribe to that type of communication from your church group.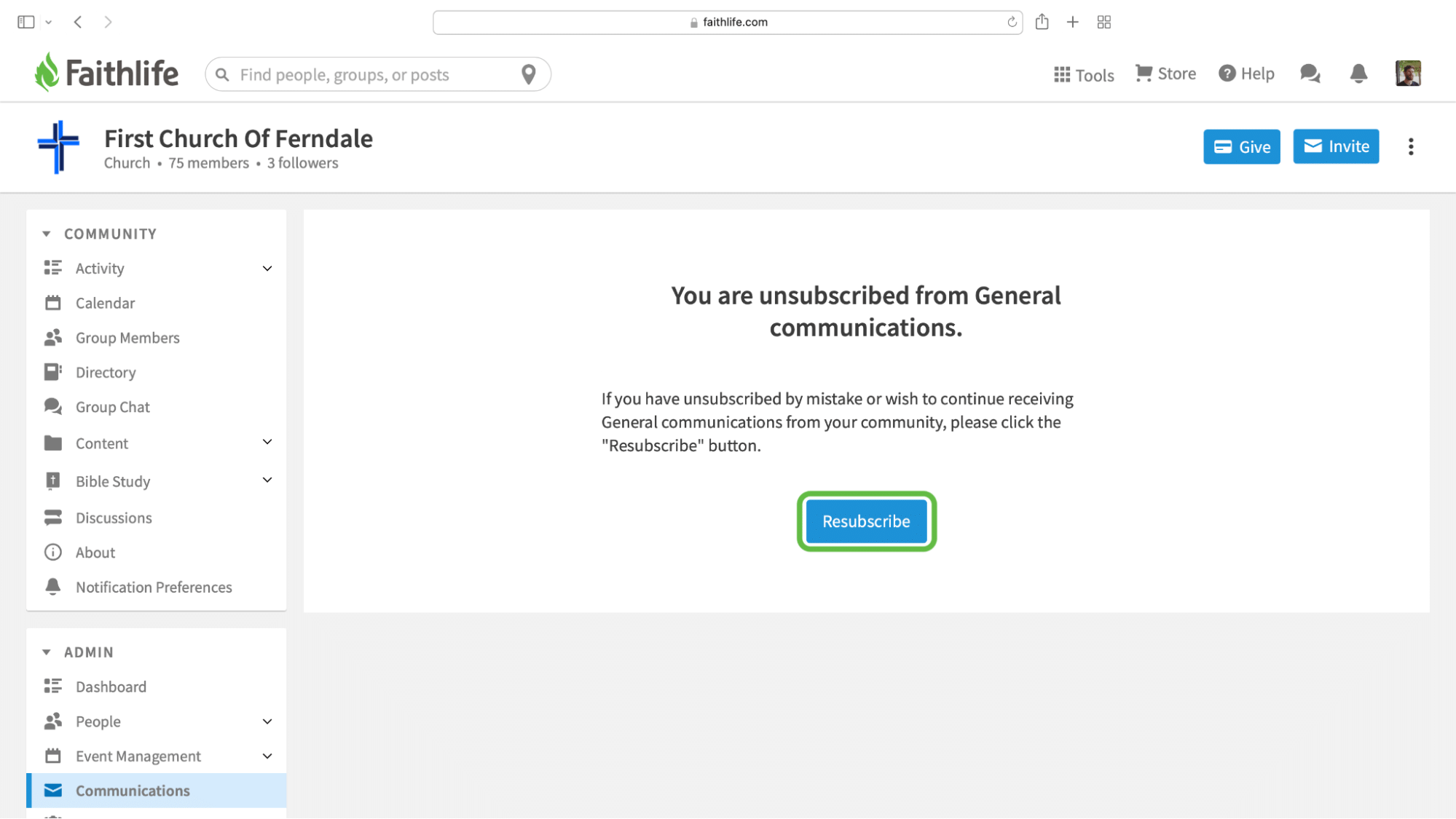 3. Have an Admin resubscribe you.
Alternatively, an Admin of your church group can manually resubscribe you to communications.
First, the Admin must access the people records by clicking People in the admin sidebar.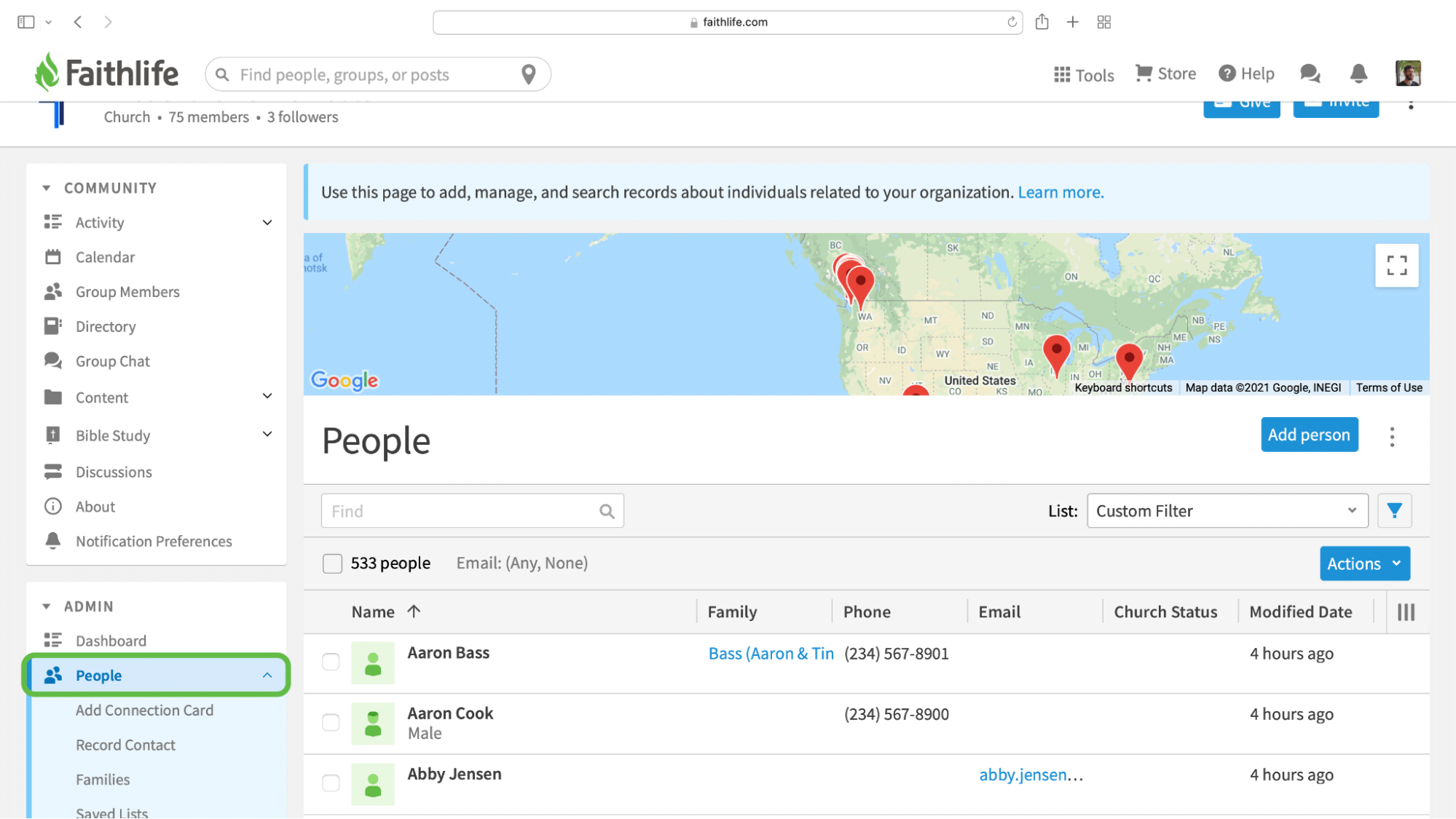 Next, locate the relevant record by typing the person's name in the search bar or applying filters or sorting. Once you have located the record you are looking for, click the name.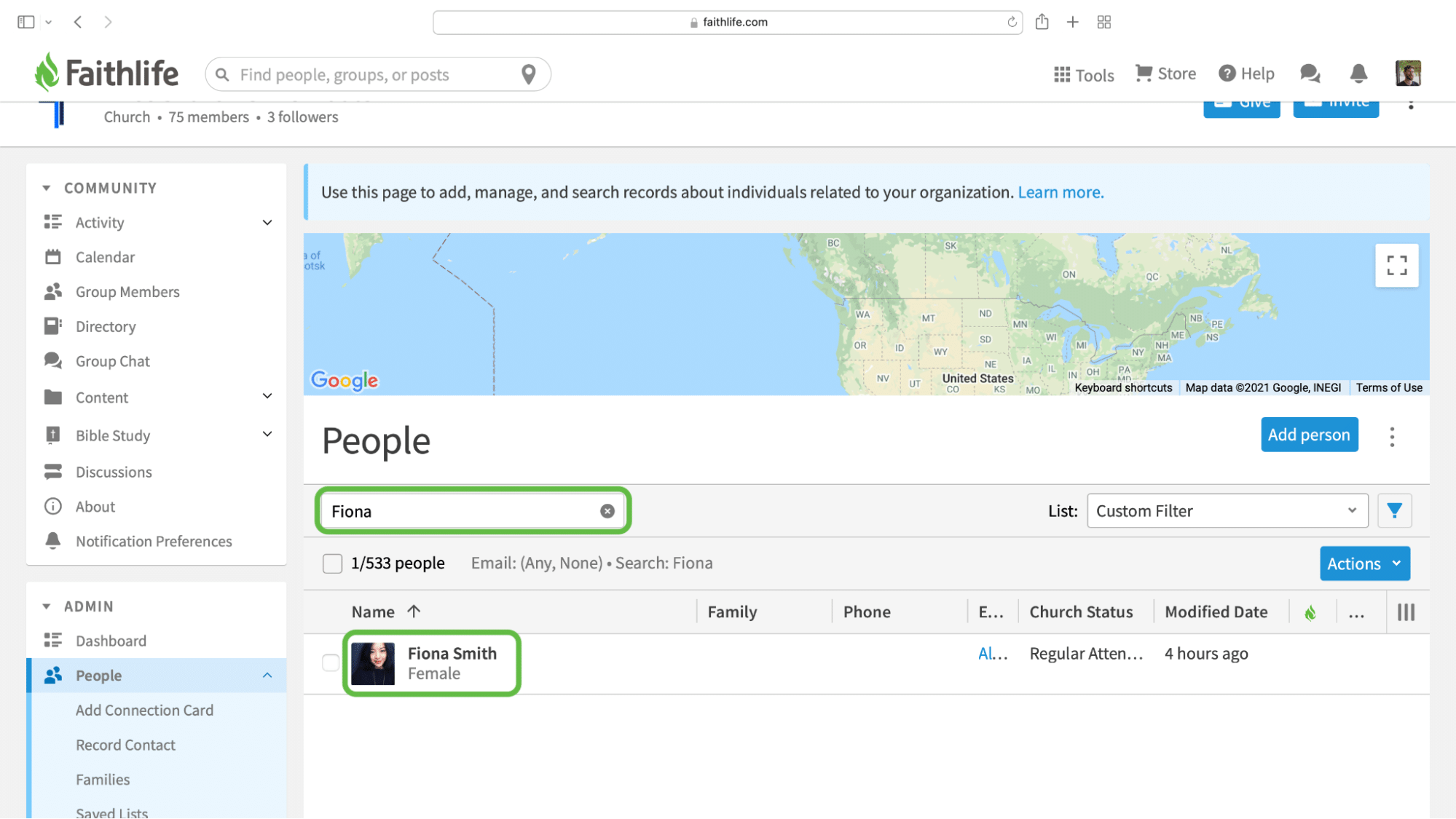 Inside the person's record, scroll down to the "Teams & Groups" section. Once you've expanded this section, you will see a section called, "Communication Types." This lists the person's unsubscriptions by communication type. To resubscribe them to a communication type, check the box under "Subscribed" and then click Done.