Take ownership of your faith and grow in your biblical understanding with Faithlife Curriculum. Whether you want to take a Bible course, work through curriculum, or dig into the Word with study tools, you're in the right place. And because Faithlife Curriculum is part of Faithlife's integrated ministry platform, you can also study in community. Invite your small group, class, or friends to study with you, then have a meaningful discussion in a private online community
With the Curriculum app, you and your group can track your study progress, view guided reflection questions, and take notes.
Click here to learn how to purchase and distribute curriculum for your group.
Download the App
Download the Faithlife Curriculum App on your device and log in with your Faithlife.com credentials to access your Curriculum Library.
Note: The Faithlife Curriculum app is available in English and Spanish. You can set the app's language in the Settings menu.
Start or Continue a Plan
The Library includes all of the group courses you have available to you. You can begin a new plan by tapping All My Plans at the top and selecting the course you want to start. Use the search bar at the top to find a particular course or tap the filter icon

to limit the displayed courses by specific criteria.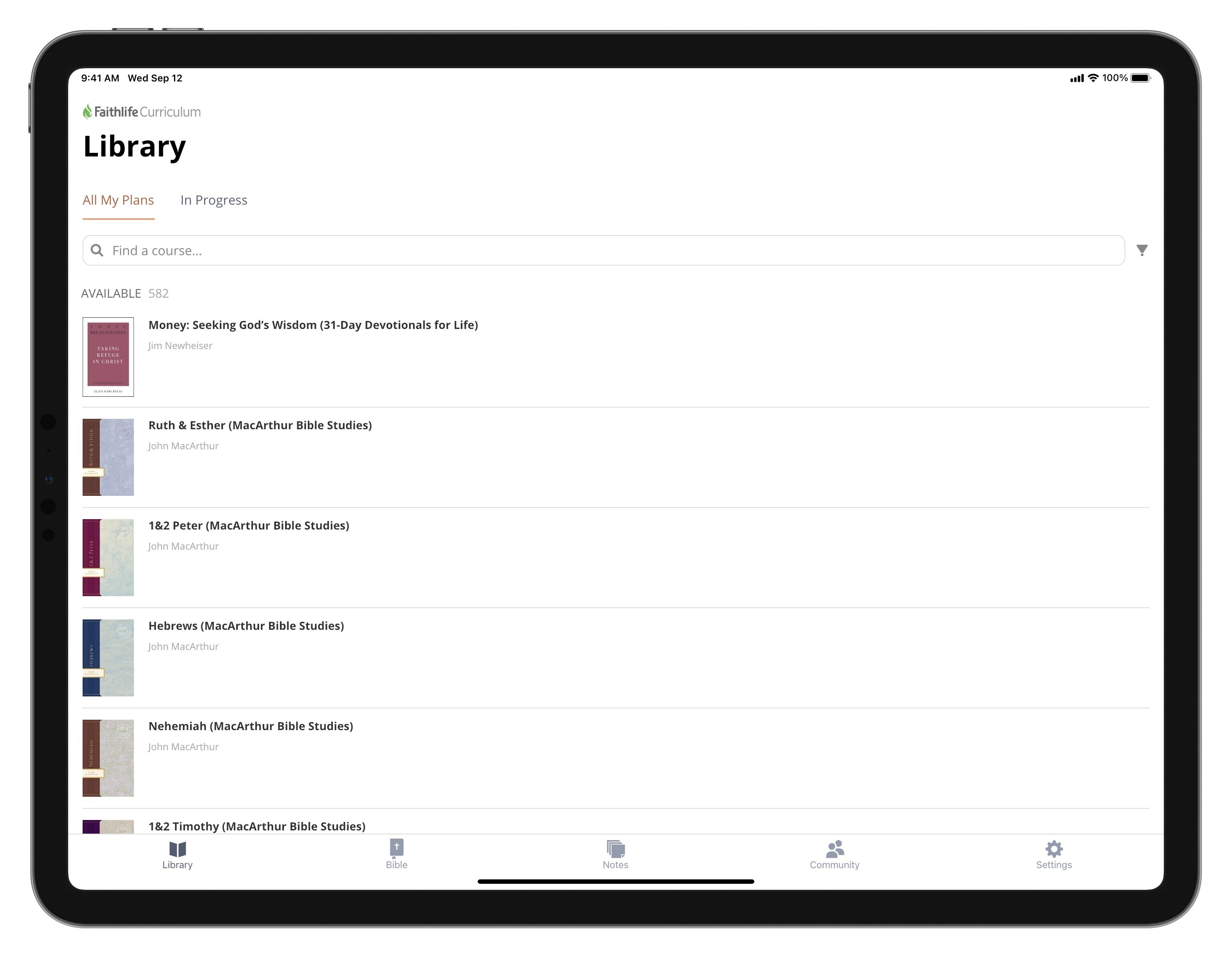 You can also quickly jump back to one you've already started by tapping In Progress followed by a tap on your course.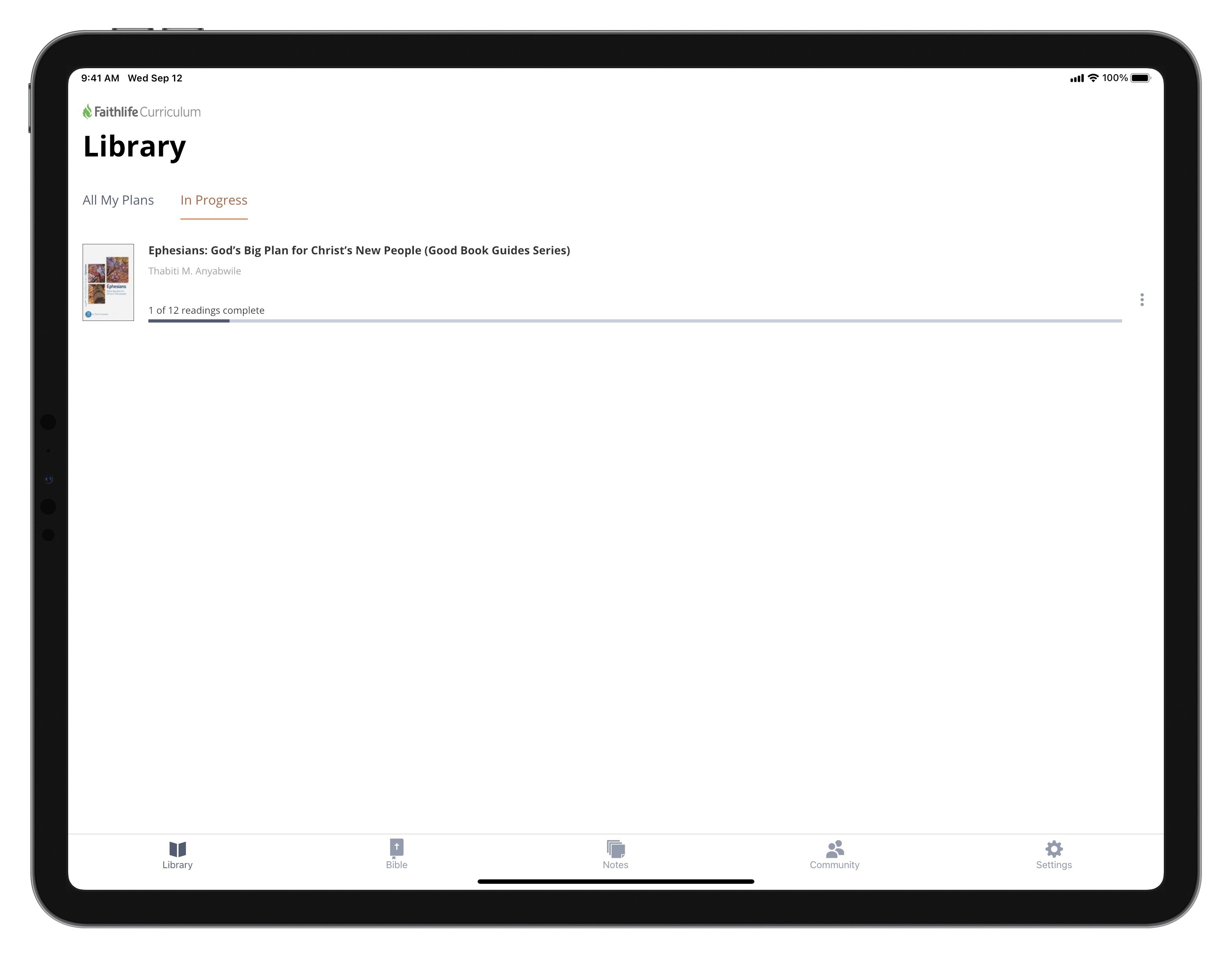 Tip: Contact your church group administrator(s) if you do not see a plan that you should have access to in your library.
Each course is broken down into manageable sections so that you can follow along with your group. After you tap Start Plan to begin, the next scheduled reading will be listed at the top. Tap the reading to download the course and open it to that location.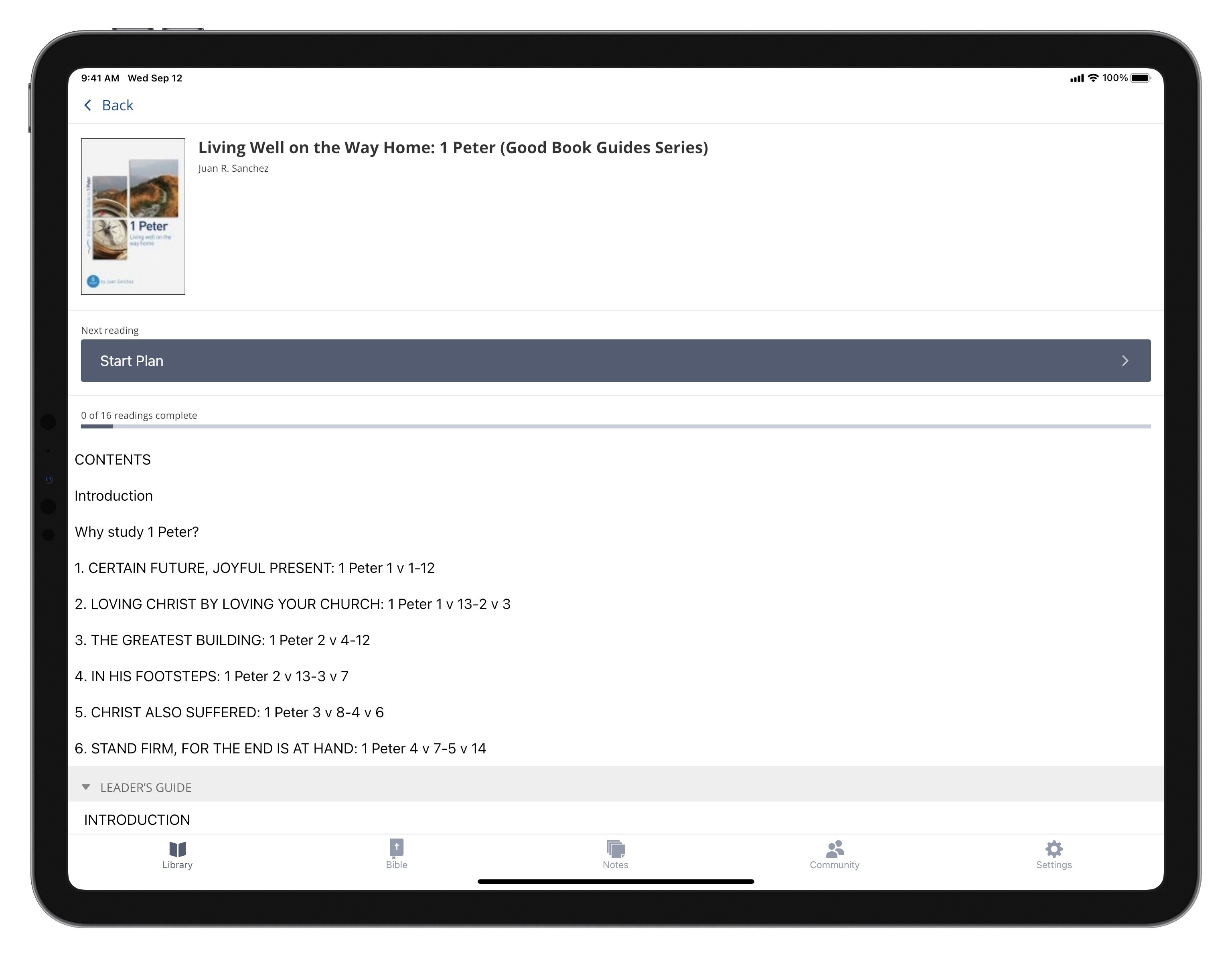 As you complete each section, the app will automatically save where you left off. When you finish a reading, tap Next to continue to the next, or tap Library to navigate back to the plan's overview.
Plans typically feature links to the assigned reading for that session along with several text boxes for you to record your observations and reflections. All of your responses are saved within the Notes tab at the bottom

and are synced across your devices. So you can move from taking notes in the Faithlife Curriculum app to reviewing them and doing further research in your Logos desktop app!
Choose Your Bible
No matter what plan you're working with, you can always jump straight to your preferred Bible by tapping the Bible icon

at the bottom. Tap the same icon on the upper right to set the app's default Bible. Every Bible your account has access to is available here.
To copy a passage, highlight selected text, or take a note on a passage, simply select the text and tap the option you want when it appears.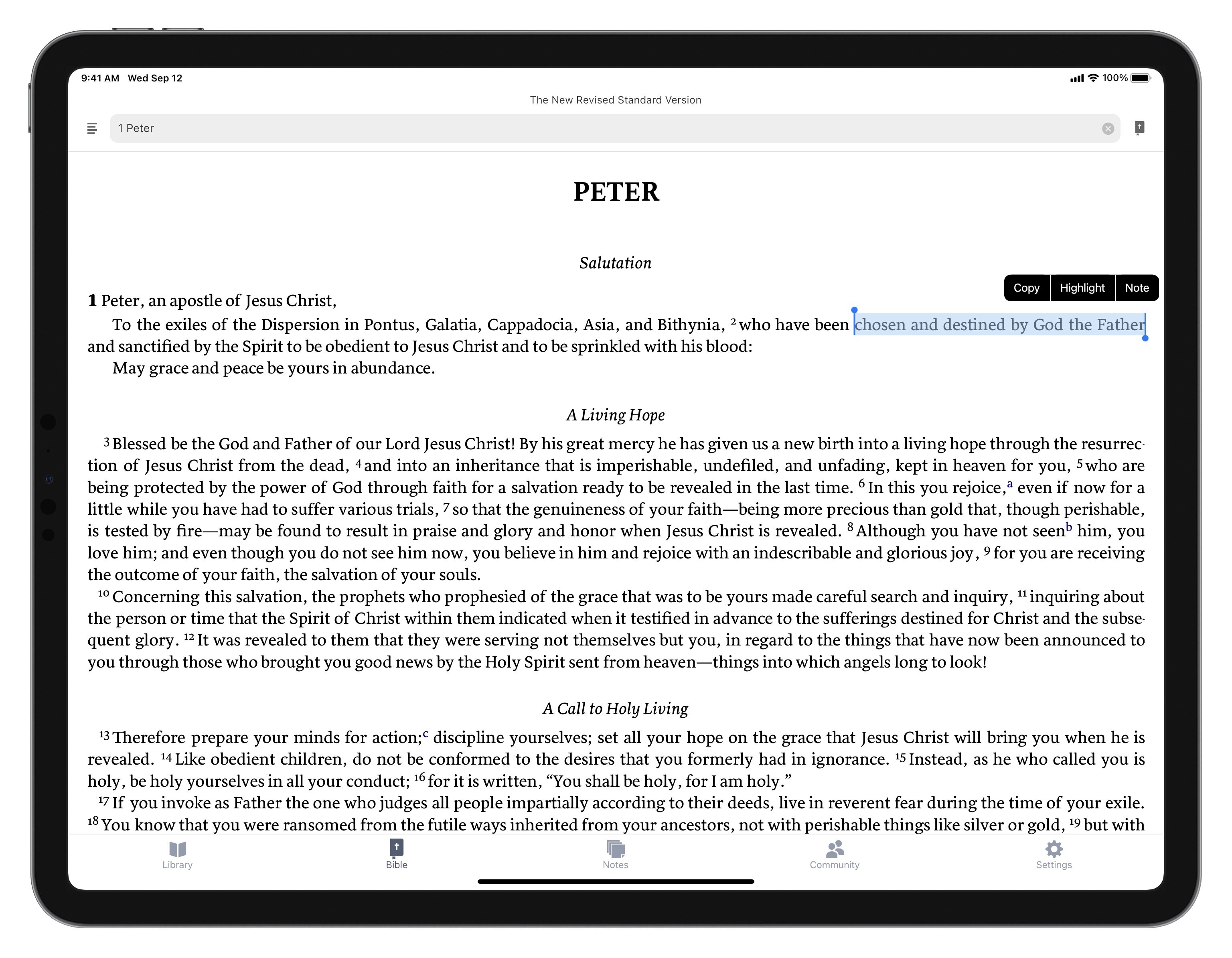 Study with Your Community
The Community tab at the bottom takes you right to your church group on Faithlife.com where you can share reflection questions, host online discussions, and highlight future studies with the whole church or with just the small group you're learning alongside. Learn more about posting to a group.
You can also invite others to join study by tapping the invite icon

in the upper right-hand corner.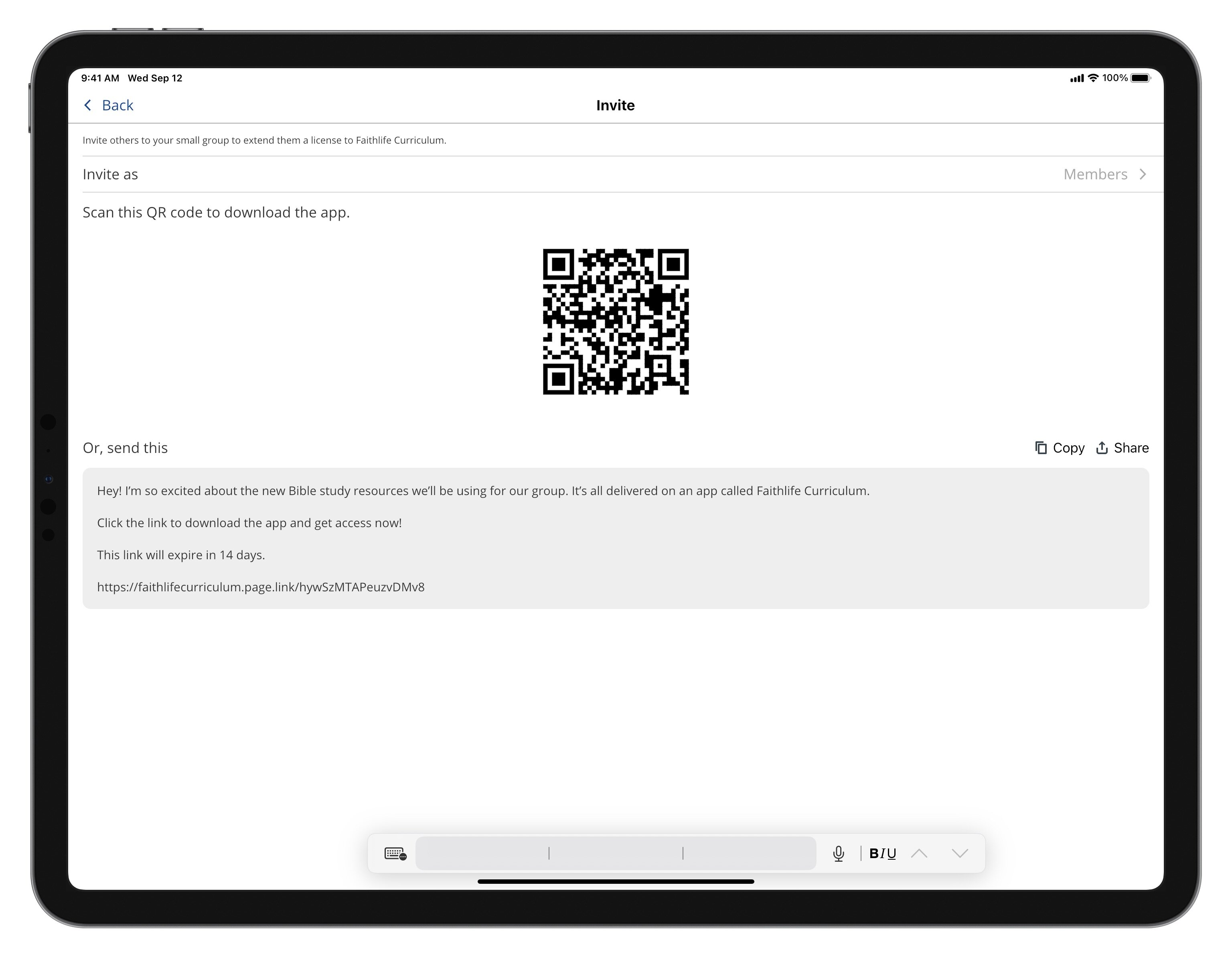 Manage Your Settings and Resources
Finished your study and need to free up space on your device? Tap the Settings icon

at the bottom followed by Manage resources to see what courses are downloaded. Tap a title, then tap Delete to remove it from your device.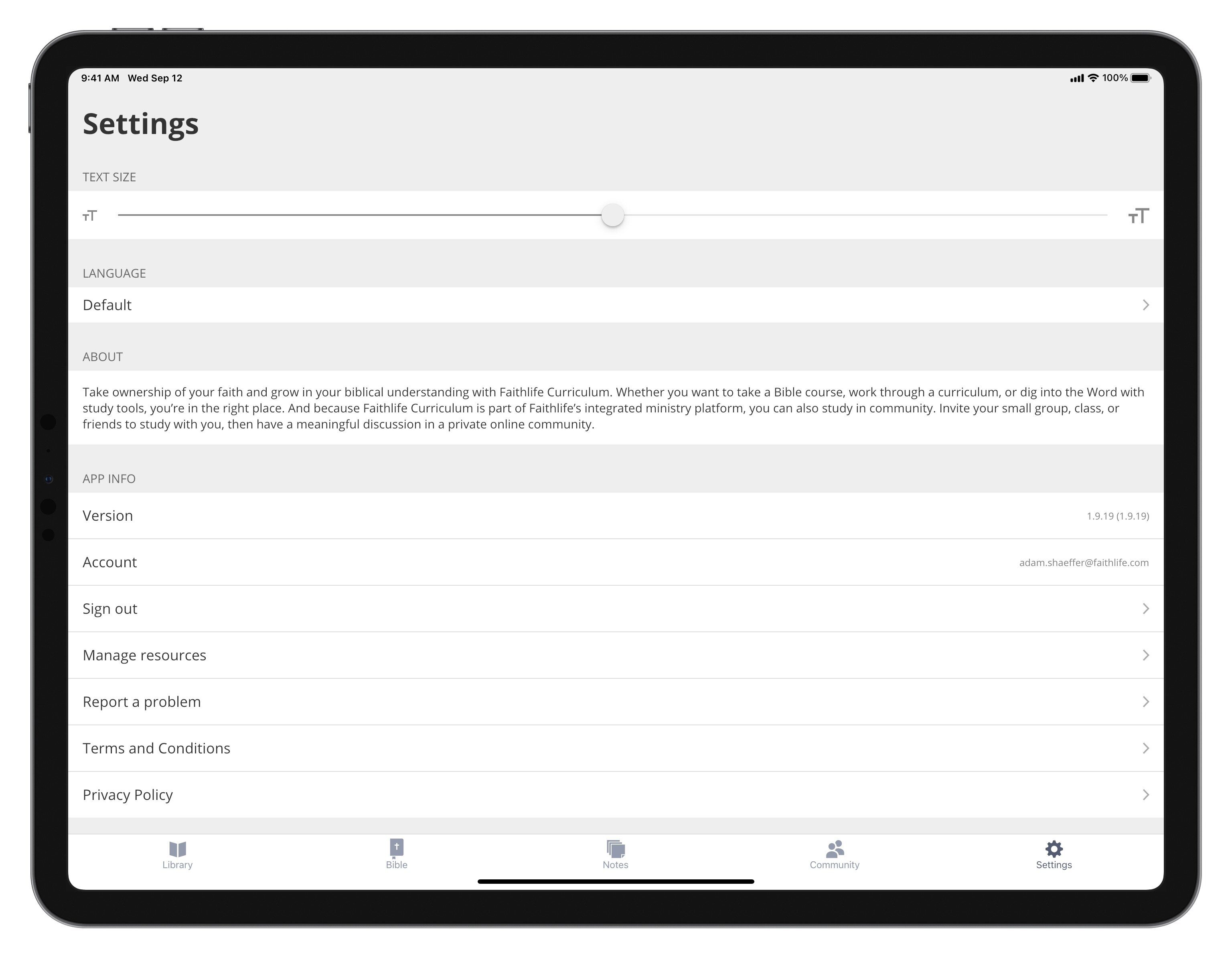 You can adjust the text size from this menu by dragging your finger along the slider at the top. And if you need to sign out of your account and sign into another one, you can do that here as well.