Faithlife's digital asset manager allows you to upload and organize images, documents, media files, and other digital assets for your church group. Go to your group on Faithlife.com and select Content from the Community panel. Click Files.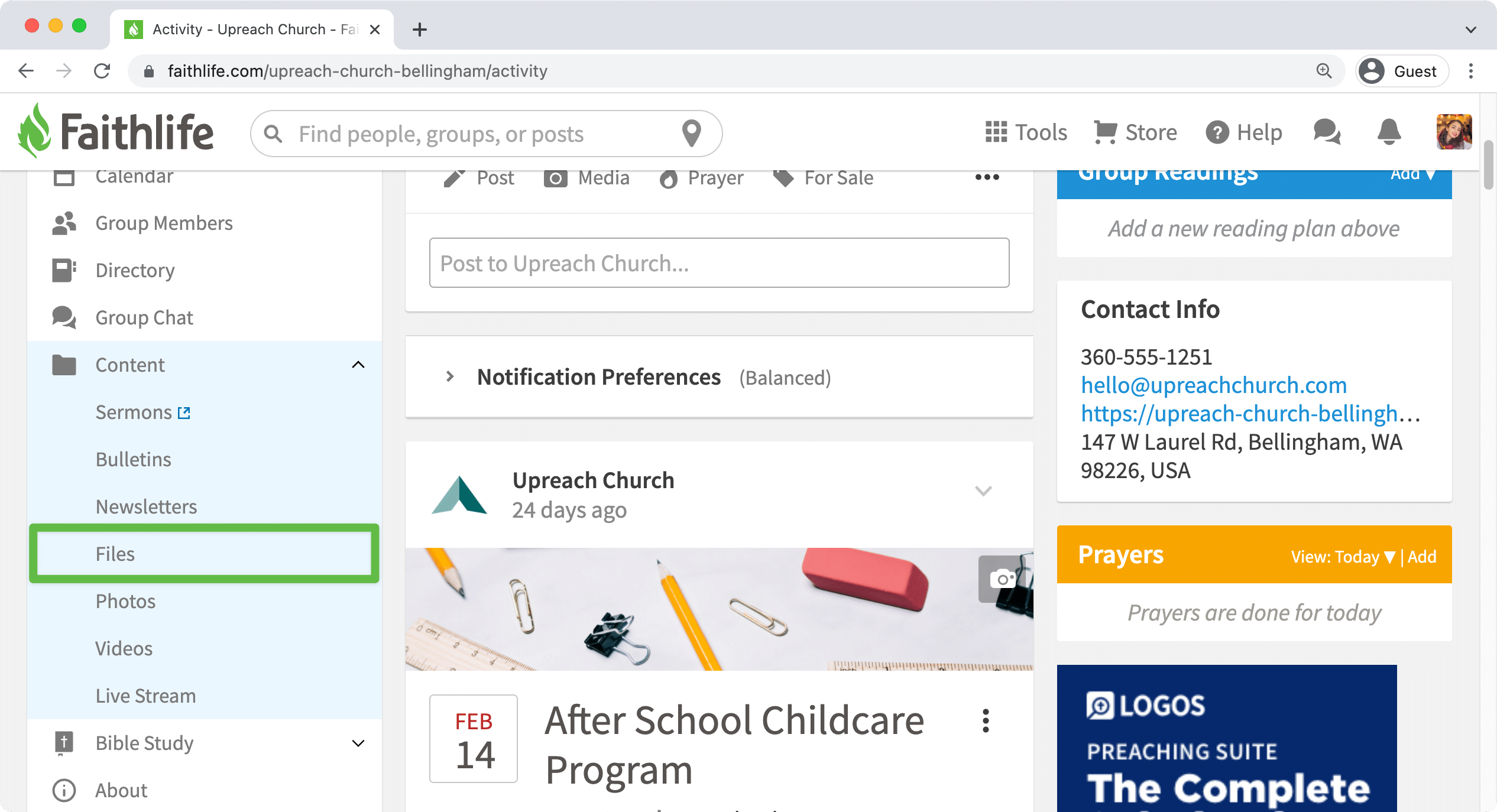 Note: If the Files option is not visible, contact your group's administrator.
Add files to your church group through any of these four methods:
Upload
Click the Upload button.
Choose the file you want to upload and click Open.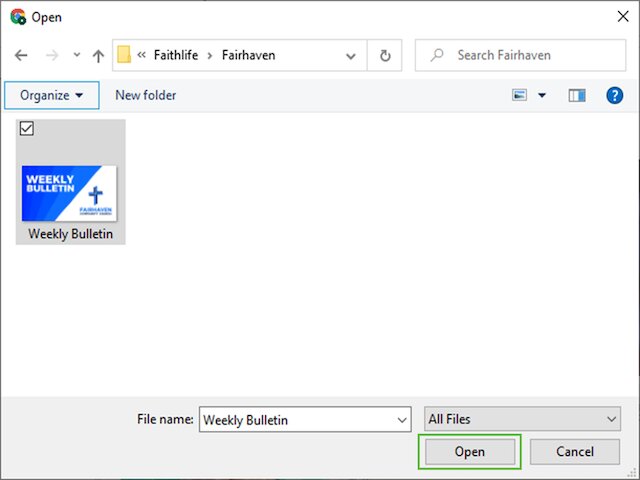 External URL
Click From URL.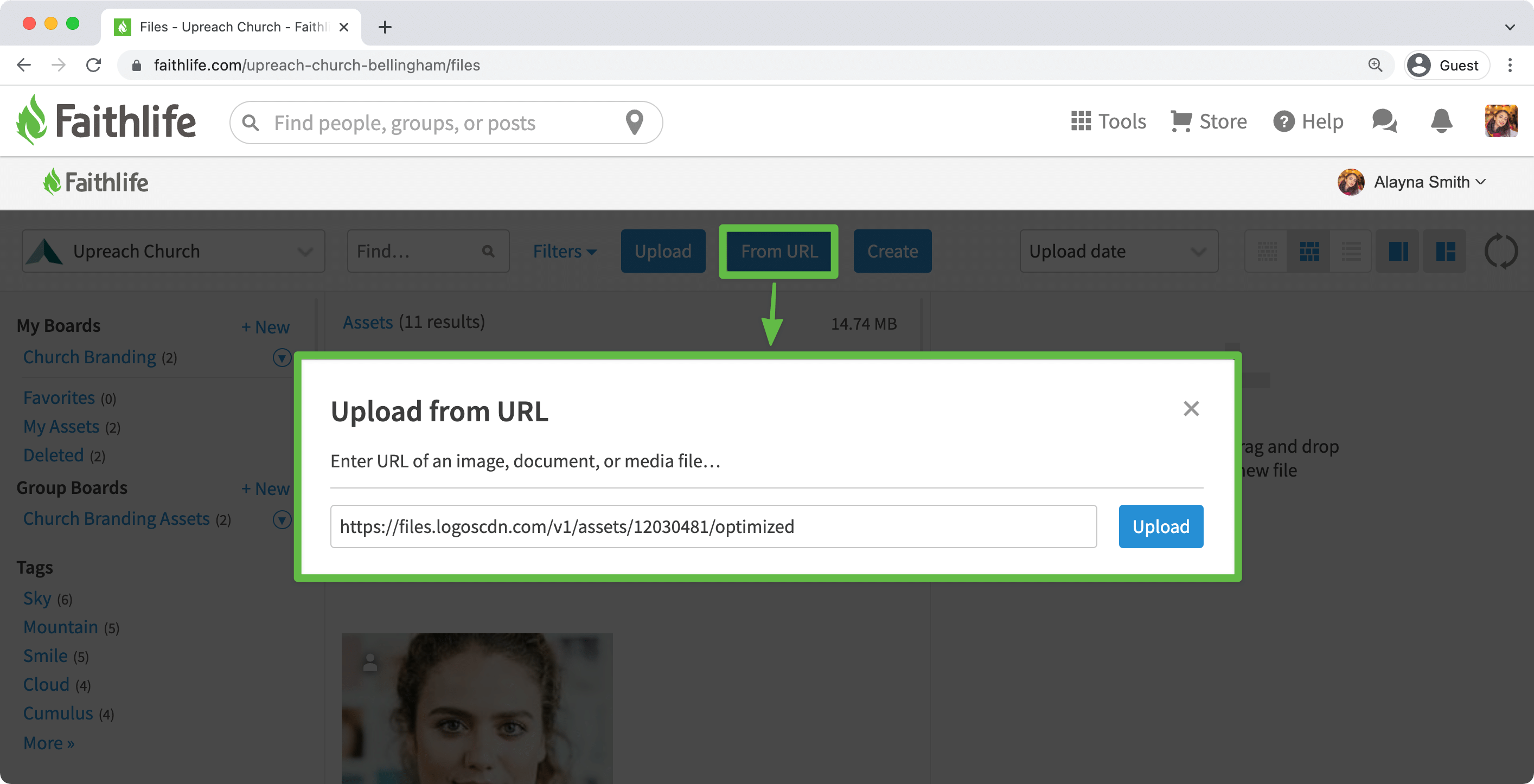 Copy and paste or enter the URL for your image, document, or media file and click Upload.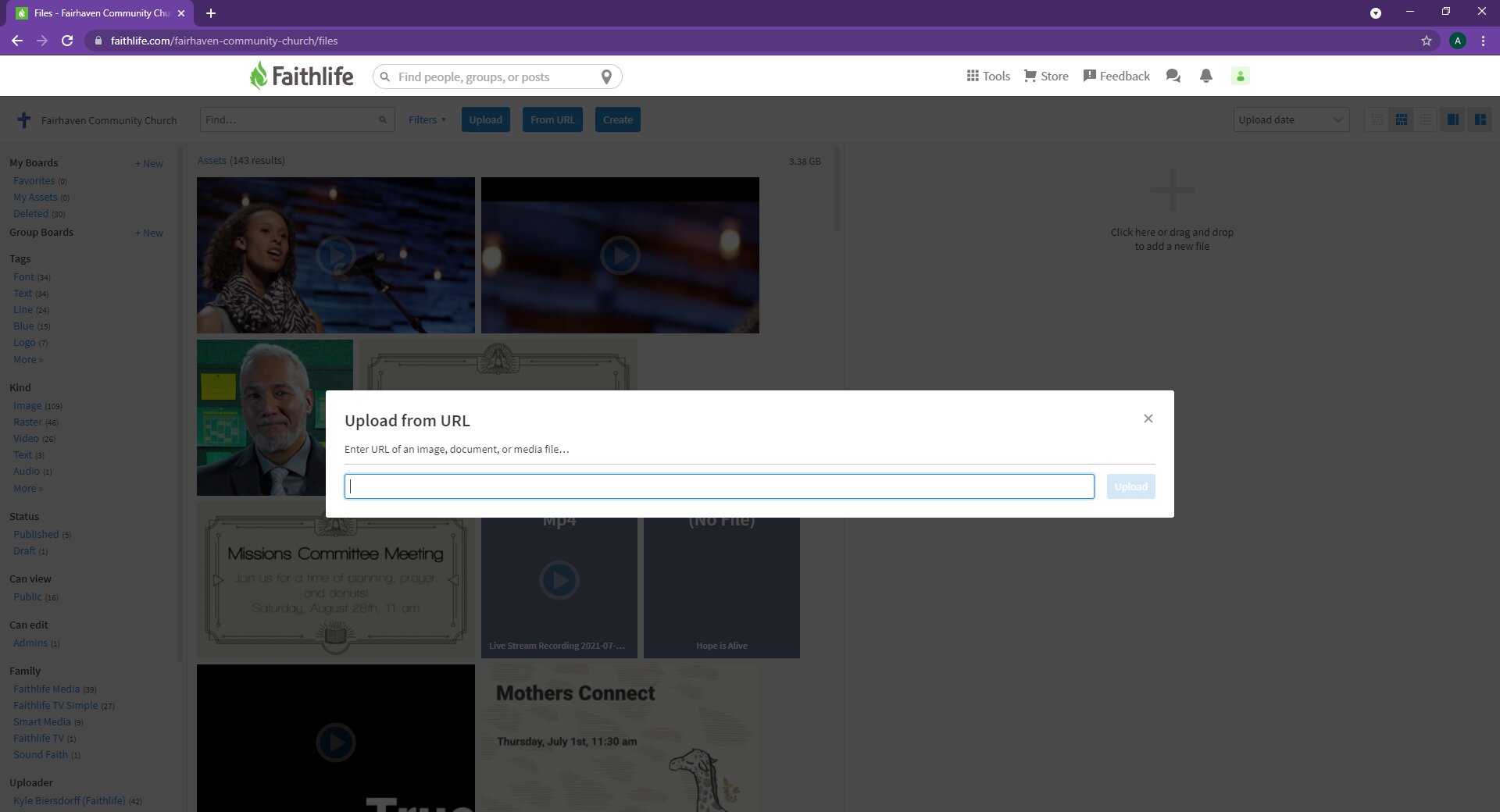 Drag and Drop
Drag and drop a file to the main window of the digital asset manager. Your file will automatically upload.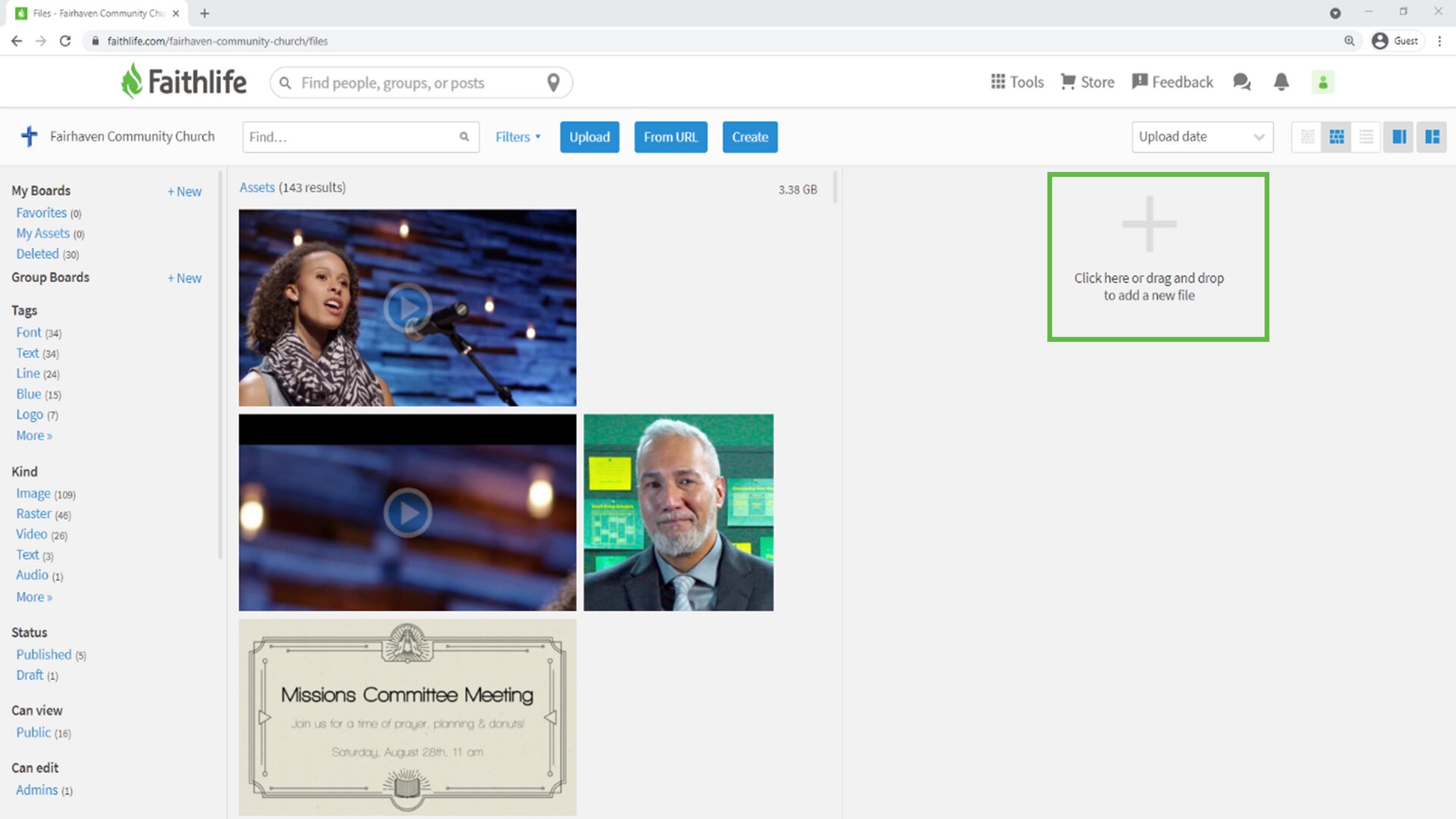 Note: Alternatively, you can click on the right side of the main window to add a file.
Create
Click Create to create a Smart Media digital asset for your church group. Smart Media allows you to customize preformatted slide templates.
Learn more about Proclaim.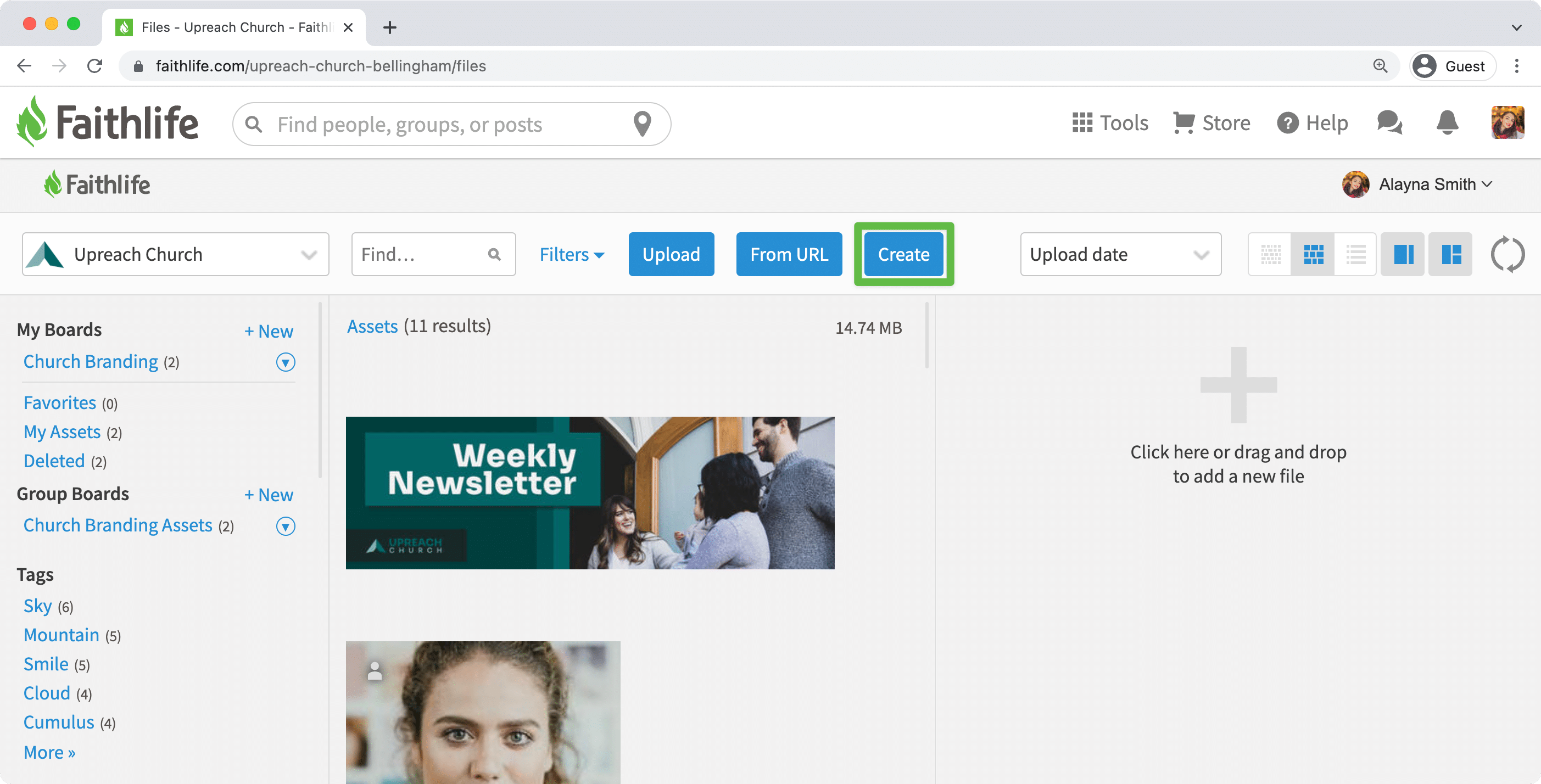 Design a new Smart Media digital asset by modifying the available options.
Artboard: Provide details such as title, description, tags, and select the size and background color of the Smart Media asset.

Template: Search for and select an available slide template.

Text: Add text to your design. Select from preformatted text or enter your own text.

Elements: Select shapes and illustrations.

Images: Include an image from your digital asset manager in your design.

Bkground: Decide what background you want for your design.

Layers: Manipulate your design's graphic and text elements. Click the area within the design that you want to work on.

Choose from the available options in the center pane to adjust properties, such as size, alignment, color, and position.

Note: Additional options are available directly above the main design area.

QR Codes: Insert a scannable QR code into your design.
Supported Files
Faithlife's digital asset manager supports a variety of file types.
Image: all standard image formats, including PNG, JPEG, GIF, and SVG.

Note: We strongly advise using PNG files. While the digital asset manager can handle all standard image types, some types are automatically converted to the PNG format, which can increase the file size. This can create problems since the current maximum file size is 25 mb. You can easily convert images to PNG format using a variety of freely available tools.

PDF: if text is identified in the document, PDFs are text-searchable.
Video: all standard video formats, including MOV, MP4, WMV, and AVI.
PowerPoint: all standard PowerPoint formats, including PPT, PPTX, etc.
Audio: all standard audio formats, including MP3, WAV, AIFF, AAC, etc.
Word: all documents are text-searchable.
Text: all documents are text-searchable.
Other: The digital asset manager will support any uploaded files (e.g., ZIP, Otf, XLSX, Javascript, CSS text files, etc.).
System Formats
Digital Asset Manager automatically creates smaller resolution versions for many file types. Upload your best resolution asset and other sizes will also be made available. Click view details to update a file format or add a new file format.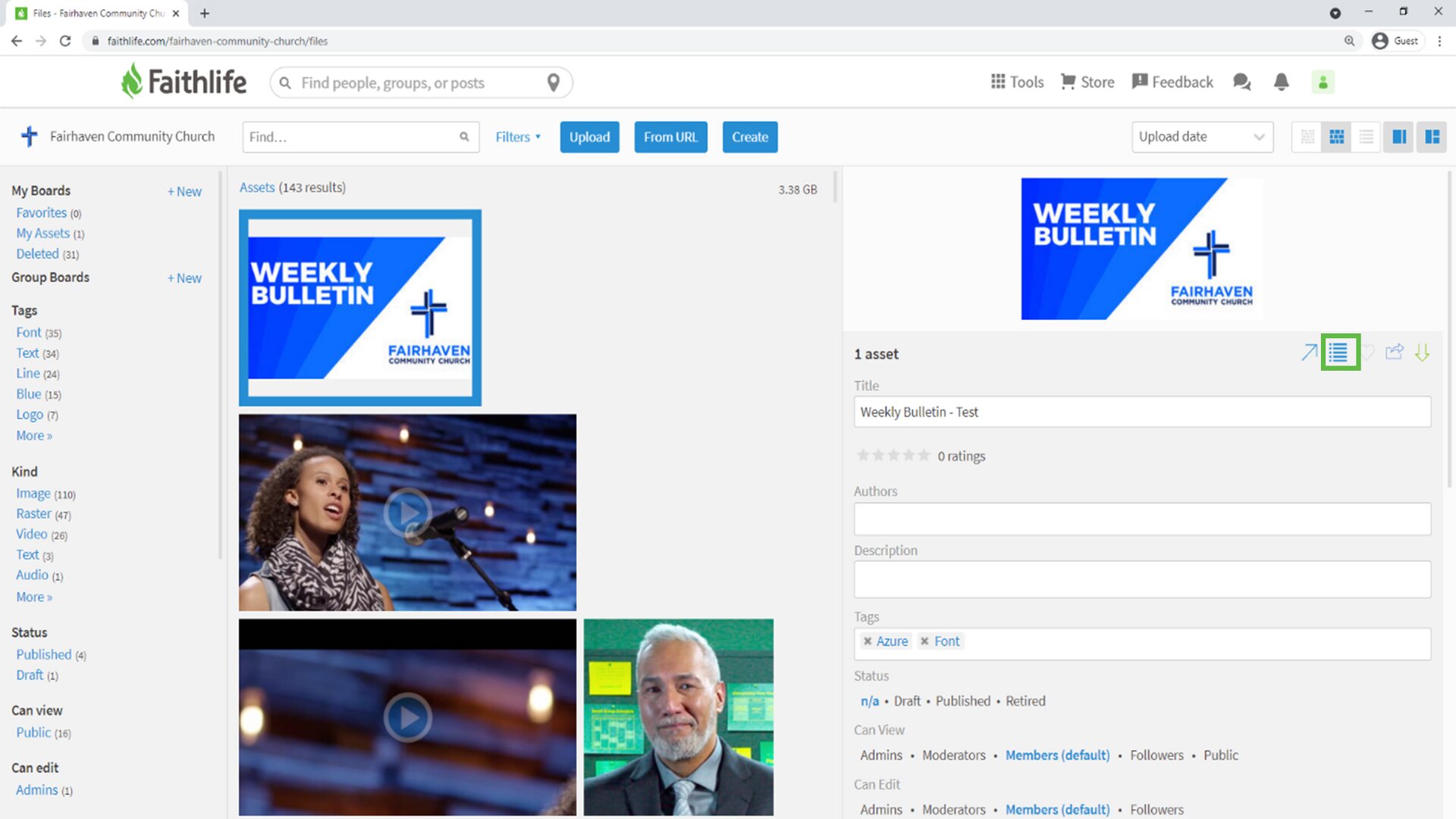 Update a File Format
Click Update in the Formats section.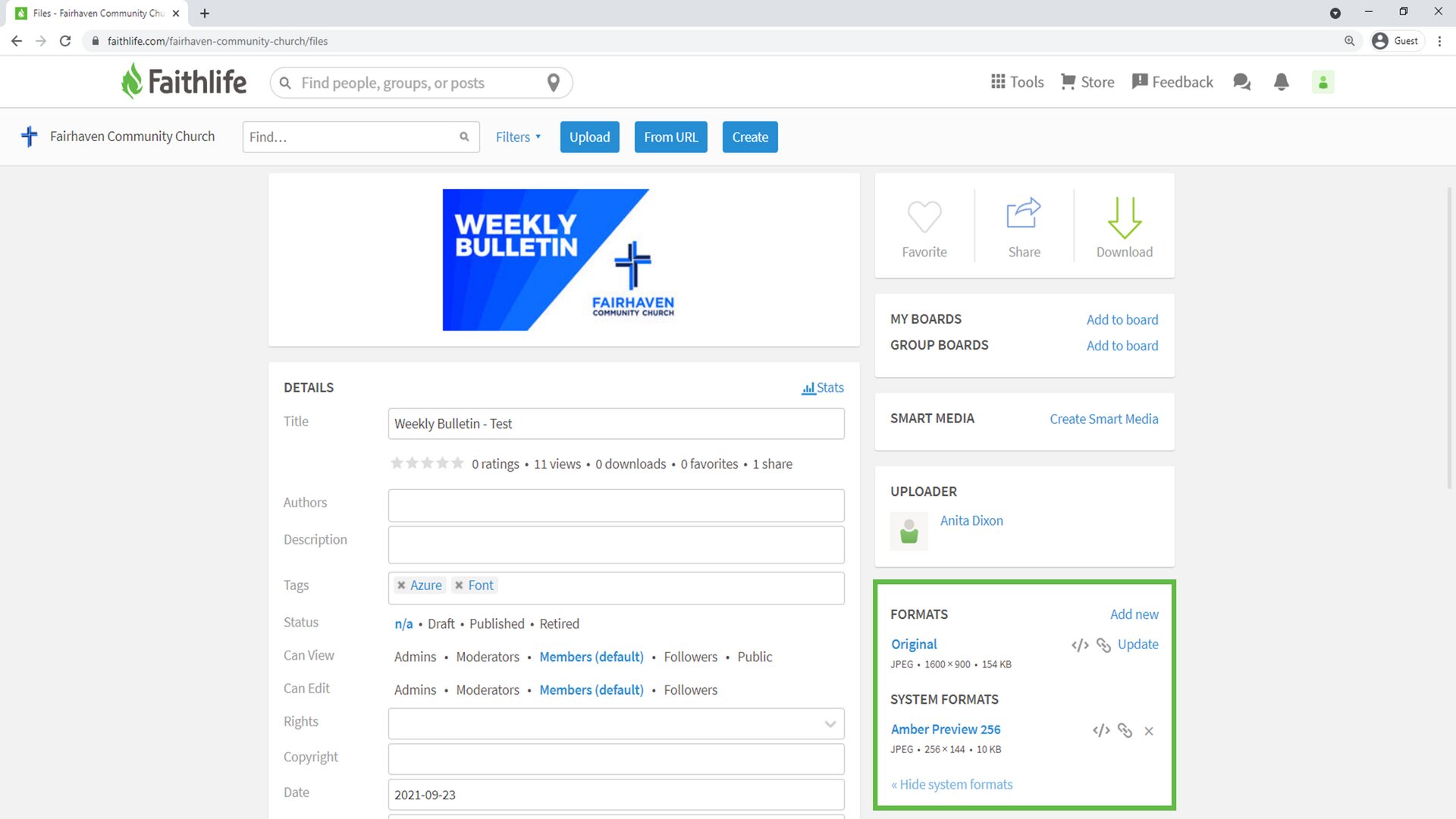 Select the new version of the file and click Open.
Add a New File Format
Click Add New in the Formats section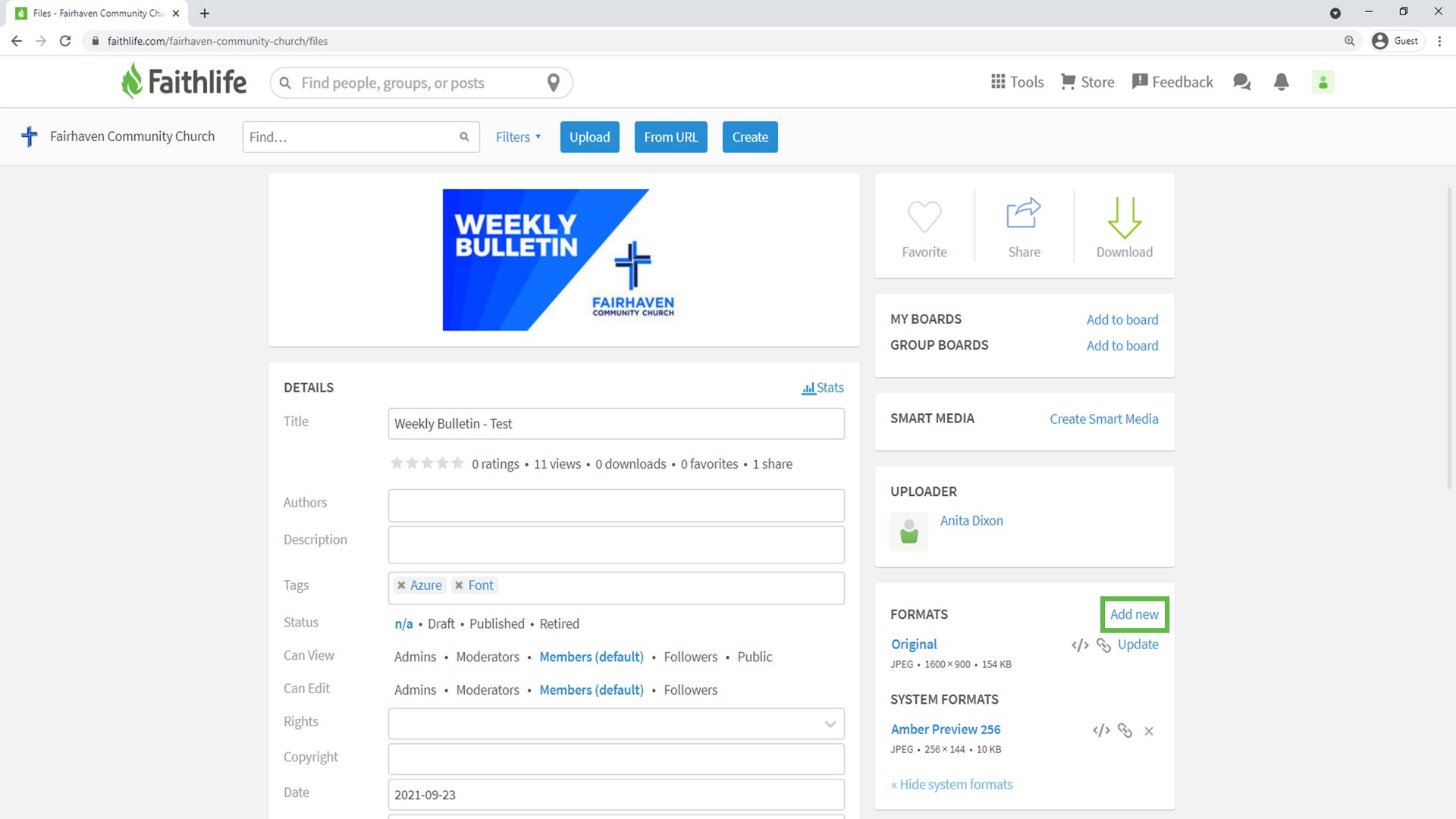 Choose the file format, width, and height of your file. Enter a name for the file and click Add.
Note: Share a link to any file format by clicking the link icon

connected to each version.