As an Admin or Moderator of your church group, you can set up any event to print labels during check-in.
1. Download label printer software.
We currently support certain Dymo and Zebra printers.
Recommended Dymo Software Versions:
Important! Do NOT install Dymo Connect 1.4.2 for macOS; it is missing the Dymo Web Service which is required for printing labels.
Once downloaded, open the installer and complete all installation steps on your system. You may need to grant permissions to the printer software or grant authorization for the software to download helper tools.
If you have trouble installing the software, view Dymo's user guide or Zebra's user guide.
2. Set up the printer.
You'll need to ensure the software is correctly installed and running and connect the printer to your computer controlling check-in/out.
Ensure software is running.
For Dymo printers in particular, ensure the Dymo Web service icon is in your taskbar or menubar. Here is a preview in both Windows and macOS:
Windows
macOS
If you don't see this icon, view our support article for troubleshooting Dymo printers for more help.
Connect the printer to your computer.
We recommend plugging the printer directly into your computer (without an adapter).
If you're using a Dymo printer, ensure your labels are 2 5/16" x 4" (Dymo 30256 labels), as the labels are formatted for this size.
3. Set up your event properly.
To use labels for check-in/out, you'll need to set up an event with classes and enable label printing upon check-in/out.
When creating or editing events on your calendar:
Toggle Event contains classes to YES at the bottom of the event.
Add individual classes for check-in. (You can add multiple classes for the same event.)
When adding classes, ensure Labels to print is set up to print labels (enabled by default).

Note: View a step-by-step guide for creating events with classes.
4. Begin Check-in.
Classes are available for check-in starting an hour before each event.
You can either:
As an admin or moderator, you can access either option from the Admin panel under Event Management.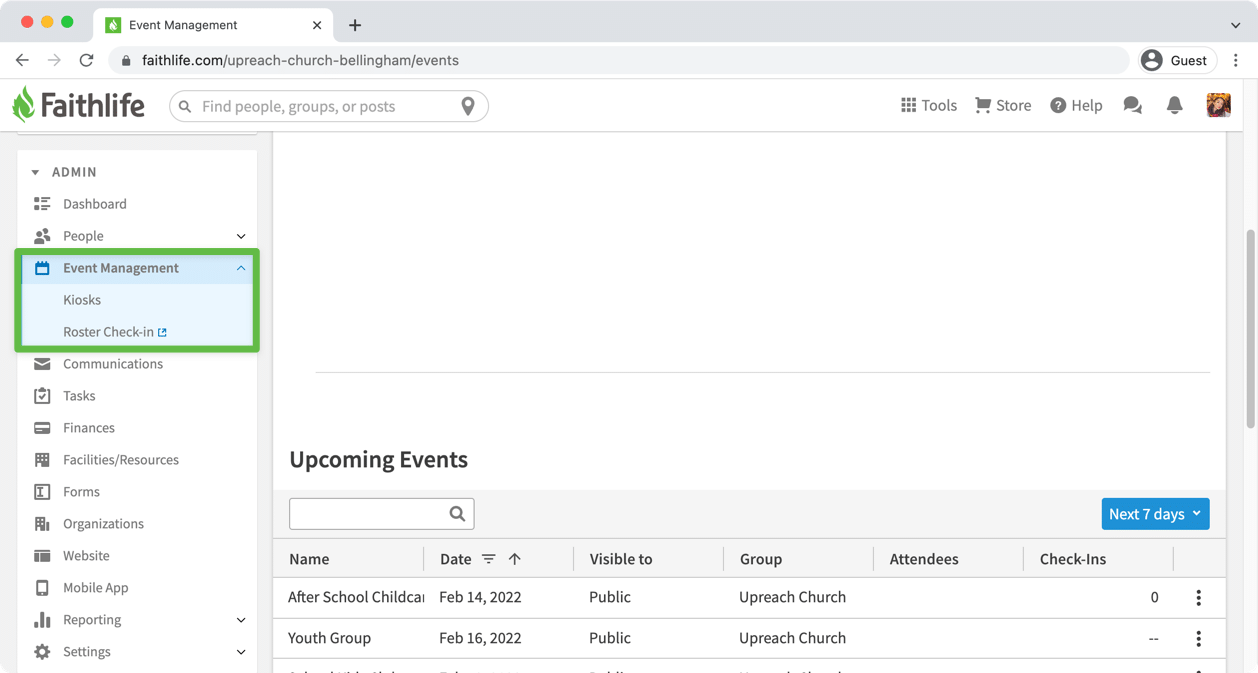 Either way, ensure your web browser is open and your printer is connected to your printer.
Known Bug: Currently, Chromium-based browsers (Chrome, Edge, Vivaldi, etc.) on macOS are not able to print using the Dymo web service due to a known bug. Dymo is working on a fix. For the time being, we recommend using the Safari, Firefox, or Brave (with Shields disabled) browser to print on macOS if you have a Dymo printer.
Kiosks
Kiosk mode lets an admin or moderator open up a public-facing kiosk to allow unauthenticated check-in while protecting your data. Launch a kiosk to allow users to check themselves into an event (either an active event or an event within the next hour).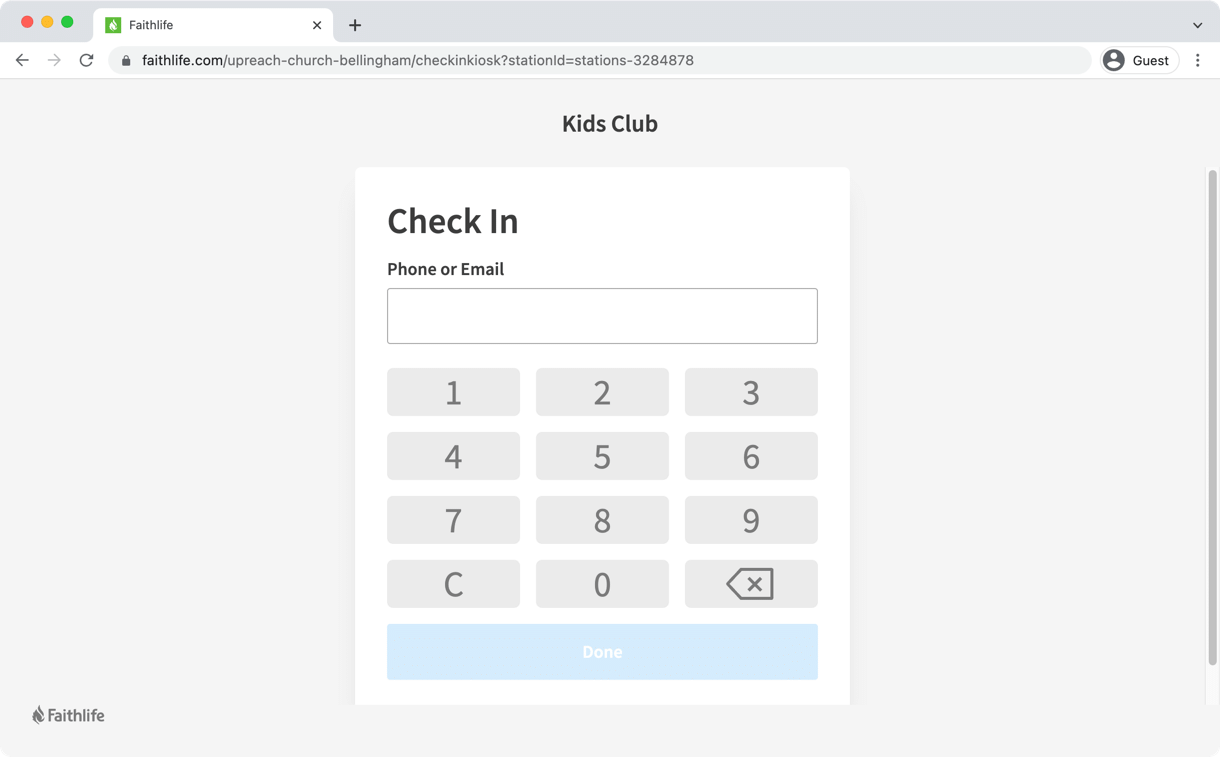 If an event is set up to print labels, labels will print automatically when an attendee checks in.
Note: Learn more about Kiosks.
Roster Check-In
Run check in/out while actively signed in as an Admin or Moderator with Roster Check-In/Out. This admin-facing method gives you access to your entire church database during check-in and enables admin tools and data for a quicker and more customized process. (Labels are not printed automatically.)
Select an event and a class.
Use the dropdown to select an event (remember, classes will be visible one hour before the start of the event) and a configured class.

Check-in and print labels.
Check any name to check that person in (or add people by name in the search field above). Labels are not printed automatically in roster check-in mode. To print a label, click the down arrow and click Print labels.


Note: Learn more about Roster Check-In.
5. Printed Labels
The labels should print automatically.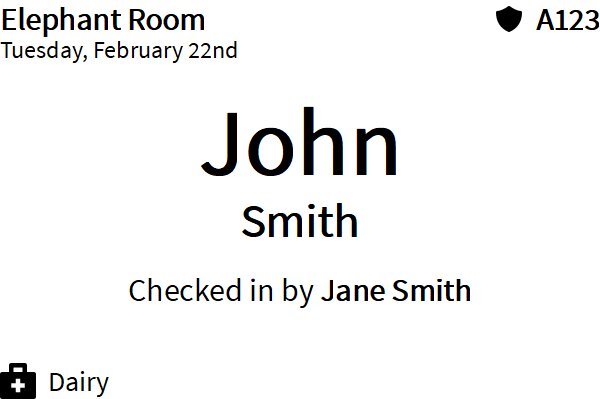 If you've chosen to print a security label, it will print at the same time.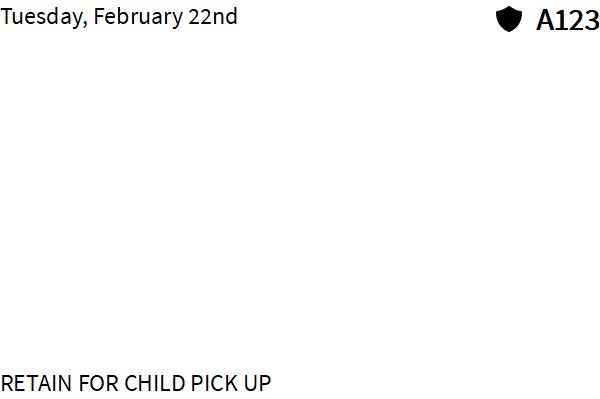 Note: If you have any trouble printing with Dymo printers, view our troubleshooting support article.